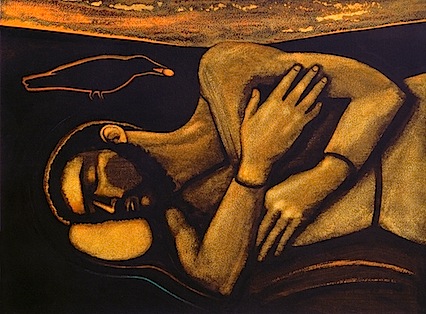 Elijah Sleeping, by Michael D. O'Brien

RECENTLY, I answered your questions regarding private revelation, including a question about a website called www.catholicplanet.com where a man who claims to be a  "theologian" has, on his own authority, taken the liberty to declare who in the Church is a purveyor of "false" private revelation, and who is conveying "true" revelations.
Within a few days of my writing, the author of that website suddenly published an article on why this website is "full of errors and falsehoods." I've already explained why this individual has seriously damaged his credibility by continuing to set dates of future prophetic events, and then—when they don't come to pass—resetting the dates (see More Questions and Answers… On Private Revelation). For this reason alone, many don't take this individual too seriously. Nonetheless, several souls have gone to his website and left there very confused, perhaps a tell-tale sign in itself (Matt 7:16).
After reflecting on what was written about this website, I feel that I should respond, at least for the opportunity to shed even further light upon the processes behind the writing here. You can read the short article written about this site on catholicplanet.com here. I will quote certain aspects of it, and then reply in turn below.