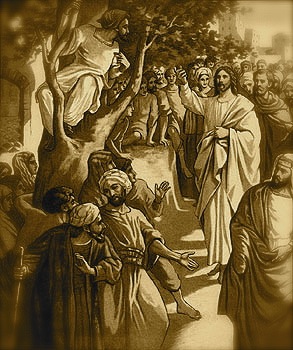 LOVE REVEALS ITSELF
HE was not a righteous man. He was a liar, a thief, and everyone knew it. Yet, in Zacchaeus, there was a hunger for the truth which sets us free, even if he did not know it. And so, when he heard that Jesus was passing by, he climbed a tree to catch a glimpse.
Of all the hundreds, perhaps thousands that were following Christ that day, Jesus stopped at that tree.
Zacchaeus, come down quickly, for today I must stay at your house. (Luke 19:5)
Jesus did not stop there because He found a worthy soul, or because he found a soul full of faith, or even a repentant heart. He stopped because His Heart was filled with compassion for a man who was out on a limb—spiritually speaking.