THE NOW WORD ON MASS READINGS
for May 20th, 2017
Saturday of the Fifth Week of Easter
Liturgical texts here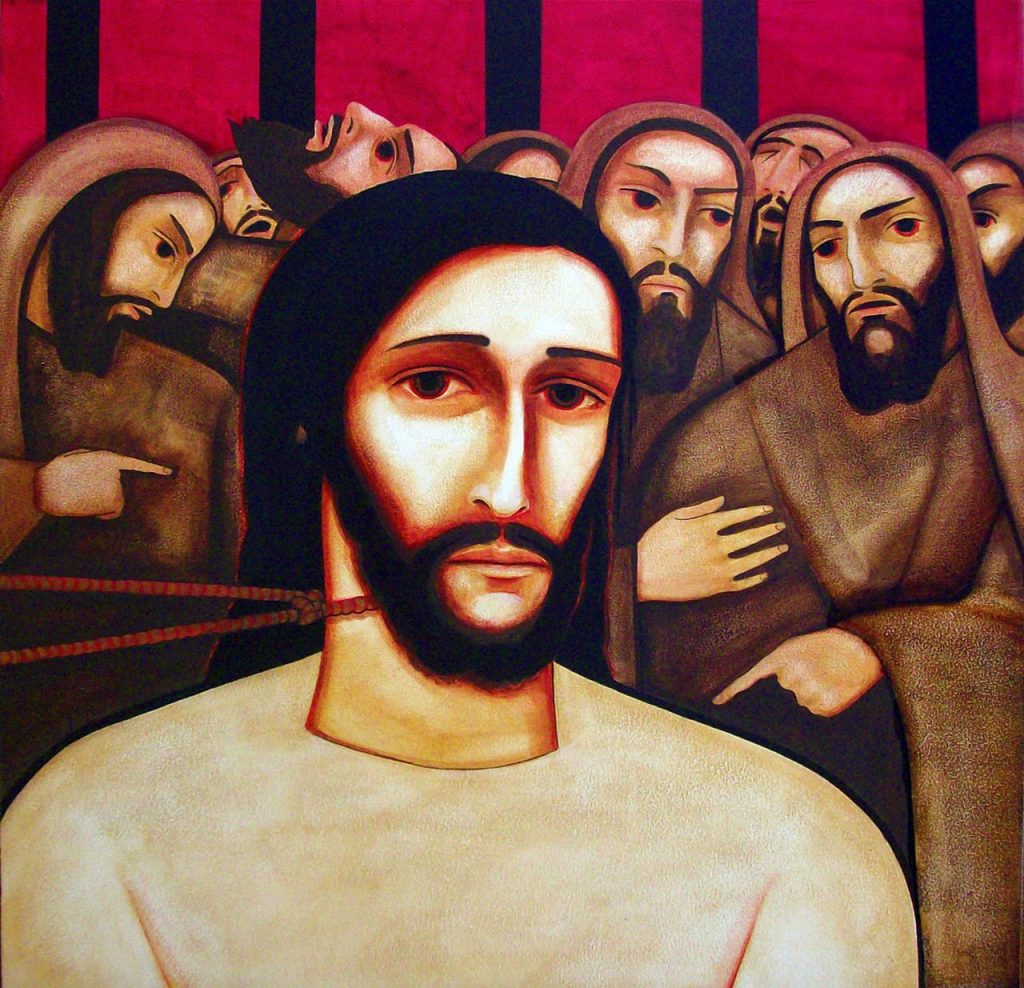 Jesus Condemned by the Sanhedrin by Michael D. O'Brien
THERE is nothing more pitiable than a Christian trying to curry favour with the world—at the cost of his mission.
For, when you and I are baptized and confirmed into our faith, we make vows to "reject sin, so as to live in the freedom of God's children… reject the glamour of evil… reject Satan, father of sin and prince of darkness, etc." [1]cf. Renewal of Baptismal Promises We then affirm our belief in the Holy Trinity and the one, holy, catholic, and apostolic Church. What we are doing is completely and totally identifying ourselves with our Founder, Jesus Christ. We are renouncing ourselves for the sake of the Gospel, for the sake of souls, such that Jesus' mission becomes our own. 
[The Church] exists in order to evangelize… —POPE PAUL VI, Evangelii Nuntiandi, n. 14
Evangelize: it means to spread the truths of the Gospel, first through our witness, and second, through our words. And Jesus gives no illusions regarding the implications. 
No slave is greater than his master. If they persecuted me, they will also persecute you. If they kept my word, they will also keep yours. (Today's Gospel)
And so it is. In some places, the Good News has been embraced and kept, as it was in Europe for many centuries. In India, parts of Africa and Russia, Christian churches continue to multiply. But in other places, particularly the West, the other sobering aspect of today's Gospel is unfolding before our very eyes at an exponential rate. 
If the world hates you, realize that it hated me first. If you belonged to the world, the world would love its own; but because you do not belong to the world, and I have chosen you out of the world, the world hates you.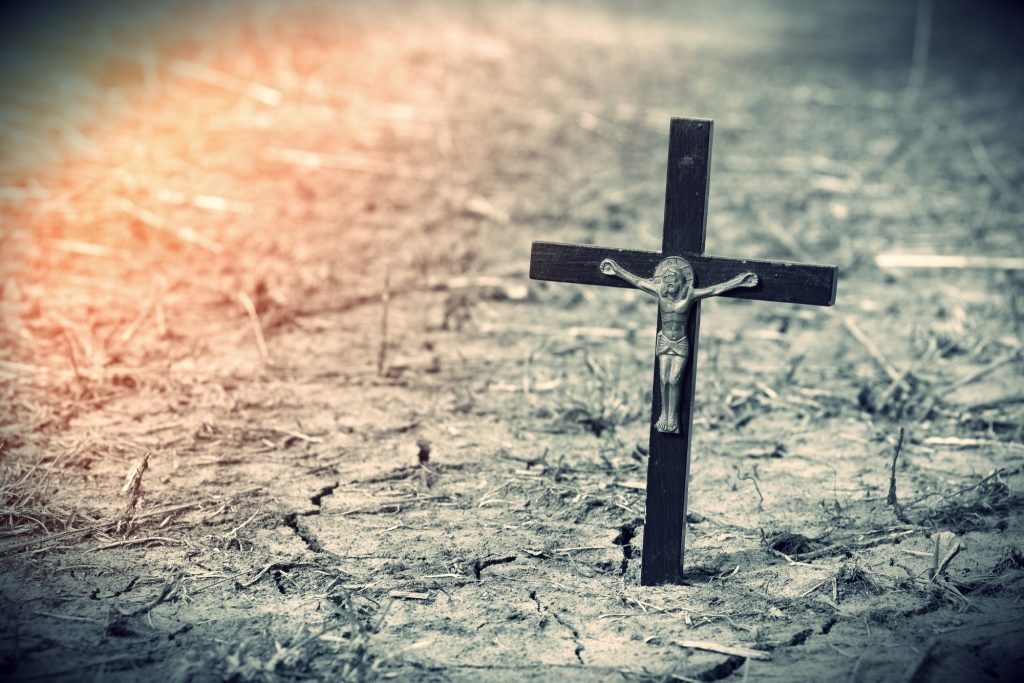 As stated in The Great Harvest, we are seeing divisions between families and friends and neighbours like never before. Even where the Gospel is on fire in certain countries, they are also being endangered by a New World Order that continues to close-in on Christianity through "ideological colonization" and the enabling of radical Islam, that not only threatens local churches, but world stability. The reason, as I have been warning for over a decade now here, and in my book, is that the Church is entering into what St. John Paul II called…
…the final confrontation between the Church and the anti-church, of the Gospel and the anti-gospel, between Christ and the anti-christ. —Cardinal Karol Wojtyla (JOHN PAUL II ), at the Eucharistic Congress, Philadelphia, PA; August 13, 1976; Deacon Keith Fournier, an attendee at the Congress, reported the words as above; cf. Catholic Online
Cardinal Wojtyla added the words, "I do not think that wide circles of the American society or wide circles of the Christian community realize this fully." Well, it seems that, at last, some in the clergy are beginning to awaken to this reality and address it, even if this confrontation is now nearly full-blown.
This anti-Gospel, which seeks to elevate the individual's will to consume, to pleasure and to power over the will of God, was rejected by Christ when tempted in the wilderness. Disguised as 'human rights,' it has reappeared, in all its luciferian hubris, to promulgate a narcissistic, hedonistic attitude that rejects any constraint except that imposed by man-made laws. —Fr. Linus Clovis of Family Life International, talk at the Rome Life Forum, May 18th, 2017; LifeSiteNews.com
In other words, the only law now is "my" law.[2]cf. The Hour of Lawlessness And those who oppose it are literally becoming targets of hatred, as the faces of the "tolerant" are really being exposed for their intolerance. It is the fulfillment of what I sensed the Lord warn was coming upon humanity many years ago in both a dream [3]cf. Dream of the Lawless One and The Black Ship-Part I and the word "revolution." [4]cf. Revolution! I really do not think that wide circles of American society realize that, when the political "right" loses power again in America, the "left"—and those globalists, like George Soros, who are funding or empowering them—may very well make sure they never rise to power again. 
…that which is their ultimate purpose forces itself into view—namely, the utter overthrow of that whole religious and political order of the world which the Christian teaching has produced, and the substitution of a new state of things in accordance with their ideas, of which the foundations and laws shall be drawn from mere naturalism. —POPE LEO XIII, Humanum Genus, Encyclical on Freemasonry, n.10, April 20th, 1884
Shortly after Donald Trump's election, I wrote that there is This Revolutionary Spirit afoot in the world—despite the celebrations of some over the seeming defeat of the "left." The point is that the political left is no longer a benign ideological perspective; they have increasingly become a radicalized, totalitarian-minded force, and are determined to get power back—at any cost, it would seem.
Since [the powers that be] do not admit that one can defend an objective criterion of good and evil, they arrogate to themselves an explicit or implicit totalitarian power over man and his destiny, as history shows… In this way democracy, contradicting its own principles, effectively moves towards a form of totalitarianism. —POPE JOHN PAUL II, Centesimus annus, n. 45, 46; Evangelium Vitae, "The Gospel of Life", n. 18, 20
The following is a lucid political perspective that addresses how America finds itself on the edge of revolution at this hour, and what may happen if the so-called "left" regain power (if the video is not available below, you can watch the pertinent part here from 1:54-4:47):
We are watching papal prophecies unfolding now in real-time. 
This fight in which we find ourselves… [against] powers that destroy the world, are spoken of in chapter 12 of Revelation… It is said that the dragon directs a great stream of water against the fleeing woman, to sweep her away… I think that it is easy to interpret what the river stands for: it is these currents that dominate everyone, and want to eliminate the faith of the Church, which seems to have nowhere to stand before the power of these currents that impose themselves as the only way of thinking, the only way of life. —POPE BENEDICT XVI, first session of the special synod on the Middle East, October 10th, 2010
Where is this current global revolt headed? 
This revolt or falling off, is generally understood, by the ancient Fathers, of a revolt from the Roman empire [upon which Western civilization is based], which was first to be destroyed, before the coming of Antichrist…—footnote on 2 Thess 2:3, Douay-Rheims Holy Bible, Baronius Press Limited, 2003; p. 235
And so back to my first point: there is, and will be, nothing more pitiable than a Christian who does not recognize the Master whom he serves.
Everyone who acknowledges me before others I will acknowledge before my heavenly Father. But whoever denies me before others, I will deny before my Heavenly Father. (Matthew 10:32-33)
For what good is it to gain the world's approval… and lose one's soul? The choice, or rather, decision between the two, is becoming more inevitable by the hour.  
Blessed are they who are persecuted for the sake of righteousness, for theirs is the kingdom of heaven. Blessed are you when they insult you and persecute you and utter every kind of evil against you [falsely] because of me. Rejoice and be glad, for your reward will be great in heaven. (Matt 5:10-11)

God [has] called us to proclaim the Good News to them. (Today's first reading)
RELATED READING
The Progression of Totalitarianism
  
Bless you and thank you.

To journey with Mark in the The Now Word,
click on the banner below to subscribe.
Your email will not be shared with anyone.