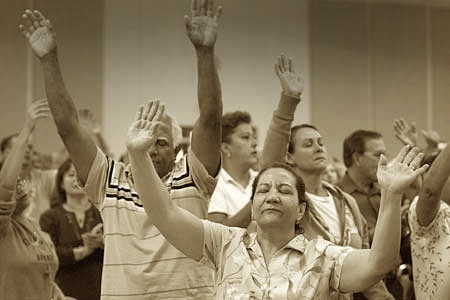 From a reader:
You mention the Charismatic Renewal (in your writing The Christmas Apocalypse) in a positive light. I don't get it. I go out of my way to attend a church that is very traditional—where people dress properly, remain quiet in front of the Tabernacle, where we are catechized according to Tradition from the pulpit, etc.

I stay far away from charismatic churches. I just don't see that as Catholicism. There is often a movie screen on the altar with parts of the Mass listed on it ("Liturgy," etc.). Women are on the altar. Everyone is dressed very casually (jeans, sneakers, shorts, etc.) Everyone raises their hands, shouts, claps—no quiet. There is no kneeling or other reverent gestures. It seems to me that a lot of this was learned from the Pentecostal denomination. No one thinks the "details" of Tradition matter. I feel no peace there. What happened to Tradition? To silence (such as no clapping!) out of respect for the Tabernacle??? To modest dress?

And I have never seen anyone who had a REAL gift of tongues. They tell you to say nonsense with them…! I tried it years ago, and I was saying NOTHING! Can't that type of thing call down ANY spirit? It seems like it should be called "charismania." The "tongues" people speak in are just jibberish! After Pentecost, people understood the preaching. It just seems like any spirit can creep into this stuff. Why would anyone want hands laid on them that are not consecrated??? Sometimes I am aware of certain serious sins that people are in, and yet there they are on the altar in their jeans laying hands on others. Aren't those spirits being passed on? I don't get it!

I would much rather attend a Tridentine Mass where Jesus is at the center of everything. No entertainment—just worship.
Dear reader,
You raise some important points worth discussing. Is the Charismatic Renewal from God? Is it a Protestant invention, or even a diabolical one? Are these "gifts of the Spirit" or ungodly "graces"?