WHILE meditating in the "school of Mary", the word "poverty" refracted into five rays. The first…
POVERTY OF STATE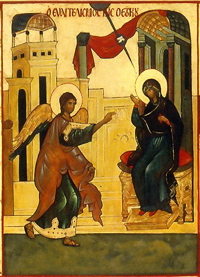 "The Annunciation" (Unkown)
IN the first Joyful Mystery, Mary's world, her dreams and plans with Joseph, were suddenly changed. God had a different plan. She was shocked and afraid, and felt no doubt incapable of so great a task. But her response has echoed for 2000 years:
May it be done to me according to your word.
Each of us is born with a specific plan for our lives, and given specific gifts to do it. And yet, how often do we find ourselves envying our neighbours talents? "She sings better than me; he is smarter; she is better looking; he is more eloquent…" and so on.
The first poverty which we must embrace in imitation of Christ's poverty is the acceptance of ourselves and God's designs. The foundation of this acceptance is trust—trust that God designed me for a purpose, which first and foremost, is to be loved by Him.
It is also accepting that I am poor in virtues and holiness, a sinner in reality, totally reliant on the riches of God's mercy. Of myself, I am incapable, and so pray, "Lord, have me mercy on me a sinner."
This poverty has a face: it is called humility.
Blessed are the poor in spirit. (Matthew 5:3)