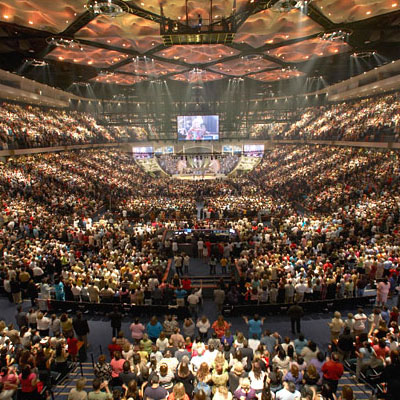 Dear Mark,
I am a convert to the Catholic Faith from the Lutheran Church. I was wondering if you could give me more information on "MegaChurches"? It seems to me that they are more like rock concerts and places of entertainment rather than worship, I know some people in these churches. It seems that they preach more of a "self-help" gospel than anything else.
Dear reader,
Thank you for writing and for sharing your thoughts.
We should always be in favor of the true Gospel being preached, particularly when the Catholic Church is failing to announce the Good News in this time of darkness and confusion (particularly in Europe and North America). As Jesus said, "Whoever is not against us, is for us." Even St. Paul rejoiced when the Gospel was preached, even when it was done out of questionable pretenses:
What of it? All that matters is that in any and every way, whether from specious motives or genuine ones, Christ is being proclaimed! That is what brings me joy. Indeed, I shall continue to rejoice… (Phil 1:18)
Indeed, many Catholics have been ministered to through Protestant ministries, including myself.
A "self-help" gospel is, of course, not the true Gospel. Unfortunately, this is often what is being preached in these mega-facilities. At the very heart of the Christian faith is the truth that "I cannot help myself." We need a savior, and are lost without one, and that Savior has been revealed to us as Jesus Christ. Childlike faith, trust, and surrender; to such souls, Jesus says, the kingdom of God belongs. In fact, the true Gospel calls us from "self-help", or rather, from helping our selves to sin, and into a life of holiness, imitating Christ Himself. Thus, a true Christian life is one of dying to self so that Christ's supernatural life rises within us making us a "new man", as Paul says. But all too often the message preached is not on becoming a new man, but getting the man something new. 
But even with the true Gospel of repentance and faith preached in evangelical churches, the problems thereafter begin almost immediately for a number of reasons. There is more to the Church and salvation than simply a "personal relationship" with Jesus, though this is the clearly the foundation and beginning for every soul.
…never forget that a genuine apostolate demands as a prior condition a personal encounter with Jesus, the Living One, the Lord. —POPE JOHN PAUL II, Vatican City, June 9th, 2003 (VIS)

What of marriage and divorce? What of the authority to forgive sins? What of moral questions and boundaries and the myriad of other theological considerations? Almost immediately, those churches not built upon the rock of Peter begin to lose their way, for it was only to Peter and the other Apostles that His authority was granted to guard and transmit the faith (and subsequently, to those apostles whom the transmission of that authority was granted through the laying on of hands). See The Fundamental Problem.
Recently while flipping through the radio dials, I heard a Protestant preacher say that one should not put his trust in sacraments, but in Jesus. This is a contradiction, since Christ Himself instituted the Seven Sacraments, as we read in Scripture, and see practiced from the very beginning of the Church until this day:
Baptism (Mark 16:16)
Confirmation (Acts 8:14-16)
Penance or Confession (John 20:23)
Eucharist (Matthew 26:26-28)
Matrimony (Mark 10:6-9)
Holy Orders (Matthew 16:18-19; 18:18; 1 Tim 4:14)
Anointing of the Sick (James 5:14)
In the Sacraments, we encounter Jesus! Was it not in the breaking of the bread that the two Apostles on the road to Emmaus recognized our Lord?
On the particular issue of the style of worship in some MegaChurches (which are nothing other than large churches built to accommodate larger congregations)… The first problem immediately is the absence of the Sacraments, particularly the memorial supper which we were commanded by Jesus to commemorate:  "Do this in memory of me." Instead of the Eucharist—a deep, rich, and nourishing meal—has been replaced with the appetizers of "praise and worship." Fortunately, there is still preaching—and often good preaching—but then, as already mentioned, there are theological issues which arise which are not insignificant. Many are led from the good pasture in their attempt to find it!
It is my understanding that some of these churches are beginning to turn into "rock concerts" as you say. They are adopting a "world model" in order to draw in the "worldly." While we must use "new means and new methods to evangelize", urged the late John Paul II, the real power in evangelization is a life of holiness in which the face of Christ is seen in the face of the evangelizer. Without an authentic Christian life, the evangelizer's methods are rendered sterile, though for a time they may tickle the senses and emotions.
The Holy Spirit may genuinely grant souls a powerful experience of conversion and God's presence in these churches ("For where two or three are gathered in My Name, there I am in their midst"), but ultimately I believe, there is a deeper hunger that will not be satiated until the Lord himself satiates it through His Body and Blood, and strengthens and heals the believer through the Sacrament of Penance. Otherwise, Christ would not have instituted these means by which to encounter Him, and through Him, the Father.
A PERSONAL EXPERIENCE
I was asked to sing at one of these MegaChurches several years ago. The music was wonderful—a live string section, band pit, and large choir. The preacher that day was an imported American evangelist, who preached with authority and conviction. But I left feeling… incomplete.
Later that afternoon, I ran into a Basilian Father who had not yet said Mass that day. So he led us in the liturgy. There were no bells, no whistles, no choirs or professional musicians. It was just me, a priest, and an altar. By the time of the Consecration (when the bread and wine becomes the Body and Blood of Jesus), I was in tears. The power of the Lord's presence was overwhelming… and then… He came to me, Body, Soul, and Spirit in the Eucharist and entered into this little tabernacle of my body, making me one with Him as He promised He would (John 6:56). O God! What Divine Food is this that the even the Angels wish to partake of it!
The contrast between the two services was unmistakable. I knew the Lord was making a point.
I would never "trade" the Mass, even if it were done poorly, for the glamor of the MegaChurches. But… what if the Mass were combined with a powerful presentation of prayerful contemporary music, and crowned with a nointed homilies from holy priests?
Satan's kingdom would begin to fall, I have no doubt.
We, unlike some of them, do not announce a Gospel of prosperity, but Christian realism. We do not announce miracles, as some do, but the sobriety of Christian life. We are convinced that all this sobriety and realism which announce a God Who became man (therefore a profoundly human God, a God Who also suffers with us) give meaning to our own suffering. In this way, announcement has a broader horizon and a greater future. We also know that these sects are not very stable. … The announcement of prosperity, of miraculous healing, etc., may do good in the short term, but we soon see that life is difficult, that a human God, a God Who suffers with us, is more convincing, truer, and offers greater help for life. —POPE BENEDICT XVI, Vatican City, March 17, 2009
Your financial support and prayers are why
you are reading this today.
 Bless you and thank you. 

To journey with Mark in The Now Word,
click on the banner below to subscribe.
Your email will not be shared with anyone.