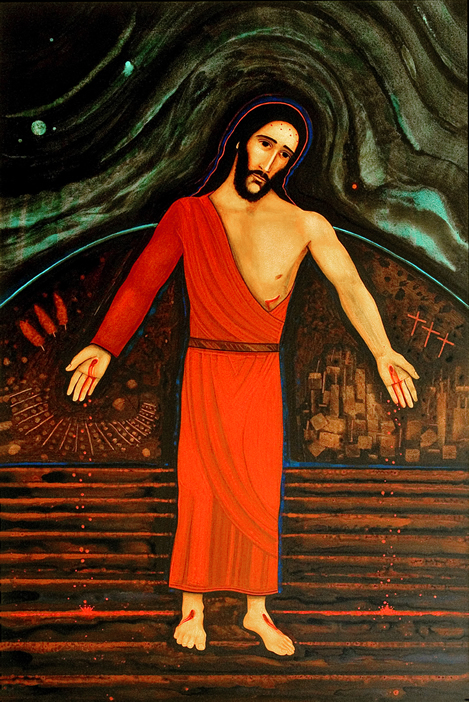 Christ Grieving Over the World, by Michael D. O'Brien
I feel strongly compelled to re-post this writing here tonight. We are living in a precarious moment, the calm before the Storm, when many are tempted to fall asleep. But we must remain vigilant, that is, our eyes focused on building the Kingdom of Christ in our hearts and then in the world around us. In this way, we will be living in the Father's constant care and grace, His protection and anointing. We will be living in the Ark, and we must be there now, for soon it will begin to rain justice upon a world that is cracked and dry and thirsting for God.  First published April 30th, 2011.

CHRIST IS RISEN, ALLELUIA!
INDEED He is risen, alleluia! I am writing you today from San Francisco, USA on the eve and Vigil of Divine Mercy, and Beatification of John Paul II. In the home where I am staying, the sounds of the prayer service taking place in Rome, where the Luminous mysteries are being prayed, are flowing into the room with the gentleness of a trickling spring and the force of a waterfall. One cannot help but be overwhelmed with the fruits of the Resurrection so evident as the Universal Church prays in one voice before the beatification of St. Peter's successor. The power of the Church—the power of Jesus—is present, both in the visible witness of this event, and in the presence of the communion of Saints. The Holy Spirit is hovering…
Where I am staying, the front room has a wall lined with icons and statues: St. Pio, the Sacred Heart, Our Lady of Fatima and Guadalupe, St. Therese de Liseux…. all of them are stained with either tears of oil or blood that have fallen from their eyes in past months. The spiritual director of the couple who lives here is Fr. Seraphim Michalenko, the vice-postulator of St. Faustina's canonization process. A picture of him meeting John Paul II sits at the feet of one of the statues. A tangible peace and presence of the Blessed Mother seems to pervade the room…
And so, it is in the midst of these two worlds that I write you. On the one hand, I see tears of joy falling from the faces of those praying in Rome; on the other, tears of sorrow falling from the eyes of Our Lord and Lady in this home. And so I ask once again, "Jesus, what do you want me to say to your people?"  And I sense in my heart the words,
Tell my children that I love them. That I am Mercy itself. And Mercy calls My children to wake up.