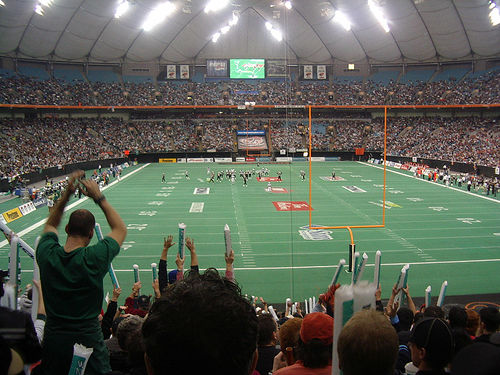 AS I have traveled throughout parts of Canada and America in the past several months and spoken with many souls, there is a consistent trend: marriages and relationships are under fierce attack, especially Christian marriages. Bickering, nitpicking, impatience, seemingly unresolvable differences and unusual tension. This is accentuated even further by financial stress and an overwhelming sense that time is racing beyond one's ability to keep up.
THE NOISE
In Canadian football, the noise level of a crowd is often considered a great advantage. The 12-man offensive team counts upon audible signals from the quarterback, and hence, the noise can create confusion, mis-calls, and other blunders. As such, the crowd is sometimes called "the thirteenth man."

I believe the current spiritual noise is a massive bombardment by the enemy using the "the thirteenth man." As one friend recently wrote,
Satan is screaming hard because he is losing the fight. He screams the loudest before he is conquered.
Yes, the ancient serpent hears the thunder of hooves, the Rider Upon a White Horse approaching on the offensive. And so Satan is squirming, snarling, and lashing out with all his might to distract believers by creating all kinds of spiritual noise.
It is a diversion.
A DIVERSION
As many of my readers know here, this column was inspired by the Lord to blow a trumpet calling the Church and the world to prepare for great and seemingly imminent changes. The sense within the Body of Christ is that these changes are at the very door. I am hearing this constantly now, and the consistency is striking.
The diversion is to distract us from being ready! (And ultimately, we must be ready to go Home at any moment. This is the true spirit in which Christians must live, with our hearts fixed upon Heaven in the hope of eternal life—but our souls living in the present moment of God's will.)
But you, brothers, are not in darkness for that day to overtake you like a thief. For all of you are children of the light and children of the day. We are not of the night or of darkness. Therefore, let us not sleep as the rest do, but let us stay alert and sober. (1 Thess 5:4-6)
This attack on the Body of Christ makes sense if we are approaching that moment when the Spear of Truth will pierce each of our hearts. The enemy wants our minds scattered, diverted, and if possible, immersed in sin, even mortal sin, so that that day may catch us by surprise… like a thief in the night.
SHOP TALK
Recently, I walked into a carpentry shop where my friend and another Christian were having a discussion. Without knowing that I was working on this meditation, one of them said,
I believe that there are options coming which will be presented to society and which the Body of Christ will have to choose. And unless we're listening now to the Holy Spirit and walking with the Lord, we won't have the grace to be able to discern what we should do. We will be caught without oil in our lamps like five of the ten virgins in the Gospel (cf. Matt 25).


I believe all the current problems and trials we are facing right now are distractions to keep us from hearing what God wants us to do.
Part of the context of the discussion was whether or not Christians should accept a micro-chip under their skin, if the time comes.
We need to be listening, preparing, and praying now. Remember Lot's wife. Remember, too, that when the rain began to fall in the Great Deluge, the doors of the Ark were shut and locked. It may be that the Lord will give some souls a final grace even as the "rain" of chastisement and purification begins to fall in our times. But we cannot presume upon this, delaying our true and deep conversion until the very last moment, because that would be the sin of presumption, and presumption is the enemy of real faith.
The time to repent is now.
BEGIN AGAIN
The antidote to this heinous attack on relationships is more simple than people think: humble yourself. It is precisely this imitation of Christ to which we are always called:
Humbly regard others as more important than yourselves, each looking out not for his own interests, but also everyone for those of others. Have among yourselves the same attitude that is also yours in Christ Jesus… who emptied himself, taking the form of a slave… he humbled himself, becoming obedient to death, even death on a cross. (Phil 2:3-8)
The enemy wants us to jump up and down right now, defending ourselves by any and every means, justifying our every word and action—especially when we're right. But Christ remained silent before Pontius Pilate. The enemy wants us to become discouraged, to believe that everything is collapsing around us randomly and without reason. But Jesus revealed that everything, including His death, is guided by the will of the Father. Satan wants us to become deeply anxious about finances, relationships, and world events, and to make spiritual blunders by combating this anxiety with worldly consolations. But Jesus proclaimed that He had already conquered the world—before His death—showing us, therefore, that in dying to ourselves and letting go of our control over all matters, we enter into the unseen victory.
Fire burns, but it also purifies. Winter strips, but it prepares for the spring. The nails pierce, but by these wounds we are healed.
THE TRUTH WILL SET YOU FREE
If you wish to diffuse Satan's snares and silence the thirteenth man, then enter the path of humility. Forget the other person's faults and even injustices, and look rather within your own heart to find those areas where you are mistaken, where you have been proud and stubborn, where you have done wrong, and enter the purifying fire of Confession.
It is a great virtue to overlook the faults of another. It is also incredibly liberating. For in fixing your eyes for a moment upon your own wretchedness, you will recognize your own need for mercy. The truth will set you free. In this way, the seedlings of compassion can take root in your heart, and you will find grace to be a peacemaker, rather than a judge. The stronghold of division, at least within your own heart, will collapse; for it is pride which supports this ugly edifice.
Lastly, forgive. Forgiveness is the great hammer which absolutely shatters the chains of bitterness. It is a choice, however, and often one we must recommit to daily until all the poison of injury is drawn from the soul.
Humility and forgiveness. Their offspring is peace.
Whatever situation you are in right now, even if it feels absolutely overwhelming, abandon yourself completely to God's will which has permitted this trial, awaiting the moment when
He will come to your aid. Do not be afraid, for even though the thirteenth man is loud, he isn't even on the field.

Beloved, do not be surprised that a trial by fire is occurring among you, as if something strange were happening to you. But rejoice to the extent that you share in the sufferings of Christ, so that when his glory is revealed you may also rejoice exultantly. (1 Pt 4:12-13)
Why, LORD, do you stand at a distance and pay no heed to these troubled times? …But you do see; you do observe this misery and sorrow; you take the matter in hand. To you the helpless can entrust their cause… You listen, LORD, to the needs of the poor; you encourage them and hear their prayers. (Psalm 10)
First published November 21st, 2007.

FURTHER READING: