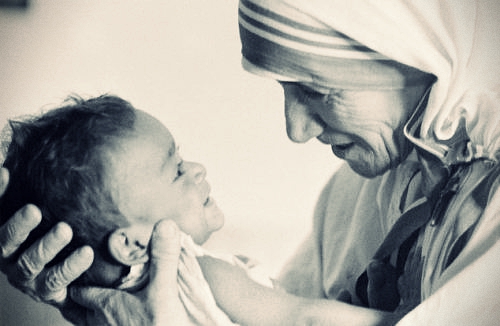 LISTEN carefully,
Therefore, gird up the loins of your mind, live soberly, and set your hopes completely on the grace to be brought to you at the revelation of Jesus Christ. (1 Pt 1:13)
Think of what is above, not of what is on earth. (Col 3:2)
These sacred words of Holy Scripture underscore a burning word in my heart these days:
YOU MUST BE RADICAL!
Peter tells us to set our hopes "completely" on the grace to be brought us. Completely! The whole direction of our every thought, word, and action should be toward Christ, each moment–not just for 58 minutes every Sunday. Oh, how deceived many are who think that their presence in the pew and a buck in the basket are a ticket to Heaven! How deceived we in the affluent West have become!
The way to Heaven is the way of the Cross:
…the kingdom of heaven suffers violence, and the violent are taking it by force. (Matt 11:12)
Few realize heaven is taken by violence–violence to oneself. Jesus explained this very clearly:
…everyone of you who does not renounce all his possessions cannot be my disciple. (Lk 14:33)

If anyone wishes to be the first, he shall be the last of all and the servant of all. (Mk 9:35)

…whoever hates his life in this world will preserve it for eternal life. (Jn 12:25)

If you wish to be perfect, go, sell what you have and give it to the poor… (Mt 19:21)
This is what it means to be radical:
TO LIVE TO SERVE, TO SERVE HERE AS THOUGH NOT HERE.
TO CLING TO NOTHING, WHILE GIVING EVERYTHING.
TO LOVE TO DEATH, SO AS TO LIVE THE LIFE,
THE LIFE OF CHRIST, WHO IS MY LIFE.
It means to show the face of Jesus everywhere, in all circumstances, to everyone. Yes, it means giving my money away, keeping only enough for my needs. It means forgiving those who have hurt us deeply. It means putting other's needs before us, even when our own needs are pressing. It means overlooking other's faults and weaknesses that irritate us. It demands humility, silence, patience, giving until it hurts.
But lest one read thus far and see Christianity as a membership to masochism, recall the words of Jesus Christ, whom we are to imitate:
…unless a grain of wheat falls to the ground and dies, it remains just a grain of wheat; but if it dies, it produces much fruit.(Jn 12:24)
To be radical, a "fool for Christ", is also to find oneself. For the true self, conceived through baptism and born through the womb of radicalism, is the image of Christ: love, joy, peace, patience, kindness, generosity, faithfulness, gentleness, and self-control (Gal 6:22-23).
What you give now in this life, will be returned a thousand times more, in this life, and the life to come.
No one, is more radical than God.