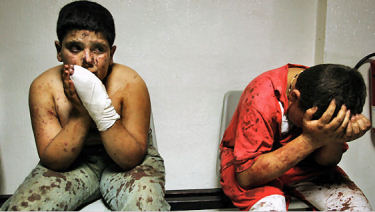 2006 Lebanese victims of war

First published May 30th, 2007. As I continue to pray about what the Lord is showing me in the Seven Year Trial, I feel the nudge to reprint this message.
There are two very prominent things occurring in the world the past few weeks. One, are the continuing headlines of brutal violence towards children and babies. Second is the growing imposition of new forms of marriage upon the unwanting masses. The latter point has to do with two words the Lord gave me while I was writing The Coming Counterfeit: "Population Control." Since then, there have been numerous headlines describing the world food shortage as an over-population problem. This is not true, of course. It is a matter of poor management and distribution of our resources due in large part to greed and neglect, including the use of corn to make fuel. I also wonder about the manipulation of weather through new technologies… The Vatican has been fighting these over-population gurus who for many years now have been trying to impose abortion, birth-control, and sterilization upon poor nations. If it were not for the Vatican's voice in the United Nations, these proponents of the culture of death would be much further ahead than they are.
The writing below puts all the pieces together…