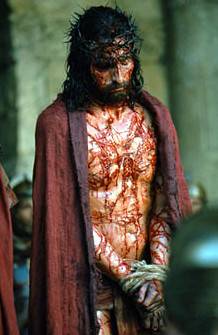 Scene from The Passion of the Christ
EVERY day as I comb the news headlines, I am faced with the violence and evil of this world. I find it exhausting, but also recognize it as my duty as a "watchman" to try and sift through this stuff to find the "word" hidden in the world's events. But the other day, the face of evil really got to me when I entered the video store for the first time in months to rent a movie for my daughter's birthday. As I scanned the shelves for a family movie, I was faced with image after image of dismembered bodies, half-naked women, demonic faces, and other violent images. I was looking into the mirror of a culture obsessed with sex and violence.
And yet, no one seems to openly object to this gruesome display which is scanned each day by young and old alike, and yet, when a picture of the reality of abortion is shown, some people are deeply offended. People pay to see violent movies, even rousing dramas such as Braveheart, Schindler's List, or Saving Private Ryan where the reality of evil is graphically portrayed; or they play video games depicting unbelievable brutality and gruesome violence, and yet, somehow this is acceptable—but a photo giving voice to the voiceless is not.