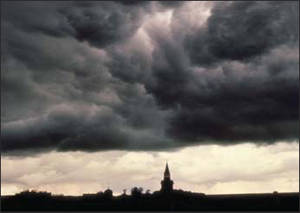 Set the trumpet to your lips,
for a vulture is over the house of the Lord. (Hosea 8:1) 
PARTICULARLY for my new readers, this writing gives a very broad picture of what I feel the Spirit is saying to the Church today. I am filled with great hope, because this present storm will not last. At the same time, I feel the Lord continually urging me on (despite my protests) to prepare us for the realities which we face. It is not a time for fear, but for strengthening; not a time for despair, but preparation for a victorious battle.
But a battle nonetheless!
The Christian attitude is twofold: one that recognizes and discerns the struggle, but always hopes in the victory attained through faith, even in suffering. That is not fluffy optimism, but the fruit of those who live as priests, prophets, and kings, participating in the life, passion, and resurrection of Jesus Christ.
For Christians, the moment has arrived to free themselves from a false inferiority complex… to be valiant witnesses of Christ. —Cardinal Stanislaw Rylko, President of the Pontifical Council for the Laity, LifeSiteNews.com, Nov. 20th, 2008
I have updated the following writing: