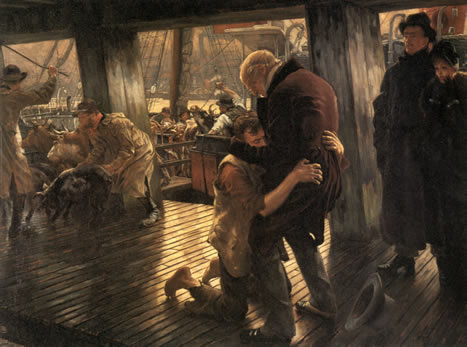 The Prodigal Son, the Return by Tissot Jacques Joseph, 1862
THE Lord has been speaking non-stop since I arrived here in Paray-le-Monial. So much so, that he has been waking me up to converse in the night! Yes, I would think I was crazy too if it were not for my spiritual director ordering me to listen!
As we watch the world descend into unprecedented paganism, the gap between rich and poor continue to grow, and the innocence of children increasingly endangered by hedonistic ideologies, there is a cry rising from the Body of Christ for God to intervene. I hear more frequently these days Christians calling out for the fire of God to fall and purify this earth.
But God has always surprised His people with mercy when justice was deserving, both in the New and Old Testaments. I believe the Lord is preparing to surprise us again in a most unprecedented way. I hope to share more of these thoughts with you over the next few days as the World Congress of the Sacred Heart begins this evening here in this little French town where the Sacred Heart was revealed to St. Marguerite-Mary.