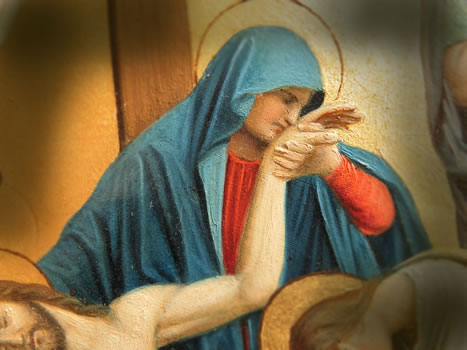 From the XIII Station of the Cross, by Fr Pfettisheim Chemin
"WOULD you pray over me?" she asked, as I was about to leave their home where she and her husband took care of me during my mission there in California several weeks ago. "Of course," I said.
She sat down in a chair in the living room facing a wall of icons of Jesus, Mary and the saints. As I placed my hands on her shoulders and began to pray, I was struck by a clear image in my heart of Our Blessed Mother standing beside this woman to her left. She was wearing a crown, like the statue of Fatima; it was strapped with gold with white velvet in between. Our Lady's hands were outstretched, and her sleeves were rolled up like she was going to work!
At that moment, the woman I was praying over began to weep. Continue reading →