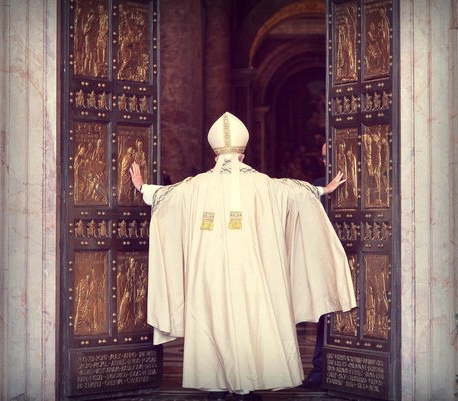 Pope Francis opening "doors of mercy", December 8th, 2015, St. Peter's, Rome
Photo: Maurizio Brambatti/European Pressphoto Agency
FROM the very beginning of his pontificate, when he refused the pomp that often accompanies the papal office, Francis has not failed to stir controversy. With deliberation, the Holy Father has purposely tried to model a different kind of priesthood to both the Church and the world: a priesthood that is more pastoral, compassionate, and unafraid to walk among the fringes of society to find the lost sheep. In so doing, he has not hesitated to sharply rebuke his confréres and threaten the comfort zones of "conservative" Catholics. And this to the glee of modernist clergy and the liberal media who intoned that Pope Francis was "changing" the Church to become more "welcoming" to gays and lesbians, divorcées, Protestants, etc. [1]eg. Vanity Fair, April 8th, 2016 The rebukes of the Pope toward the right, coupled with the assumptions of the left, has led to a cascade of downright anger and accusations toward the Vicar of Christ that he is attempting to alter 2000 years of Sacred Tradition. Orthodox media, such as LifeSiteNews and EWTN, have openly questioned the Holy Father's judgment and rationale in certain statements. And many are the letters I've received from laymen and clergy alike who are exasperated with the Pope's soft approach in the culture war.