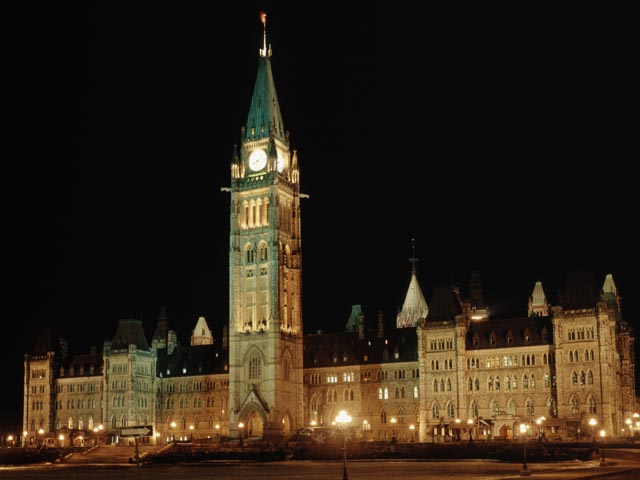 Ottawa, Canada

First published April 14th, 2006. 
 
If the watchman sees the sword coming and does not blow the trumpet so that the people are not warned, and the sword comes, and takes any one of them; that man is taken away in his iniquity, but his blood I will require at the watchman's hand. (Ezekiel 33:6)

 
I AM not one to go looking for supernatural experiences. But what happened last week as I entered Ottawa, Canada seemed an unmistakable visitation of the Lord. A confirmation of a powerful word and warning.
As my concert tour took my family and I through the United States this Lent, I had a sense of expectation from the beginning… that God was going to show us "something."
SIGNPOSTS 
As a signpost of this expectation was one of the most difficult inner trials I had experienced in a long time. In fact, this tour almost didn't happen through a series of intense distractions. It came together quite miraculously at the last second—sixteen events booked inside a week!
We didn't plan it this way, but our travels ended up taking us past three of the United States' biggest disasters in American history. We passed through Galveston, Texas where a tremendous hurricane took over 6000 lives in 1900… and then suffered a bruising last year with Hurricane Rita.
Our concerts then took us to New Orleans where we saw first hand what one resident described as damage of "biblical proportions." The devastation of Hurricane Katrina is eerie and unbelievable… his description, chillingly accurate.
On our way to New Hampshire, we were passing by New York City. Accidentally, I took a freeway turnoff meant for passenger cars only, and before we knew it, our tour bus was right beside Ground Zero: a gaping hole in the ground, with towering, billowing memories alone to fill it.
AN UNEXPECTED WORD 
Several evenings later, as we prepared to drive to Ottawa—the capital city of Canada—I kept saying to Lea that I felt God had shown us these cities for a reason—but what? That night as I was readying for bed, I looked at my wife's bible and had this tremendous urge to pick it up. I closed my eyes and heard the words "Amos 6…." Not exactly a book I've read from very much. But I turned to it nonetheless, obeying what I heard.
What I read was either a remarkable coincidence, or God speaking very clearly:
How terrible it will be for you that have such an easy life in Zion and for you that feel safe in Samaria — you great leaders of this great nation Israel, you to whom the people go for help! Go and look at the city of Calneh. Then go on to the great city of Hamath and on down to the Philistine city of Gath. Were they any better than the kingdoms of Judah and Israel? Was their territory larger than yours? You refuse to admit that a day of disaster is coming, but what you do only brings that day closer.

The Sovereign Lord Almighty has given this solemn warning: "I hate the pride of the people of Israel; I despise their luxurious mansions. I will give their capital city and everything in it to the enemy… I am going to send a foreign army to occupy you from Hamath Pass in the north to the Brook of The Arabah in the South. (Good News Catholic Bible)
Immediately, I understood the three ancient cities to be symbolic of the three cities we saw, and the capital city referred to as Ottawa. Also, I felt the Lord was addressing not just Canada's political leaders, but the leaders of the Church in Canada, and of course, the nation as a whole.
But I asked myself, "Am I making this up? Is this really a word from the Lord? Am I to give it to the people of Canada as I go to the capital city tomorrow?" I decided to simply sleep on it, erring on the side of caution.
CONFIRMATION 
The next day as we journeyed toward the city's borders, I began to pray the Rosary and Divine Mercy Chaplet, as it was Friday, and the Hour of Mercy (3-4pm). At the very moment we entered the city limits, I was suddenly and quite literally "drunk in the Spirit," or at least, that's how it felt. I have never experienced anything like this before, where my whole body, spirit, and soul were overwhelmed with God's Spirit. It came without warning and lasted 20 minutes until we arrived at the first of four concerts. My body trembled as though holy thunder shook it! I could barely drive (though the rest of the family thought the experience quite humorous!)
So that night, I shared with the audience the Scripture passage I received the night before. And I also added this…
Scripture tells us that God is love, NOT God is loving. His love does not decrease in proportion to our sinfulness, but is constant, unconditional. However, because He loves us, He will not watch idly as societies journey on a path of destruction (the result of having abandoned His good Will and Commandments).
Just as a loving mother shouts a warning when her child is about to touch a hot stove, so too does God the Father ring out through His servants warnings of what will result in a humanity continuing to rebel (see Romans 1:18-20; Revelations 2:4-5). God is not abandoning us! We, rather, are choosing to leave the refuge of His protection. And now, as one American priest puts it, "Canada is not immune."
What I hear in this word is a message of mercy, a shout from Heaven to call us back to the liberty of repentance and the joy and blessings of communion with God through a realignment of our national will with His Will. God is extremely patient. He is "slow to anger and rich in mercy." But as our country continues to abort it's future, redefine marriage, and put economics and health care ahead of morality—is God's patience running thin? When it ran out with Israel, He purified the nation He loved by turning it over to its enemies.
I want to note, as many of you know, that we almost didn't make it to Ottawa as my wife suddenly fell ill with a severe tonsil infection and was hospitalized. But through your prayers and a miraculous sign from Pope John Paul II, Lea quickly turned a corner, and we were able to complete our tour and give this message of love, mercy—and warning—to the nation of Canada.
Canada's politicians have made it clear they intend to remain on the present course of departing from the historical and moral roots of this country. We must pray for them and continue to speak truth. We must also pray for our shepherds whose silence is disturbing (except for the few). While many sheep continue to be lost in the tidal wave of moral relativism, especially the young, it is time for those sheep who are still strong to raise their voices in fearlessness…

Perhaps it is, as John Paul II said, "the hour of the laity."
When we cease to be Members of Parliament, sadly we will likely be forgotten by our fellow man—but not by God, who knows each of us intimately. If God Himself is truly the author of marriage, then let us be able to give a good account of ourselves when we stand before Him, as we all must stand before Him.  —Pierre Lemieux, Conservative MP in Ontario speaking December 6th, 2006 before the vote on re-opening the gay marriage debate in Canada. The motion was defeated.

If my people who are called by my name humble themselves, and pray and seek my face, and turn from their wicked ways, then I will hear from heaven, and will forgive their sin and heal their land. (2 Chron 7:14)
Your financial support and prayers are why
you are reading this today.
 Bless you and thank you. 

To journey with Mark in The Now Word,
click on the banner below to subscribe.
Your email will not be shared with anyone.