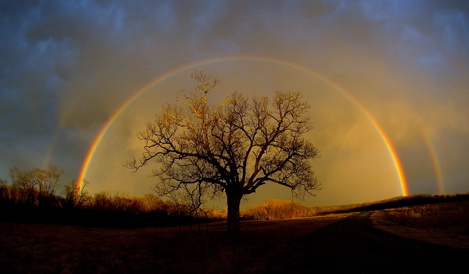 GOD leaves, as a sign of his covenant with Noah, a rainbow in the sky.
But why a rainbow?
Jesus is the Light of the world. Light, when fractured, breaks into many colors. God had made a covenant with his people, but before Jesus came, the spiritual order was still fractured—broken—until Christ came and gathered all things into Himself making them "one". You could say the Cross is the prism, the locus of the Light.
When we see a rainbow, we should recognize it as a sign of Christ, the New Covenant: an arc which touches heaven, but also earth… symbolizing the twofold nature of Christ, both divine and human.
In all wisdom and insight, he has made known to us the mystery of his will in accord with his favor that he set forth in him as a plan for the fullness of times, to sum up all things in Christ, in heaven and on earth. —Ephesians, 1:8-10