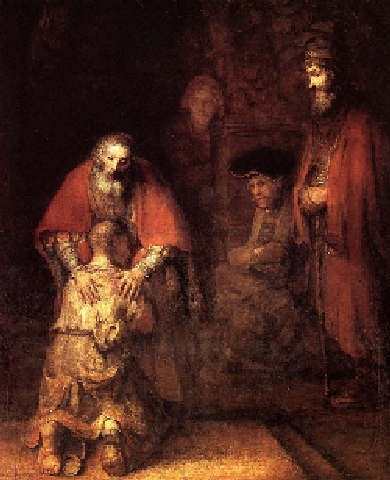 Rembrandt van Rijn, "The return of the prodigal son"; c.1662
 
OF course, one can ask God directly to forgive one's venial sins, and He will (provided of course, we forgive others. Jesus was clear on this.) We can immediately, on the spot as it were, stop the bleeding from the wound of our transgression.
But this is where the Sacrament of Confession is so necessary.  For the wound, though not bleeding, may still be infected with "self". Confession draws the puss of pride to the surface where Christ, in the person of the priest (John 20:23), wipes it away and applies the healing balm of the Father through the words, "…may God grant you pardon and peace, and I absolve you from your sins…." Unseen graces bathe the injury as—with the Sign of the Cross—the priest applies the dressing of God's mercy.
When you go to a medical doctor for a bad cut, does he only stop the bleeding, or does he not suture, cleanse, and dress your wound? Christ, the Great Physician, knew we would need that, and more attention to our spiritual wounds.
Thus, this Sacrament was his antidote to our sin.
While he is in the flesh, man cannot help but have at least some light sins. But do not despise these sins which we call "light": if you take them for light when you weigh them, tremble when you count them. A number of light objects makes a great mass; a number of drops fills a river; a number of grains makes a heap. What then is our hope? Above all, confession. —St. Augustine, Catechism of the Catholic Church, n. 1863

Without being strictly necessary, confession of everyday faults (venial sins) is nevertheless strongly recommended by the Church. Indeed the regular confession of our venial sins helps us form our conscience, fight against evil tendencies, let ourselves be healed by Christ and progress in the life of the Spirit.—Catechism of the Catholic Church, n. 1458