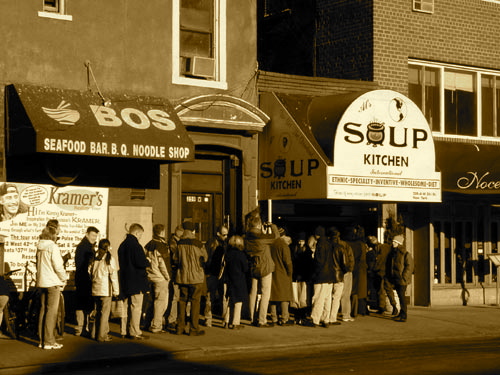 FEAST OF ST. MATTHEW, APOSTLE AND EVANGELIST
EVERYDAY, soup kitchens, whether in tents or in inner city buildings, whether in Africa or New York, open up to offer edible salvation: soup, bread, and sometimes a little dessert.
Few people realize, however, that everyday at 3pm, a "divine soup kitchen" opens from which pours forth heavenly graces to feed the spiritually poor in our world.
So many of us have family members wandering about the inner streets of their hearts, hungry, tired, and cold—freezing from the winter of sin. In fact, that describes most of us. But, there is a place to go…
God, in His Mercy, having seen the extraordinary spiritual poverty of this age, has given us recourse each day, particularly for one hour at 3pm (the hour in which Jesus died upon the Cross), when we can approach Him for extraordinary graces for ourselves and our loved ones. We do so by means of the Divine Mercy Chaplet—a simple but powerful prayer which begs the Father to place the soup spoon of Mercy to the lips of a sinner.
This was God's promise to St. Faustina who received this devotion last century:
Oh,what great graces I will grant to souls who say this chaplet: the very depths of My tender mercy are stirred for the sake of those who say the chaplet. Write down these words, My daughter. Speak to the world about My mercy; let all mankind recognize My unfathomable mercy. It is a sign for the end times; after it will come the day of justice. While there is still time let them have recourse to the font of My mercy; let them profit from the Blood and Water which gushed forth for them.
At three o' clock, implore My mercy, especially for sinners; and if only for a brief moment, immerse yourself in My Passion, particularly in My abandonment at the moment of agony: This is the hour of great mercy for the whole world. I will allow you to enter into My mortal sorrow. In this hour, I will refuse nothing to the soul that makes a request of Me in virtue of My Passion. —Diary of St. Faustina, II (229) 848
Does it sound to good to be true? We can limit God, or we can begin to say this prayer in trust, as inconvenient or awkward as it may be. It is so significant, that Pope John Paul II felt the spreading of this devotion the primary task of his pontificate!
Right from the beginning of my ministry in St. Peter's See in Rome, I consider this message [of Divine Mercy] my special task. Providence has assigned it to me in the present situation of man, the Church and the world. It could be said that precisely this situation assigned that message to me as my task before God. —JPII, November 22, 1981 at the Shrine of Merciful Love in Collevalenza, Italy
The Soup Kitchen of Divine Mercy is open daily at 3pm. Open to all. Click here for details, or here to pray the Chaplet.