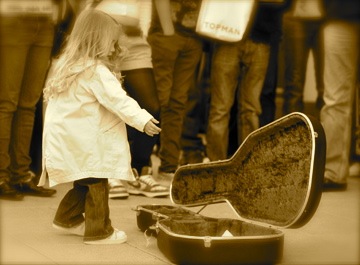 AS I look at my email box full of appeals for donations from many Catholic ministries… as I read the headlines and the growing unemployment rate… as we near Christmas when everyone is preparing for family time, I wonder, how can I ask for help for this ministry?
But last night, my wife nudged me and said, you have to. It's true. Few realize that I no longer do concert tours, and only take minimal select bookings. The reason is that this writing and video apostolate now require all of my time. It's where my spiritual director has asked me to focus my energy. I am okay with and obedient to that. But the majority of our ministry and family income has dried up. It's at times like this where you look up at the ceiling in the middle of the night and wonder if you're really doing God's will, when ministry and family expenses far outweigh the income trickling in. Book sales and webcast subscriptions are paying some bills, but not nearly enough.
I trust in God that I am doing His will. I trust in Him working through my spiritual director and speaking through my best friend, my dear wife; I trust in the support and encouragement of many holy and faithful priests and in the fruit I've read in hundreds of letters I've received, that Jesus is truly doing something through this ministry, despite myself.
And so I want to keep going; I have to—my heart continues to burn with the words which come to me in prayer and meditation. I am driven by a deep love for souls, for each of you… a love that I know flows from the Heart of Jesus through my little heart. I am doing everything I can to make this ministry as freely available as possible because I know these are hard times. If I could, I would give it all away! But I have little mouths to feed, eight of them in fact, and so… that's how I can ask.
I am not asking from those of you who have nothing to give, but am appealing to those of you who have something to spare. In fact, I am asking (I don't know, maybe begging) for a benefactor or two to step forward, someone who believes deeply in what we're doing, and can help this ministry accomplish its mission on a much larger scale: to spread the message of Divine Mercy, a message of love, warning, and hope to a world where God is disappearing. I have songs sitting here that I would love to record, but nary two pennies to produce them. I have another book to write, but…
Okay… enough said. I really resisted having to write this letter—I suppose it's my pride. Nonetheless, my guitar case is open. If you are blessed by the "song of the Spirit" you hear coming forth from this apostolate, if it is truly spiritual food, if it is helping you fall in love more and more with Jesus, then please pray about helping us so we can continue this work. We can also set up an automatic monthly donation for those of you capable of doing so. And of course, your purchase of my CD's and/or book help us greatly.
God bless you all. You are loved!
To donate to my apostolate, click here:

To purchase my new book or any of my music and devotional CD's, go to: