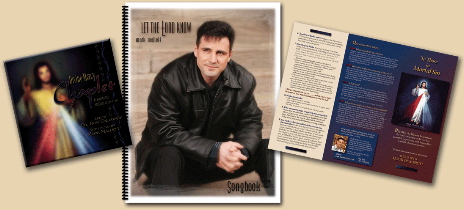 DEAR friends,
In this next month or so, our ministry will be releasing some very significant projects including (click on titles to go to link):
We are very excited about how God may use these tools to extend His love to many souls.
The cost of these three projects combined is around $50,000. We also are in dire need of upgrading my computer ($2,300), which will be instrumental in helping me keep in touch with you when I am on tour. The truth is, we simply borrow to make these projects happen… and make up the rest from the odd donation that rolls in, and whatever comes to us through concert tours and CD sales. This provides not only for our enormous overhead, the day to day costs, but also for the food we put in front of our seven children.
I wish we didn't have to borrow, but the reality is, many Catholic ministries are barely making it. In this past year, several internationally known Catholics in lay ministry whom I personally know, have barely been able to keep the lights on.
Those who have followed this ministry know we don't ask often. But if you are able to help us get through another bottleneck, we would be most grateful.
You can donate online with your credit card
and find more information by clicking on the poor little cat's paws
(whom I hired for this appeal… good kitty):
Thank you, and God bless you for your generosity and prayers. You remain in my daily prayer also.
Mark Mallett

—More on Fr. Don Calloway here—

Click here to Unsubscribe or Subscribe to this Journal.