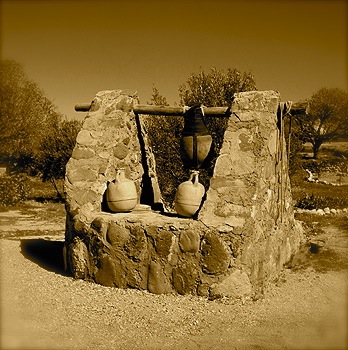 WHAT does it mean to become a living well?
TASTE AND SEE
What is it about souls who have achieved a degree of holiness? There is a quality there, a "substance" which one wants to linger in. Many have left changed people after encounters with Blessed Mother Teresa or John Paul II, even though at times little was spoken between them. The answer is that these extraordinary souls had become living wells.
Whoever believes in me, as scripture says: 'Rivers of living water will flow from within him.' (John 7:38)

The psalmist writes:
O taste and see that the Lord is good! (Ps 34:8)
People are hungering and thirsting to taste and see the Lord, today. They are searching for Him on Oprah Winfrey, in a bottle of booze, in the refrigerator, in illicit sex, on Facebook, in witchcraft… in a vast number of ways, trying to find the happiness for which they were created. But Christ's plan was that humanity would find Him in His Church—not an institution, per se—but in its living members, its living wells:
We are ambassadors for Christ, as if God were appealing through us. (2 Cor 5:20)

This century thirsts for authenticity… The world expects from us simplicity of life, the spirit of prayer, obedience, humility, detachment and self-sacrifice. —POPE PAUL VI, Evangelization in the Modern World, 22, 76
This is what St. Paul meant when he said,
I have been crucified with Christ; it is no longer I who live, but Christ who lives in me (Gal 2:20)

If we break this sentence into three parts, we find the anatomy of a "living well."
"I HAVE BEEN CRUCIFIED"
When a water well is drilled, all the silt, rock, and soil have to be removed to the surface. This is what it means to be "crucified with Christ": to bring into the light all of the silt of self, the rock of rebellion, and the soil of sin. It is very difficult for the Christian soul to be a vessel of pure Living Waters with these mixed into It. The world tastes, but is left unsatiated by the brackish waters which have tainted the graces they longed to drink of.
The more one dies to self, the more Christ rises within.
Unless a grain of wheat falls to the ground and dies, it remains just a grain of wheat; but if it dies, it produces much fruit. (John 12:24)
Yet, a "drilled hole" is not enough. There has to be a casing which can "contain" the Living Water of the Holy Spirit…
"IT IS NO LONGER I WHO LIVE"
In wells, a casing of stone or concrete is built along the inner walls to keep the earth from "backsliding" into the well.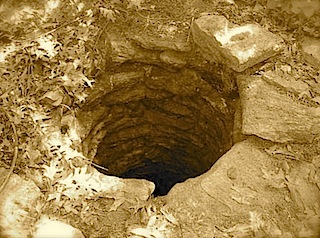 We build such a casing by "good works." These stones are the form of the Christian, the outer-sign which says "I am a container of the Living Waters." As Scripture says,
Your light must shine before others, that they may see your good works and glorify your heavenly Father… Demonstrate your faith to me without works, and I will demonstrate my faith to you from my works. (Matt 5:16; James 2:18)
Yes, the world must taste and see that the Lord is good. Without a visible well, Living Waters are hard to find. Without the casing, the well will begin to cave in under "the lust of the flesh and the lust of the eyes and the pride of life" (1 John 2:16) and become overgrown with the thorns of "worldly anxiety and the lure of riches" (Matt 13:22). On the other hand, wells with only "good works," but lacking the "substance" of an authentic living faith in Christ—the Living Waters—are often "like whitewashed tombs, which appear beautiful on the outside, but inside are full of dead men's bones and every kind of filth… on the outside you appear righteous, but inside you are filled with hypocrisy and evildoing." (Matt 23:27-28).
In his first encyclical, Pope Benedict stresses that loving one's neighbour has two components: one is the act of love, the good deed itself, and the other is the Love whom we transmit to the other, that is, God who is love. Both must be present. Otherwise the Christian risks being reduced to merely a social worker and not a divinely appointed witness. He notes that the Apostles were not to…
...carry out a purely mechanical work of distribution: they were to be men "full of the Spirit and of wisdom" (cf. Acts 6:1-6). In other words, the social service which they were meant to provide was absolutely concrete, yet at the same time it was also a spiritual service. —POPE BENEDICT XVI, Deus Caritas Est, n.21
To follow the commandments of Jesus, producing good works along the way, means it is no longer I who live, or rather, I living for myself, but for my neighbour. However, it is not "I" that I wish to give, but Christ…
"CHRIST WHO LIVES IN ME"
How does Christ live in me? Through an invitation of the heart, that is, prayer.
Behold, I stand at the door and knock; if any one hears my voice and opens the door, I will come in to him and eat with him, and he with me. (Rev 3:20)
It is prayer which draws the Holy Spirit into my heart, that fills my words, actions, and thoughts with the presence of God. It is this Presence then which flows out of me into the parched souls of those seeking to quench their spiritual thirst. Somehow today, we have lost the understanding of the necessity of prayer in the Christian life. If Baptism is the initial flood of grace, it is prayer which continually fills my soul with Living Water for my brother to drink. Is is possible that the busiest, most active, most apparently talented Christian ministers today are offering at times little more than dust to the world? Yes, it is possible, for what we have to give is not just our knowledge or service, but the living God! We give Him by emptying ourselves continually—getting out of the way—but then continually filling ourselves with Him through an interior life of prayer "without ceasing." The bishop, priest, or layman who says he has "no time to pray" is the one who needs to pray the most, otherwise, his or her apostolate will lose its power to change hearts.
It is also prayer which enables me to discover and build up, according to m
y vocation, the stones necessary to become a visible oasis in the desert of the world:
Prayer attends to the grace we need for meritorious actions. —Catechism of the Catholic Church, n. 2010
Like a recirculating pump, good works themselves, if done in a spirit of genuine charity, further draw Living Waters into the soul in what becomes a rhythmic pattern between the interior and exterior life of the Christian: repentance, good works, prayer… drilling the well deeper, building its form, and filling it with God.
Love grows through love. —POPE BENEDICT XVI, Deus Caritas Est, n.18
Remain in me, as I remain in you… Whoever remains in me and I in him will bear much fruit, because without me you can do nothing… If you keep my commandments, you will remain in my love. (John 15: 4-5, 10)
WHAT KIND OF WELL DO YOU WISH TO BE?
This is not to say that God cannot work through willing or even unwilling individuals. Indeed, there are many who have "charisms" which appear powerful. But they are often like shooting stars which dazzle for a moment, then are soon forgotten, their lives brightening for only a brief moment, but leaving no lasting compass. What I am speaking of here are those fixed stars, those blazing suns called "saints" whose light continually reaches toward us even long after their earthly lives have burned out. This is the living well you are to become! A well who offers Living Waters that change and transform the world around you, leaving His Presence long after your presence is gone.
Let me summarize everything I have said here in the words of St. Paul—one of the greatest living wells in Christianity whose Year we continue to celebrate. The Christian's life is built upon Jesus, as a well is built upon the earth.
If anyone builds on this foundation with gold, silver, precious stones, wood, hay, or straw, the work of each will come to light, for the Day will disclose it. It will be revealed with fire, and the fire will test the quality of each one's work. (1 Cor 3:12-13)
What are you building your well with? Gold, silver, and precious stones, or wood, hay, and straw? The quality of this well is determined by the "interior life" of the soul, the relationship you have with God. And prayer is the relationship—a communion of love and truth expressed in obedience and humility. Such a soul is often not even aware that he is building a well of precious gems… but others are. For they can taste and see in him that the Lord is good. Jesus said a tree is known by its fruit. It is the hidden interior life of the tree which determines the fruit: the health of the roots, the sap, and the core. Who can see the bottom of a well? It is that deep interior life of the well, where fresh Waters are drawn, where there is stillness, and silence, and prayer that God is able to seep into the soul so that others may lower the cup of their desire into your heart and find Him for whom they have been longing.
This is the kind of Christian that Mother Mary has been appearing for decades now to generate. Apostles who, formed in the womb of her humility, will become living wells in the Great Desert of our times. Thus she says, "Pray, pray, pray" that you will have Waters to give.
The saints—consider the example of Blessed Teresa of Calcutta—constantly renewed their capacity for love of neighbour from their encounter with the Eucharistic Lord, and conversely this encounter acquired its real-ism and depth in their service to others. Love of God and love of neighbour are thus inseparable, they form a single commandment… In the example of Blessed Teresa of Calcutta we have a clear illustration of the fact that time devoted to God in prayer not only does not detract from effective and loving service to our neighbour but is in fact the inexhaustible source of that service. —POPE BENEDICT XVI, Deus Caritas Est, n.18, 36
We hold this treasure in earthen vessels… (2 Cor 4:7)