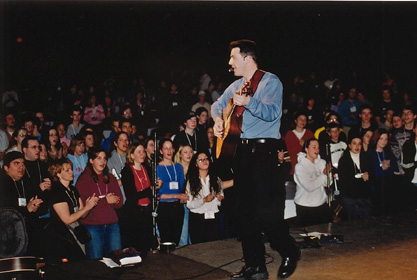 MARK Mallett will begin a new Conference and Concert Tour across Canada and the United States, Saturday, June 9th.

Mark hopes for your prayers and intercession for each event, and of course, to be with those of you who can attend. Mark will continue to write meditations while on the road as the Spirit leads, though they may be more infrequent.
SCHEDULE
June 9: 1-Day Conference, St. Martha's Parish, Lethbridge, AB, 9:00 am – 4 pm
June 14: Concert, St. Mary's Parish, Luxemburg, WI, USA, 7:00 pm
June 16: Farewell Concert, St. Peter's Parish, Sarnia, ON, 7:30 pm
June 21-24: Family Retreat, Purity Spring Resort, Madison, NH, USA Resort Website
June 25: Concert, Holy Angels Parish, Plaistow, NH, USA, 7:00 pm
June 28 – July 1: Catholic Family Expo, Baltimore Convention Centre, MD, USA MORE INFO
July 1: Concert, Our Lady of Perpetual Help Parish, Ellicott City, MD, USA, 7:00 pm
July 7: Concert, Our Lady Help of Christians Parish, Wallaceburg, ON, 7:30 pm
July 8: Concert, Holy Name of Jesus Parish, Essex, ON, 7:00 pm
July 13 & 14: Journey to the Father Youth Conference, St. Raphael's, ON MORE INFO
To view Mark's music website, hear song clips, or order his music, go to: www.markmallett.com
Click here to Unsubscribe or Subscribe to this Journal.