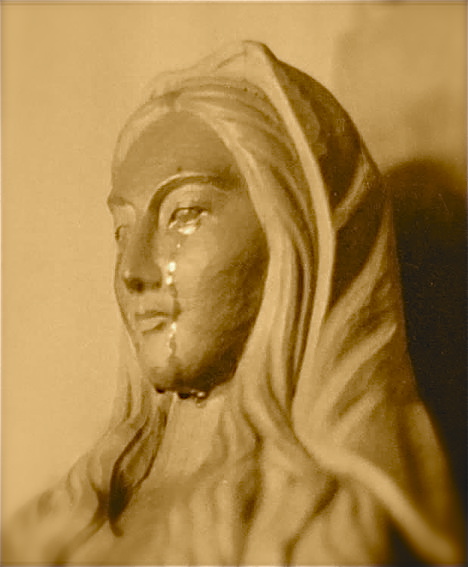 Our Lady of Akita weeping statue (approved apparition) 
I RECEIVE letters from time to time from readers who are very upset about the possibility of chastisements coming to the earth. One gentleman recently commented that his girlfriend thought they shouldn't marry because of the possibility of having a child during coming tribulations. 
The answer to this is one word: faith.
First published December 13th, 2007, I have updated this writing. 
THE SORROW OF KNOWING 
Apparently the visionaries of Medjugorje have been given knowledge of coming chastisements known as part of the "secrets" that have been allegedly disclosed to them by the Blessed Mother. They have admitted in interviews that they are deeply troubled by them. But not for their own sake.
The following is taken from an interview with the seer Mirjana Dragicevic:
The Blessed Mother comes to me now when I especially need her. And it is always concerning the secrets. Sometimes I hardly can stand the pressure of knowing them. During those moments the Blessed Mother comforts me and encourages me.

(Interviewer) Are they that awful?

Yes, it is so hard for me. But as bad as they are, at the same time she told me we should not be afraid. God is our Father, Mary is our Mother. 

Then why are you so upset now, that the Blessed Mother must come to comfort and encourage you?

Because there are many who do not believe… I feel such sorrow for them that I can hardly bear it! My suffering is so great for them that I really must have the Blessed Mother's help to survive.

Your suffering is really compassion for unbelievers? 

Yes. They do not realize what awaits them!

How does the Blessed Mother console you?

She and I pray together for those who do not believe. —excerpt from Queen of the Cosmos-Interviews with the Visionaries of Medjugorje, by Jan Connell; p. 31-32; Paraclete Press
When the visionaries were asked if they were personally afraid of the secrets, they all answered "No." But like Mirjana, they suffer immensely, sometimes visibly, for unrepentant souls.
I cannot tell you for certain whether or not these alleged apparitions are authentic—that is the domain of Church authorities. But I can say, based on my own interior life and that of many of you who have written, that we are living in a time of intense concern and sorrow for the vast apostasy which has gripped the Church. It is my suspicion (although God's patience is immeasurable) that as these inner waves of intercession and grief continue to make shore in our hearts, that we are nearing these times of Great Purification. In fact, I believe they have already begun, particularly in this Year of the Unfolding. 
The point is this: if you are in the Ark of Mary's Immaculate Heart, you have nothing to fear, just as Noah had nothing to fear of the coming storm. But this is not a place of passivity! Rather, Mary is asking us—begging us—to pray and fast for these souls for whom her own heart is pierced with a sword.
FAITH 
So let us refuse to give a voice to the serpent of fear hissing in our ears. Instead, use your energy to pray for and love those who have closed their hearts to God. Jesus said that faith can move mountains. Prayer is faith in action. So let us move the mountains of disbelief that overshadow so many hearts by beginning to fast and pray with renewed fervor. 
I hear again the words of our Mother to St. Juan Diego:
Am I not your mother? …Let nothing trouble or afflict you. 
Throw yourself into her arms, and trust once and for all that Jesus is going to care for His bride during those tribulations, should they arrive in your lifetime (apparently, Mirjana will be a witness to these events within her lifetime…) Worse case scenario? You die and go to heaven. But that could happen tonight in your sleep. Be prepared to meet Jesus any moment. Never worry.
There was a saint who also spoke of coming chastisements after a time of grace on the earth. But neither did she say we should be afraid. Rather, St. Faustina made it her mission to teach us a simple prayer of faith:  Jesus, I trust in you.
Yes, Jesus, I trust in you! 
REFERENCE: