THE heart is a finely tuned instrument. It is also delicate. The "narrow and rough" road of the Gospel, and all the bumps we encounter along the way, can throw the heart out of calibration. Temptations, trials, suffering… they can shake the heart such that we lose focus and direction. Understanding and recognizing this innate weakenss of the soul is half the battle: if you know your heart needs to be recalibrated, then you're halfway there. But many, if not most professing Christians, don't even realize their hearts are out of sync. Just as a pacemaker can recalibrate the physical heart, so too we need to apply a spiritual pacemaker to our own hearts, for every human being has "heart trouble" to one degree or another while walking in this world.
MORNING
When you wake up in the morning, what's the first thing you do? If it takes you a couple hours before you even acknowledge God, then your heart needs to be recalibrated.
As our minds begin to stir with all the responsibilities of the day, it is easy to get caught up in the whirlwind of all that we face. There is that immediate sense that one is already behind, that there isn't enough time to finish all that the day demands. Here is the moment when the heart needs to be quickly recalibrated. Otherwise, we risk getting sucked into the vortex of busyness, and God will ultimately take a back seat. And we will suffer as much as a branch will suffer when separated from the vine.
But He is our peace and consolation! He is our everything, our life, our breath, our reason for being! The more our hearts lose this calibration, this centering upon him, the more restless and disturbed we become. Put positively…
I set the LORD ever before me; with him at my right hand I shall not be disturbed. (Psalm 16:8)
Don't be naive! Every morning, weeds are springing up ready to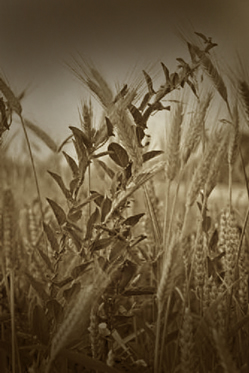 choke out the good seed that God has planted in your heart…
…worldly anxiety and the lure of riches choke the word and it bears no fruit. (Matt 13:22)
That's why the Scriptures admonish us to constantly stay sober and alert. [1]1 Pet 5:8 We have to constantly set the Lord ever before us, to repeatedly recalibrate the heart toward Him. What does this mean?
Jesus taught us to be careful about getting caught up in the whirlwind of the pursuit after the necessities of life, or worse, the "mammon" of the world, those treasures that rot and decay:
All these things the pagans seek. Your heavenly Father knows that you need them all. But seek first the kingdom of God and his righteousness, and all these things will be given you besides. (Matt6:32-33)
We should begin our day taking a few moments to give thanks and praise to God for a new day, for breath, for life, for health, for provisions, and above all, for Him. To acknowledge, thank, and praise God should be the first calibration of the heart each morning. Then we need to literally set out saying, "Lord, eveyrthing I do now I do for you. Your will is my food. Your Kingdom and your glory are my concern. Whatever I do, I do for love of you, expressed in love for my neighbour." If possible, the morning is the best time to set aside a time of reflection and prayer with the Scriptures, Rosary, etc. before the first inevitable winds of chaos come a-blowing… and the time of solitude with God gets pushed to the end of the day, or usually, completely over the edge.
DAY
Most of us are not monks or religious. We are called to live and work in the marketplace. Therefore, God does not expect you to sit for hours contemplating in a chapel or offering up hours of prayer when your vocation does not permit this.
…the practice of devotion must also be adapted to the strength, activities, and duties of each particular person. —St. Francis de Sales, Introduction to the Devout Life, p. 33, translation by John K. Ryan
We are each, however, called to devotion, in fact, to pray without ceasing. [2]1 Thess 5:17 How is this possible? Through a heart that is calibrated toward God each moment of the day.
The other day, I had to carry something to the barn. A simple task, one that by all appearances was utterly forgetable and miniscule.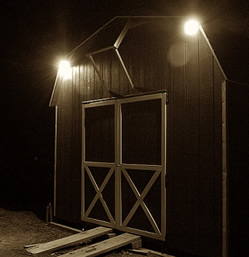 But as I walked out into the evening air, I said, "Lord, this is Your will, my food. With each step, I love You, honor You, and walk with You in this duty of the moment." And as silly as that may sound, I became conscious of God; I became aware again of the Father's love, and my whole being resonated with an eternal moment. Yes, that is how our days are to be lived, in the constant awareness of God's presence (whether we feel Him or not), doing the duty of the moment, those little miniscule acts, with great love. Then Heaven and earth intersect, and what appears to be "nothing" becomes imbued with "Everything".
Try this, even now as you read. Say to God, "I love you. I read this now through You, with You, and in You, in the unity of the Holy Spirit, that all glory and honor may be yours Almighty Father, forever and ever." This little Sacrifice of the moment, this little offering, is precisely how you live out your "royal priesthood."
But of course, if we kept offering such prayers constantly, we would likely be incapable of teaching a class, participating in a meeting, writing an exam, etc. It is enough to simply "look" toward God, to acknowledge Him, to "be" with Him. Simple phrases such as "Jesus, I trust in you," or even just "Jesus" are little ways that we can recollect the heart—words that help us quickly fix our eyes on the Lord. [3]cf. Recollection In this way, your heart will be recalibrated, for to work and play with God is to live for Him, for His kingdom, and to begin to experience the kingdom which is "near."
Yes, a glance toward God is a look toward eternity.
EVENING
Inevitably by nightfall, we will have stumbled, fallen, and forgotten to calibrate ourselves toward God during the day.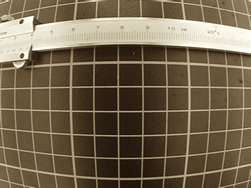 When evening comes, we need to re-calibrate our hearts before we go to sleep. In humility, we need to approach God with a brief examination of conscience, confess our failures, and recommit our lives to Him. This should be an intimate moment between you and the Father as you acknowledge once again His infiinite mercy and forgiveness and your limited a
bility to love. In this way, your heart is once again refreshed and restored so that the next morning you can begin your day without the "junk" of yesterday.
Don't give the devil a chance by letting the sun set on an uncalibrated heart.
BEGIN AGAIN
Recalibrating the heart means beginning again and again as we climb the mountain of sanctity toward union with God—stumbling, tripping, getting up again. As I quoted from the Catechism in my last webcast on The Power of the Cross…
He who climbs never stops going from beginning to beginning, through beginnings that have no end. —Catechism of the Catholic Church, 2015
Don't be alarmed when you realize that you have to recalibrate your heart often, or that you have gone for hours without even thinking of God! Rather, use this as a moment to humble yourself and acknowledge that you are maybe not as in love with God as you thought you were, that you seek your kingdom more than His, and that there is still much conversion left in your life. Well, for such as you and I did Jesus come, not for the well, but for the sick. [4]cf. Mark 2:17 Living a life constantly in God's presence with all your heart, soul, and strength, comes by way of habit.
Thus, the life of prayer is the habit of being in the presence of the thrice-holy God and in communion with him. This communion of life is always possible because, through Baptism, we have already been united with Christ.—Catechism of the Catholic Church, 2565
You cannot do this without God's grace. So like the Psalmist, set the Lord ever before you as often as you can remember, and God will do the rest. Offer Him your five loaves and two fish in the morning, and He will begin to multiply it throughout your day, throughout your life. He could bring you into the ecstasy of union in a fraction of a second. But He doesn't, because the path must be one of trust, friendship, relationship… faith. [5]see Why Faith? And as we know, that is a road of many beginnings, many efforts and recalibrations.
But it leads to eternal life, here and hereafter.
Repent, for the kingdom of Heaven is at hand. (Matt 4:17)