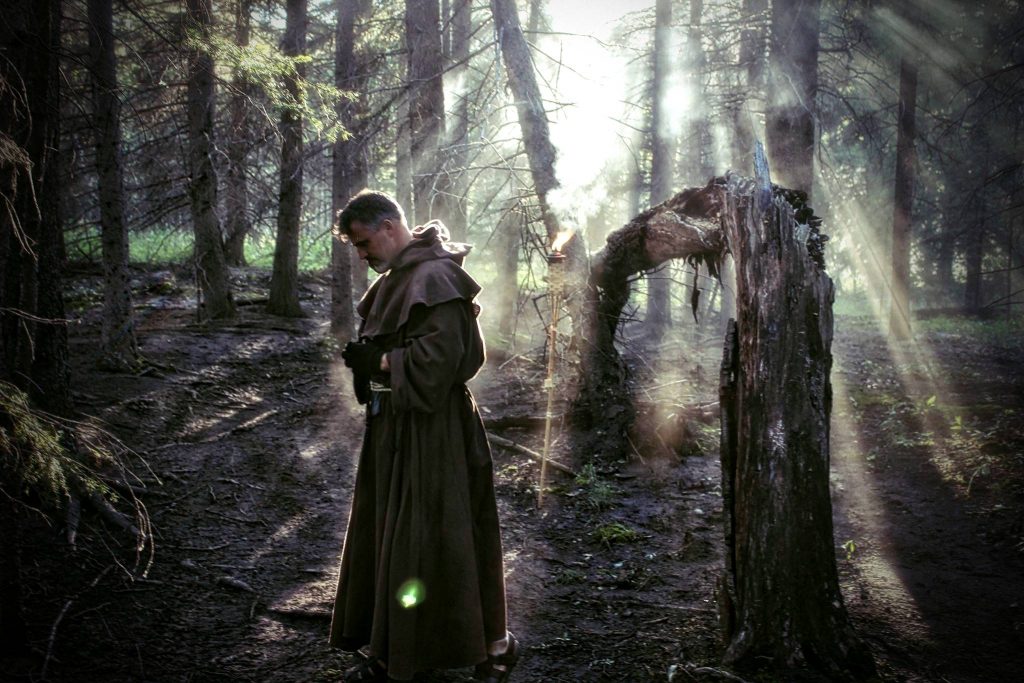 My character "Brother Tarsus" from Arcātheos
THIS week, I am rejoining my companions in the realm of Lumenorus at Arcātheos as "Brother Tarsus". It is a Catholic boys camp situated at the base of the Canadian Rocky Mountains and is unlike any boys camp I've ever seen.
In between Mass and solid teachings, the boys take up (foam) swords and battle with the enemy (dads in costume), or learn various skills from archery to tying knots. If you haven't seen it yet, below is the theatrical trailer I produced of the camp a few years back.  
My character is Arch-Lord Legarius who, when he's not defending the King, retires to the solitude of the mountains in prayer as "Brother Tarsus." For me, this acting role is an opportunity to enter the character of a saint, and for six days, truly live as such among the boys. I come from an acting family, grew up acting, and for me, this is another outlet and way to evangelize. Often, the Lord just puts a word on my heart, and in the middle of a scene, I'll share something of the Gospel. 
After the first time I acted at the camp several years ago, I got into my car for the long drive home and I found myself weeping. "Who was that?" I thought to myself. "That's the saint I need to be everyday." But when I got back home to my unpaid bills, broken farm machinery, parenting, and the demands of my ministry, I soon discovered who I really was. And it was humbling. I pined for the simplicity of my acting role, away from the world of the internet, gadgets, credit cards, email, fast pace… but… home was real life—camp wasn't. 
The truth is that where I am in life right now as a married father of eight with one grandchild, an international writing apostolate, a music ministry, and a small farm to manage—this is my path to sanctity, and no other. We can dream about acting roles—and that includes going on missions to foreign lands, starting ministries at home, winning the lottery so we can help people in need, getting this or that break…. But in truth, right now, right where we are, contains the hidden path and treasure trove of grace to become a saint. And the more distasteful that is, the more efficacious a path it will be; the more the cross, the greater the resurrection. 
It is necessary for us to undergo many hardships to enter the Kingdom of God. (Acts 14:22)
The true path to holiness is the station of life you are presently in. For some of you, that may be lying in a bed, or being beside the bed of someone who needs your constant care. It is going back to your job with that difficult co-worker, irritable boss, or unjust situation. It is trudging through your studies, or cooking yet another meal, or doing the laundry. It is remaining faithful to your spouse, dealing with rebellious children, or attending Mass faithfully at your "dead" parish. Often, we find ourselves praying for the situation to change, and when it doesn't, we wonder why God isn't listening. But His answer is always expressed in the duty of the moment. That is His Will, and therefore, the path to holiness. 
Jesus once said, 
..a son cannot do anything on his own, but only what he sees his father doing; for what he does, his son will do also. For the Father loves his Son and shows him everything that he himself does… (John 5:19-20)
Lately, I have stopped asking the Lord to bless what I feel is the best path forward, and instead, am now asking the Father to simply show me what He is doing. 
Show me what you are doing, Father, so I may only do your Will, and not my own. 
This is hard sometimes, because it often involves self-denial or suffering…
Whoever does not carry his own cross and come after me cannot be my disciple. (Luke 14:27)
…but it is also the path to true joy and peace because His Will is also the place of His presence.
You will show me the path of life; In Your presence is fullness of joy. (Psalm 16:11)
Learning to rest in His Will, no matter how hard, is the key to peace. The word is abandonment. For this week, God's Will is that I become Brother Tarsus once again so the young men, including two of my sons who are with me, may experience the adventure of not only life, but of the Gospel. But when it's all over, I will be returning to the True Adventure and certain path to holiness: being a dad, husband, and brother to all of you. 
May it be done to me according to your word. (Luke 1:28)
RELATED READING
The Unforeseeable Fruit of Abandonment
  
Mark will resume writing when he returns in August. 
Bless you. 

To journey with Mark in the The Now Word,
click on the banner below to subscribe.
Your email will not be shared with anyone.