THE NOW WORD ON MASS READINGS
for February 3rd, 2014
Liturgical texts here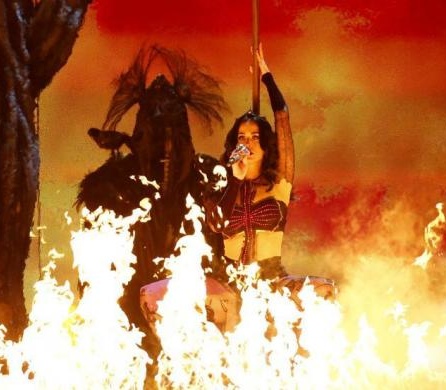 A "performance" at the 2014 Grammy Awards
ST. Basil wrote that,
Among the angels, some are set in charge of nations, others are companions of the faithful… —Adversus Eunomium, 3:1; The Angels and Their Missions, Jean Daniélou, S. J., p. 68
We see the principle of angels over nations in the Book of Daniel where it speaks of the "prince of Persia", whom the archangel Michael comes to battle. [1] In this case, the prince of Persia appears to be the satanic stronghold of a fallen angel.
The guardian angel of the Lord "guards the soul like an army," said St. Gregory of Nyssa, "provided we do not drive him out by sin." [2] That is, grave sin, idolatry, or deliberate occult involvement can leave one vulnerable to the demonic. Is it possible then that, what happens to an individual who opens himself up to evil spirits, can also happen on a national basis? Today's Mass readings lend some insights.
cf. Dan 10:20[↩]
The Angels and Their Missions, Jean Daniélou, S. J., p. 69[↩]