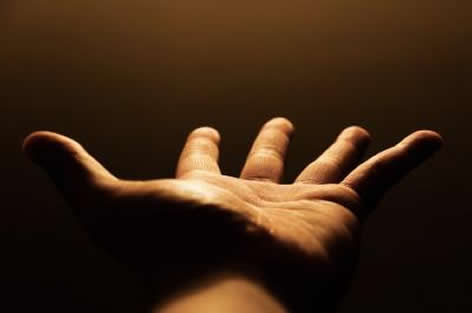 THE world is thirsting to experience God, to find the tangible presence of the One who created them. He is love, and therefore, it is the Presence of Love through His Body, His Church, that can bring salvation to a lonely and hurting humanity.
Charity alone will save the world. —St. Luigi Orione, L'Osservatore Romano, June 30th, 2010
JESUS, OUR EXAMPLE
When Jesus came to earth, He did not spend all His time on a mountaintop in solitude, conversing with the Father, pleading on our behalf. Perhaps He could have, and then at last made His descent into Jerusalem to be sacrificed. Rather, Our Lord walked among us, touched us, hugged us, listened to us, and looked each soul He approached in the eye. Love gave love a face. Love went fearlessly into the hearts of men—into their anger, mistrust, bitterness, hatred, greed, lust, and selfishness—and melted their fears with the eyes and Heart of Love. Mercy was incarnated, Mercy took on flesh, Mercy could be touched, and heard, and seen.
Our Lord chose this path for three reasons. One was that He wanted us to know that He truly loved us, in fact, how much He loved us. Yes, Love even let itself be crucified by us. But secondly, Jesus taught His followers—wounded by sin—what it means to be truly human. To be fully human is to love. To be fully human is also to be loved. And so Jesus says through His life: "I am the Way… the Way of Love which is now your Way, the Way to Life by living the Truth in love."
Third, His example is one that is to be imitated so that we in turn become His presence to others… that we become lamps who carry "the light of world" into the darkness becoming "salt and light" ourselves. 
I have given you a model to follow, so that as I have done for you, you should also do.  (John 13:15)
GO WITHOUT FEAR
The world will not be converted by speeches, but by witnesses. Witnesses of love. That is why I wrote in The Heart of God that you must abandon yourself to this Love, entrusting yourself to it, believing that He is merciful even in your darkest moments. In this way, you will come to know what it means to love by His unconditional love for you, and so be able yourself to show the world who Love is. And how can there be a more effective way to become the Face of Love than by looking directly into that Face whenever possible in the Holy Eucharist?
…before the Most Blessed Sacrament we experience in a quite special way that "abiding" in Jesus, which he himself, in John's Gospel, imposes as a prerequisite for bearing much fruit (cf. Jn 15:5). Thus we avoid the reduction of our apostolic action to sterile activism and instead ensure that it bears witness to God's love. —POPE BENEDICT XVI, Address at the Convention of the Diocese of Rome, June 15th, 2010; L'Osservatore Roman [English], June 23, 2010
When through faith you accept that He truly is Love, then you in turn can become the Face that you looked into in your own moment of need: the Face that forgave you when you did not deserve forgiveness, the Face that time and again shows mercy when you act more like His enemy. See how Christ has walked fearlessly into your heart, cluttered with sin and dysfunction and all kinds of disorder? Then you too must do the same. Do not be afraid to walk into the hearts of others, revealing to them the Face of Love who lives in you. Look at them with the eyes of Christ, speak to them with His lips, listen to them with His ears. Be merciful, meek, kind and gentle of heart. And always truthful.
Of course, it is that very truth that may leave the Face of Love once again scourged, pierced with thorns, beaten, bruised, and spat upon. But even in these moments of rejection, the Face of Love can still be seen in the contradiction that is presented through mercy and forgiveness. To forgive your enemies, to pray for those who mistreat you, to bless those who curse you is to reveal the Face of Love (Luke 6:27). It was this Face, in fact, that converted the Centurion.
GOOD WORKS
To become the Face of Love in our homes, in our schools and in the marketplace is not a pious thought but the command of our Lord. For we are not just saved by grace, but incorporated into His Body. If we look nothing like His Body on judgment day, we will hear those painful words of truth, "I do not know where you come from" (Luke 13:28). But Jesus would rather we choose to love, not out of fear of punishment, but because in loving, we become our true selves, made in the divine image.
Jesus is demanding, because He wishes our genuine happiness. —JOHN PAUL II, World Youth Day message, Cologne, 2005
But love is also the original order in which the world was created, and so we must strive to bring about this order for the good of all. It's not just about my personal relationship with Jesus, but bringing Christ into the world that He may transform it.
As I prayed the other day on top of a hill overlooking a nearby lake, I experienced a profound sense of His glory evident in everything. The words, "I love you" glimmered on the waters, echoed in the flap of wings, and sang in the meadows of green. Creation was ordered by Love, and thus, creation will be restored in Christ through love. That restoration begins in our daily lives by letting love guide and order our days according to our vocation. We must seek the kingdom of God first in all that we do. And when the duty of the moment is apparent to us, we must do it with love, in service to our neighbour, revealing to them the Face of Love… the Heart of God. But not only serve our neighbour, but truly love them; see in them the image of God in which they are created, even if it is disfigured by sin.
In this way, we contribute to bringing the order of God into other's lives. We bring His love into their midst. God is love, and thus, it is His presence, Love itself, who enters the moment. And then, all things are possible.
Just so, your light must shine before others, that they may see your good deeds and glorify your heavenly Father. (Matt 5:16)

Do not be afraid to choose love as the supreme rule of life… follow Him in this extraordinary adventure of love, abandoning yourselves to Him with trust! —POPE BENEDICT XVI, Address at the Convention of the Diocese of Rome, June 15th, 2010; L'Osservatore Roman [English], June 23, 2010
RELATED READING: