THE NOW WORD ON MASS READINGS
for February 7th, 2014
Liturgical texts here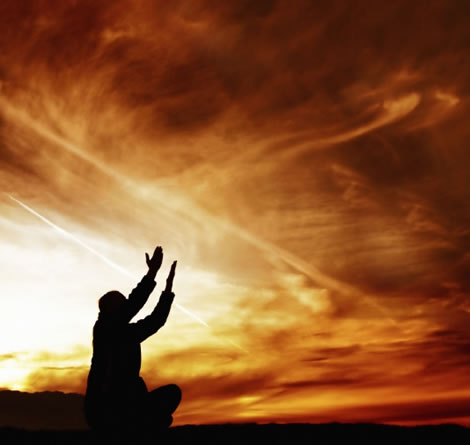 SOMETHING strange and seemingly foreign began spreading through Catholic churches in the 1970's. All of a sudden certain parishioners began raising their hands at Mass. And there were these meetings happening in the basement where people were singing songs, but often not like upstairs: these people were singing with the heart. They would devour Scripture like it was a sumptuous banquet and then, once again, close their meetings with songs of praise.
These so-called "charismatics" were doing nothing new. They were simply following in the footsteps of both Old and New Testament expressions of worship that have never gone "out of vogue" because praise of God is a matter of the heart, not style.
For King David, praise made up the very warp and woof of his existence.
With his whole being he loved his Maker and daily had His praises sung… (first reading)
Pope Francis recently exhorted all the Catholic faithful to pray 'with our whole heart' like David. But he went even further, suggesting that spontaneous prayer of the heart is not an expression reserved only for movements like the Charismatic Renewal.
…if we close ourselves in formality, our prayer becomes cold and sterile… David's prayer of praise brought him to leave all form of composure and to dance in front of the Lord with all his strength. This is the prayer of praise!"… 'But, Father, this is for those of Renewal in the Spirit (the Charismatic movement), not for all Christians.' No, the prayer of praise is a Christian prayer for all of us! —POPE FRANCIS, Jan. 28th, 2014; Zenit.org
But why? Why should we praise God? Is it to appease a divine-sized ego, as atheists would suggest? No. God does not need our praise. But worship is what opens wide our hearts to the Lord creating a divine exchange that literally blesses and transforms us as we bless Him.
Blessing expresses the basic movement of Christian prayer: it is an encounter between God and man…our prayer ascends in the Holy Spirit through Christ to the Father—we bless him for having blessed us; it implores the grace of the Holy Spirit that descends through Christ from the Father—he blesses us. —Catechism of the Catholic Church (CCC), 2626; 2627
How often I have experienced this encounter with God through praise and adoration. When my ministry first began, we would lead people into God's presence by singing simple songs of praise like the one at the end of this meditation that I wrote. Just praising God, I have seen so many miracles, both physical and spiritual. Why? For one, we would often lift up the name of Jesus… [1]cf. Heb 13:15
To pray "Jesus" is to invoke him and to call him within us.—CCC, 2666
…or we'd sing the words that David wrote, such as in today's Psalm: "The Lord live! And blessed be my Rock!"
…you are holy, enthroned on the praises of Israel. (Psalm 22:3, RSV)
We see in Scripture that praising God sets in motion the powerful interaction and presence of ministering and warring angels. When the people praised, the walls of Jericho fell, [2]cf. Josh 6:20 armies were ambushed; [3]2 Chron 20:15-16, 21-23 and chains fell from Paul and Silas. [4]Acts 16:23-26 Brothers and sisters, isn't Jesus Christ "the same yesterday, today, and forever"? [5]cf. Heb 13:8 Praise will set us free too.
But many of us don't know the power and experience of God's presence because we do not pray with the heart, including praise with the heart. Does this mean that you need to raise your hands to God, or even dance like David in His presence?
We are body and spirit, and we experience the need to translate our feelings externally. We must pray with our whole being to give all power possible to our supplication.—CCC 2702
If raising your hands helps you to pray with the heart, then do it. Who cares what people think?
It is my wish, then, that in every place the men should pray, lifting up holy hands, without anger or argument. (1 Tim 2:8)
Herod, in today's Gospel, cared so much about what others thought that he was willing to lop off the head of John the Baptist to impress them. We need to be careful that in wanting to "fit in" or not be noticed, we don't cut off the graces, prophetic words, or anointing that God wants to pour into our hearts.
Above all, we need to learn to praise God in good times and bad: "in all circumstances give thanks." [6]cf. 1 Thess 5:18 One of the most powerful experiences in my life came during a time when I felt like doing anything but praising God. You can read it here: Praise to Freedom.
So what are you waiting for? In your words, from the heart, begin to thank God for His blessings and praise Him for being all that He is—and receive His blessing in return. [7]"Praise is the form or prayer which recognizes most immediately that God is God." —CCC 2639
RELATED READING
Two years ago, I wrote a seven part series about the Charismatic Renewal. Is it a device of the devil? An offshoot of modernism? A Protestant invention? Or is it simply part of what it means to be "Catholic." Also, is the Renewal a preparation and taste of what is coming in the "new springtime" when it fully blossoms? Read: Charismatic?
In Mass, every day, when we sing the Holy…This is a prayer of praise: we praise God for his greatness, because he is great! We tell Him beautiful things, because we like that He is like that. 'But, Father, I am not capable…I should…'. But you're capable of shouting when your team makes a goal and not capable of singing praise to the Lord, to go out a bit from your behavior to sing this? To praise God is totally free!
—POPE FRANCIS, Jan. 28th, 2014; Zenit.org
To receive The Now Word,
click on the banner below to subscribe.
Your email will not be shared with anyone.


Spiritual Food for Thought is a full-time apostolate.
Thanks for your support!