THE NOW WORD ON MASS READINGS
for April 17th, 2014
Holy Thursday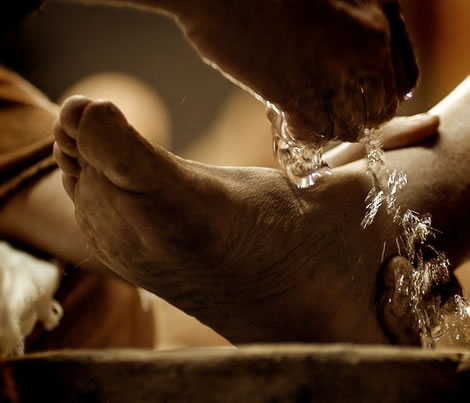 THREE times, at the Lord's Supper, Jesus asked us to imitate Him. Once when He took Bread and broke it; once when He took up the Cup; and last, when He washed the feet of the Apostles:
If I, therefore, the master and teacher, have washed your feet, you ought to wash one another's feet. I have given you a model to follow, so that as I have done for you, you should also do. (Today's Gospel)
The Holy Mass is not complete without the third memorial. That is, when you and I receive the Body and Blood of Jesus, the Holy Meal is only satisfied when we wash the feet of another. When you and I, in turn, become the very Sacrifice that we have eaten: when we give our lives in service for another:
How shall I make a return to the LORD for all the good he has done for me? The cup of salvation I will take up, and I will call upon the name of the LORD. Precious in the eyes of the LORD is the death of his faithful ones. (Psalm)
The "death" of dying to self. This is what it means in the first reading when it says of the Passover:
This is how you are to eat it: with your loins girt, sandals on your feet and your staff in hand…
We do not partake of the Cup of salvation for only ourselves; we do not eat of the Bread of life for only our own souls. It is as though we drink His Blood so as to also slake the thirst of our brother; we eat His Body so as to also satiate the hunger of our sister. And so we come to Mass with loins girt, sandals on, and staff in hand because Jesus is sending us out into the wilderness to find and nurture His flock. We are to become the little shepherds of the Good Shepherd.
But see how Jesus feeds and teaches us—around the supper table! That is, let the washing of feet begin at home. It is sometimes more difficult to wash one's parents' feet, one's spouse's feet, one's children's feet etc. than to wash my "neighbour's." But here it must begin, for home is the school of holiness. Home is where the Eucharist is practiced, one could say.
May this Holy Thursday forever change the way we come to Mass—not as fulfilling a duty, not as feeling good about ourselves, not even as a kind of spiritual self-fulfillment. But rather as participants with Jesus in the salvation of the world, for truly, when we eat His Body and drink His Blood, we become one with his Body. How can we be one with Him, and yet, not follow His model?
…whoever claims to abide in him ought to live just as he lived. (1 John 2:6)
He feeds me so I may feed others. He washes me so I may wash others.
There is no Christianity without the third memorial.
Our ministry is "falling short" of much needed funds
and needs your support to continue.
Bless you, and thank you.


To receive The Now Word,
click on the banner below to subscribe.
Your email will not be shared with anyone.