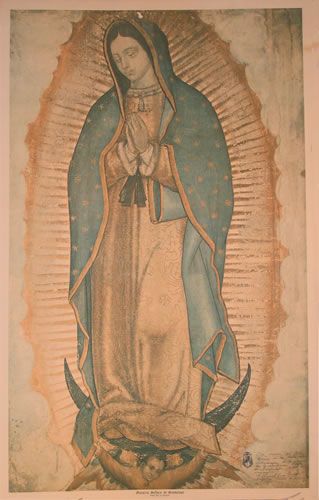 FEAST OF OUR LADY OF GUADALUPE
POPE John Paul II called her the Star of the New Evangelization. Indeed, Our Lady of Guadalupe is the Morning Star of the New Evangelization which precedes the Day of the Lord. 
A great sign appeared in the sky, a woman clothed with the sun, with the moon under her feet, and on her head a crown of twelve stars. She was with child and wailed aloud in pain as she labored to give birth. (Rev 12:1-2)
I hear the words,
There is coming a powerful release of the Holy Spirit. 
The Holy Spirit is the agent of evangelization.  And so, she is praying for this coming. She is laboring for it. She is crying for it—a release of the Holy Spirit from Heaven to illuminate the hearts and minds of every soul on earth.
It is coming! It is coming soon!
But why then is Mary crying? She is crying because, when the Spirit comes, she needs her remnant, the heel which she is forming, to be ready to gather souls into the Ark of her heart, those who have been released from the clutches of Satan. We need to be ready to slay the serpent with the Word of God dwelling within. Because, as I have written elsewhere, the false prophets of Satan who themselves refuse the grace of "the warning," will gather their strength again to steal these sheep away, aligning themselves with the Dragon.
So she needs our help; she needs our hearts to be open to the formation of her Son within us. This is her great work. Just as the Holy Spirit and Mary formed Jesus together within her womb, she is laboring with the Spirit to form Jesus in us. She needs us to be docile to this work so that we will be prepared to be the voice of truth after the great confusion which will result from the Illumination. Jesus is the Word of God, which is the Sword that will pierce the hearts of souls with Truth and set them free. If this Sword is not formed in us, then we cannot be used to defeat the serpent.
Listen to what the Holy Father said:
I see the dawning of a new missionary age, which will become a radiant day bearing an abundant harvest, if all Christians, and missionaries and young churches in particular, respond with generosity and holiness to the calls and challenges of our time. —POPE JOHN PAUL II, December 7, 1990: Encyclical, Redemptoris Missio "The Mission of Christ the Redeemer" (emphasis on "if" is mine)

"If"—that is the key word in this text: if we respond.
ARE WE RESPONDING?
In a recent alleged apparition to visionary Mirjana of Medjugorje, the seer said, "Our Lady was very sad. All the time her eyes were filled with tears. She gave the message:"
Dear children! Today, while I am looking at your hearts, my heart is filled with pain and trepidation. My children, stop for a moment and look into your hearts. Is my Son, your God, truly in the first place? Are His commandments truly the measure of your life? I am warning you again: without faith there is neither nearness of God nor the word of God which is the light of salvation and the light of common sense.
Mirjana added: "I painfully asked Our Lady not to leave us and not to take her hands away from us. She painfully smiled at my request and left. This time Our Lady did not say: 'Thank you.'" (Usually she says "Thank you for having responded to my call.")
Listen carefully to what Our Mother is saying here: without faith, the Word of God is not dwelling within us, and therefore, the light of common sense, the light of truth and salvation to help those, now, and after the Illumination will not be there. And that means many souls could be lost forever to the deceptions of Satan.
AM I NOT YOUR MOTHER?
Yesterday, I was plagued all day with great doubts about my apostolate. Fr. Paul Gousse, who is hosting me for a parish mission in New Hampshire, prayed with me before the Blessed Sacrament. Immediately, the image of Our Lady of Guadalupe came to his mind, and these words:
Virgin, most powerful.
and the words she spoke to St. Juan Diego:
Am I not your mother?
I was faced with a choice. Either I am going to trust in Jesus and Mary, or continue to question whether God is really in control. I believe many of us are in tremendous trials right now. But either we trust in God, trust that He is Lord of all, or we don't. Either we trust that Mary our Mother is full of grace, and as such, most powerful, or we don't. And often, we don't believe that Our Mother is going to help us. And so, we make her cry—for us, and those whom we can't reach because we have no faith.
DO NOT DOUBT
"There are two kinds of questioning," Fr. Paul went on to say to me. "That of Mary and that of Zechariah."
Both of them were troubled when the Angel Gabriel appeared. But when the angel told Zechariah that his wife would bear a son (John the Baptist), he said, "How shall I know this? For I am an old man and my wife is advanced in years." Zechariah doubted, and therefore, was made speechless and unable to talk.
Mary, on the other hand, when faced with the seeming impossibility of bearing God, said, "How can this be since I have no husband?" She did not doubt, she just wondered in what manner God would do this.
The point is, if we doubt like Zechariah, then our hearts will be "without faith… nor the word of God which is the light of salvation and the light of common sense." We will be unable to give because we do not possess.
And so, I asked forgiveness for my doubt, and made an act of faith that I would trust Jesus and Mary. And I was suddenly filled with a great peace and boldness.
It is never too late, until it's too late. And it's not too late. Put faith in Christ! And trust your Mother.
There is much work for us to do, very, very soon.
…[a] new springtime of Christian life… will be revealed by the Great Jubilee, if Christians are docile to the action of the Holy Spirit. —POPE JOHN PAUL II, Tertio Millennio Adveniente, n. 18