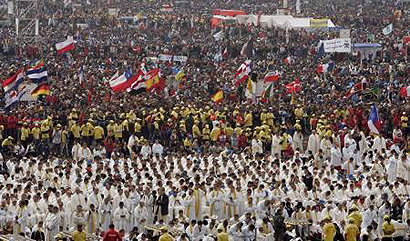 BILLIONS of people have come and gone in the past two millennium. Those who were Christians awaited and hoped to see the Second Coming of Christ… but instead, passed through the doorway of death to see Him face to face.
It is estimated that some 155 000 people die each day, and slightly more than that are born. The world is a revolving door of souls.
Have you ever wondered why Christ's promise of His return has been delayed? Why billions have come and gone in the period since His Incarnation, this 2000-year-long "final hour" of waiting? And what makes this generation any more likely to see His coming before it passes away?
Without going into any biblical discussion of the signs around us or into the prophetic words of our day, I want to share an image which came to mind in prayer.
The human body is composed of billions of cells. Each day, billions of those cells die and billions are created. But the body itself continues to develop. So it is with the visible Body of Christ. Souls come and go, but the Body continues to be built up. The question is, "till when?"
…until we all attain to the unity of faith and knowledge of the son of God, to mature manhood, to the extent of the full stature of Christ.  (Ephesians 4:13)
There will come a time when the Body of Christ will have completed its "development" — when it will be ready as a Bride to receive her Bridegroom. When?
I do not want you to be unaware of this mystery, brothers, so that you will not become wise (in) your own estimation: a hardening has come upon Israel in part, until the full number of the Gentiles comes in, and thus all Israel will be saved… (Romans 11:25-26)
When the last "cell" of the Gentiles has come in, then the Jewish nation will believe in Jesus.
Shortly after, He will return.
Learn a lesson from the fig tree. When its branch becomes tender and sprouts leaves, you know that summer is near. In the same way, when you see all these things, know that he is near, at the gates. (Matthew 24:32-33)