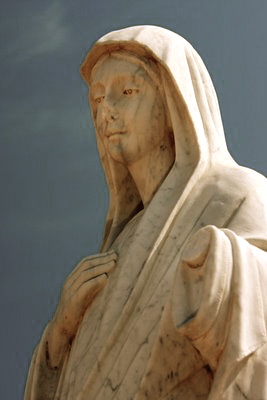 Blow the trumpet through the land, summon the recruits!… Bear the standard to Zion, seek refuge without delay!… I cannot keep silent, for I have heard the sound of the trumpet, the alarm of war. (Jeremiah 4:5-6, 19)

THIS spring, my heart began to anticipate an event which would occur this July or August of 2008. This anticipation was accompanied by a word: "War."
THE SECOND SEAL
In the Seven Year Trial series, it seemed to me that the second to seventh seals remain to be broken, at least on a new level––the Second Seal being a rider upon a red horse:
Another horse came out, a red one. Its rider was given power to take peace away from the earth, so that people would slaughter one another. And he was given a huge sword. (Rev 6:4)
When I heard about Russia's invasion of Georgia, something turned over in my heart. While only time will tell, there is something new in this confrontation… a face of Russia which was once hidden, but is now showing itself again. Are we headed down the dark path toward war, that is, a global war? As I prepared to write this meditation, I received a letter from a woman I have quoted here before who has a proven prophetic gift. We had not discussed this topic previously. She had a dream or vision as follows:
In the dream I saw a red or (sorrel) horse. He was lifting his head and appeared very spirited. In the dream I was standing and looking up and I saw horses in the air or sky. They were corralled together (but there was no fence). The red or sorrel horse was in front with the others behind him (and as I said, he was very spirited, throwing his head etc.). I saw the other horses but I recall nothing about them, not even their color. They seemed to be watching the red horse. The focus was on the red horse. In the dream I wondered as I looked at him… and then this came…this is the red horse of Revelation. End of dream…
Evil I bring from the north, and great destruction. Up comes the lion from his lair, the destroyer of nations has set out, has left his place… See! like storm clouds he advances, like a hurricane his chariots… (Jeremiah 4:7, 13)
THE WINDS OF CHANGE
As I write this, Hurricane Gustav is barreling down upon the Gulf of the United States toward Louisiana. Three years ago, another hurricane passed through there: Katrina. Fr. Kyle Dave's parish in Violet, Louisiana was flooded by the tidal surge from that storm. He came to stay here in Canada with me until his bishop reassigned him. During that stay, the Lord unexpectedly gave to us the seed form of the words written on this website. We called them "The Petals" because the sense was that those words were going to begin to unfold. As I have written, I believe this is the Year of the Unfolding, and those words are now unfolding rapidly.
Events are coming in wave after wave, closer and closer together like labor pains. As I write this, millions are fleeing floods in India. That would have been a huge story just ten years ago. Now it is simply one of many dramatic headlines which include bombings in several regions, tensions between the U.S. and Russia, an earthquake in China, an impending economic collapse, and of course, Hurricane Gustav (and tropical storm Hanna following closely behind). That's just in a day's news!
Once again, Fr. Kyle is fleeing the coming storm. He has been in regular contact having left the state to a safer region. Just a short time ago, he wrote me this letter which I print here with his permission:
My Beloved Brother,

From the looks of the tropics and everything else that we have been watching and discerning, it is my deep sense and conviction that the trumpets are beginning to blow. May the Lord in mercy and love grant us the grace to stand erect in this present time of judgment. It is upon us! God love and bless you. I will keep you in my prayers too. We must stay awake and be prepared, for our salvation is nearer now than when we first believed. The Bastion has been prepared as we have been equipped with every grace and blessing to put on the Lord Jesus Christ so as to not make any provisions for the desires of the flesh.

Watching & Praying in Christ,

Fr. Kyle

OUR MOTHER STANDING ASIDE?
Recently in our home, a small statue of Our Lady of Medjugorje was damaged. Her left hand broke off. When I saw it sitting on the kitchen counter, immediately I was struck with the words, "Our Lady is withdrawing her hand." That is, she has been interceding for us, standing in the gap like Queen Esther, abating the wrath of the King. But can Our Lady bear to see the continuing blasphemy and rebellion which is destroying many souls in the process?
Perhaps it was just me projecting my own thoughts upon the Queen of Heaven. But then yesterday, a blogger posted a picture of Our Lady of Medjugorje whose left hand was recently broken, just like our statue (see photo above). Coincidence?
If the Petals are beginning to unfold now in their fullness, it is a merciful judgment. Merciful because the cost of the growing lawlessness can be measured in souls. The Day of Mercy is coming, perhaps sooner than we think. A day in which the Word of God will light all of humanity's hearts. A day of hope. A day of decision…
Return, O faithless sons, and I will heal your faithlessness… If you wish to return, O Israel, says the Lord, return to me. (Jeremiah 3:22, 4:1)