SO few, it seems, understand the role of the Blessed Virgin Mary in the Church. I want to share with you two true stories to shed light on this most honored member of the Body of Christ. One story is my own… but first, from a reader…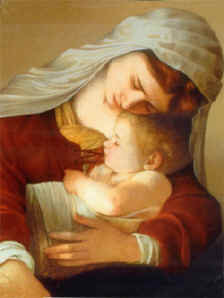 WHY MARY? A CONVERT'S VISION…
The Catholic teaching on Mary has been the most difficult doctrine of the Church for me to accept. Being a convert, I had been taught the "fear of Mary worship." It was instilled deep within me!

After my conversion, I would pray, asking Mary to intercede for me, but then doubt would assail me and I would, so to speak, (put her aside for a while.) I would pray the Rosary, then I would stop praying the Rosary, this went on for some time!

Then one day I prayed fervently to God, "Please, Lord, I beg you, show me the truth about Mary."


He answered that prayer in a very special way!

Some weeks later, I decided to pray the Rosary. I was praying the Glorious Mystery, "Descent of the Holy Spirit". All of a sudden, I "saw" her, and she held out her arms to me (I get weepy every time I think of this) as a mother would to her child, coaxing her child to come to her. She was so beautiful and irresistible!

I went to her and she embraced me. Physically, I felt as if I were "melting." I cannot think of any other word to describe the embrace. She took my hand and we began walking. All of a sudden we were before a throne and there was Jesus! Mary and I knelt before Him. Then, she took my hand and extended it toward Him. He opened His arms and I went to Him. He embraced me! I felt myself going, deeper, deeper, and then I saw myself go right into His Heart! I was watching myself go, and feeling myself go at the same time! Then, I was with Mary again and we were walking, and then it was over.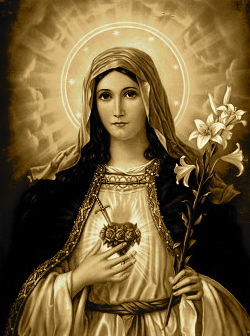 WHEN THE INFANT JESUS CAME
Another story sent to me by a reader is as follows:
On January 8th, 2009 my father passed away. The next year, 2010, my father- in- law passed away. It was like suffering the illness and death of my own father all over again. Now it was my precious father-in-law. I suffered terribly and the suffering took a toll on my physical health. I was so ill, I couldn't even attend my father-in-law's funeral when he passed away. I was skin and bones and couldn't eat a thing. One day, my husband took me in his arms and wept. My heart broke for him. I lay in bed one night, fighting back tears, wondering how he would manage without me should I not recover. I looked up to heaven, tears streaming down my face and said, "I'm not going to make it if you don't help me." And then ( whether in my mind or real I don't know) I saw a young woman standing by my bed. She was holding a beautiful child in her arms. I knew it was Mary and Jesus. The Child Jesus appeared to be about two or  three years old. He had dark hair that lay in curls and was precious and wonderful to behold! Joy welled up in my heart and peace flooded my soul at the glorious sight. In my heart (no words necessary), I asked Her if I could hold Him. When I asked to hold Him, He turned and looked at His Mother. She smiled and (again communicating without words) said to me, "Yes, He belongs to you too."

How true it is, Jesus came for all, died for all, and belongs to all who take Him into their heart! In some unexplainable, mystical way, I took Jesus in my arms, snuggled Him next to my heart and went to sleep….I was well! I shared the experience with my husband, told him I was healed ….and we rejoiced!
MY CONSECRATION TO MARY 
Several years ago, I was given a book called "The Total Consecration by St. Louis de Montfort". It was a book to guide one closer to Jesus through consecration to Mary. I didn't even know what "consecration" meant, but I felt drawn to read the book anyway. [1]What does "consecration to Mary" mean? There is a beautiful explanation on the website of the Marian Movement of Priests.
The prayers and preparation took several weeks… and were powerful and moving. As the day of consecration approached, I could sense how special this giving of myself to my spiritual Mother would be. As a token of my love and gratitude, I decided to give Mary a bundle of flowers.
It was kind of a last minute thing… I was in a small town and had no where to go but the local drug store. They just happened to be selling some "ripe" flowers in a plastic wrapping. "Sorry Mom… it's the best I can do."
I went to the Church, and standing before a statue of Mary, I made my consecration to her. No fireworks. Just a simple prayer of commitment… perhaps like Mary's simple commitment to do the daily chores in that little house in Nazareth. I placed my imperfect bundle of flowers at her feet, and went home.
I came back later that evening with my family for Mass. As we crowded into the pew, I glanced over to the statue to see my flowers. They were gone! I figured the janitor probably took one look at them and chucked 'em.
But when I looked over at the statue of Jesus… there were my flowers, perfectly arranged in a vase, at the feet of Christ. There was even baby's breath from heaven-knows-where garnishing the bouquet! Immediately, I was infused with an understanding:
Mary takes us into her arms, as we are, poor and simple… and presents us to Jesus clothed in her own mantle saying, "This too is my child… receive him, Lord, for he is precious and beloved."
Several years later, while preparing to write my first book, I read this:

He wants to establish in the world devotion to my Immaculate Heart. I promise salvation to those who embrace it, and those souls will be loved by God like flowers placed by me to adorn His throne. —This last line re: "flowers" appears in earlier accounts of Lucia's apparitions. Cf. Fatima in Lucia's Own Words: Sister Lucia's Memoirs, Louis Kondor, S.V.D., p, 187, Footnote 14.

Receive a free copy of St. Louis de Montfort's
Preparation for Consecration
. Click here: