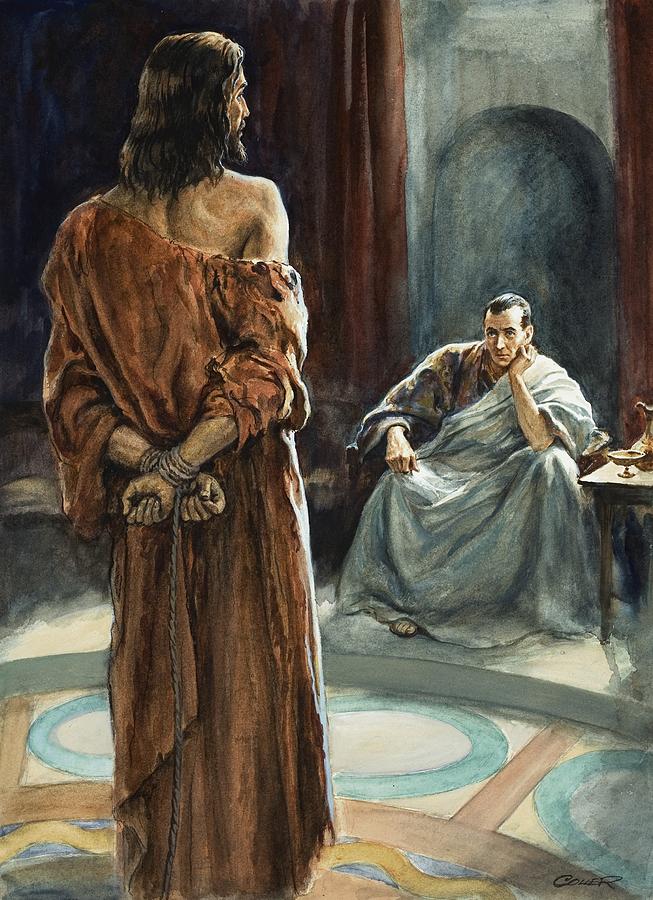 Christ In Front Of Pontius Pilate by Henry Coller
Recently, I was attending an event where a young man with a baby in his arms approached me. "Are you Mark Mallett?" The young father went on to explain that, several years ago, he came across my writings. "They woke up me up," he said. "I realized I had to get my life together and stay focused. Your writings have been helping me ever since." 
Those familiar with this website know that the writings here seem to dance between both encouragement and the "warning"; hope and reality; the need to stay grounded and yet focused, as a Great Storm begins to swirl around us. "Stay sober" Peter and Paul wrote. "Watch and pray" Our Lord said. But not in a spirit of morose. Not in spirit of fear, rather, joyful anticipation of all that God can and will do, no matter how dark the night becomes. I confess, it's a real balancing act for somedays as I weigh which "word" is more important. In truth, I could often write you every day. The problem is that most of you have a difficult enough time keeping up as it is! That's why I'm praying about re-introducing a short webcast format…. more on that later. 
So, today was no different as I sat in front of my computer with several words on my mind: "Pontius Pilate… What is Truth?… Revolution… the Passion of the Church…" and so on. So I searched my own blog and found this writing of mine from 2010. It summarizes all of these thoughts together! So I have republished it today with a few comments here and there to update it. I send it in hopes that perhaps one more soul who is asleep will awaken.
First published December 2nd, 2010…
"WHAT is truth?" That was Pontius Pilate's rhetorical response to Jesus' words:
For this I was born and for this I came into the world, to testify to the truth. Everyone who belongs to the truth listens to my voice. (John 18:37)
Pilate's question is the turning point, the hinge on which the door to Christ's final Passion was to be opened. Until then, Pilate resisted handing Jesus over to death. But after Jesus identifies Himself as the source of truth, Pilate caves into the pressure, caves into relativism, and decides to leave the fate of Truth in the hands of the people. Yes, Pilate washes his hands of Truth itself.
If the body of Christ is to follow its Head into its own Passion— what the Catechism calls "a final trial that will shake the faith of many believers," [1]CCC 675 — then I believe we too will see the time when our persecutors will dismiss the natural moral law saying, "What is truth?"; a time when the world will also wash its hands of the "sacrament of truth,"[2]CCC 776, 780 the Church herself.
Tell me brothers and sisters, has this not already begun?
| | | |
| --- | --- | --- |
| 1. | ↑ | CCC 675 |
| 2. | ↑ | CCC 776, 780 |