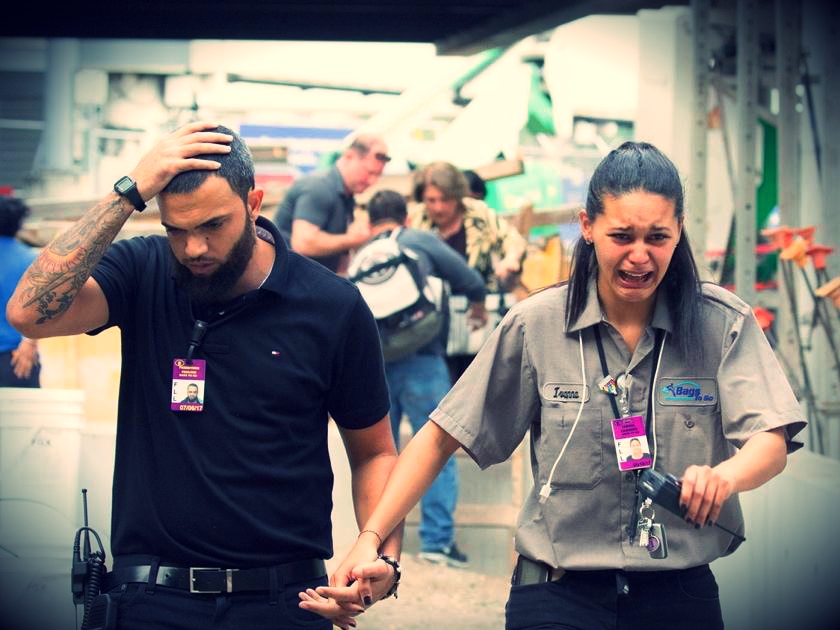 Fort Lauderdale Airport aftermath… when will the madness end?  Courtesy nydailynews.com
THERE has been a great deal of attention on this website to the exterior dimensions of the Storm that has descended upon the world… a Storm that has been in the making for centuries, if not millenia. However, what is most important is being aware of the interior aspects of the Storm that are raging in many souls that are becoming more evident by the day: the storm surge of temptation, the winds of division, the rainfall of errors, the roar of oppression, and so forth. Nearly every red-blooded male I encounter these days is struggling against pornography. Families and marriages everywhere are being torn asunder by divisions and fighting. Errors and confusion are spreading regarding moral absolutes and the nature of authentic love… Few, it seems, realize what is happening, and it can be explained in one simple Scripture:
He is before all things, and in him all things hold together. (Col 1:17)
So, when society en masse rejects God, as has happened almost entirely in the Western world, all things begin to come apart. More than that, if we reject the presence of Christ in our societies, guess who takes His place? [1]cf. The Great Vacuum
Our struggle is not with flesh and blood but with the principalities, with the powers, with the world rulers of this present darkness, with the evil spirits in the heavens. (Ephesians 6:12)
HEEDING THE WARNING
A couple of years ago, I wrote Hell Unleashed. It explains how we have essentially opened the bowels of Hell in our times, and how this is playing out in the world with increasingly bizarre, diabolical, and wicked manifestations of evil. When you increasingly read news stories about people running naked through the streets attacking others, or gunmen mowing down innocent people, or people dismembering their victims, or increasing violent crimes, [2]cf. Brietbart.com and the media intensifying its obsession with sex and violence in the gaming and entertainment world… then you need to understand what is going on. It is not "business as usual." Something demonic has been unleashed in our world, and evil will only increase exponentially in the days ahead until Satan is at last crushed through the Triumph of the Immaculate Heart of Mary and the manifestation of her Son to usher in the reign of His Kingdom in every nation—as we hear in today's first reading:
…a bruised reed he shall not break, and a smoldering wick he shall not quench, until he establishes justice on the earth; the coastlands will wait for his teaching. (Isaiah 42:3-4)
Yes, we have arrived at the decisive moments of the end of an era (and by this, I emphasize again that I propose absolutely no timeline. But it seems to me and many that these events will unfold within the lifetimes of at least some who are presently living….).
For those who think I am creating a fiction, I want to remind you of the ecclesiastically approved apparitions of Rwanda. Our Lady appeared over a decade before the genocide there giving explicit warnings and visions that bloodshed was coming unless the people repented. But the seers made it clear that Mary's warning…
…is not directed to only one person nor does it concern only the current time; it is directed to everyone in the entire world. —www.kibeho.org
Do not think that the so-called "zombie apocalypse" is mere fiction (though it is certainly stupid on many levels). Rwanda survivor Immaculeé Ilibagiza explained to me how her neighbour suddenly became zombie-like as he and thousands of others turned upon their colleagues and acquaintances in a brutal campaign of butchering that ended with nearly a million victims and rivers of blood flowing throughout the nation—as Our Lady for-warned. Even when Immaculeé went to see him years later to forgive this man in person, she said he stared blankly into a void. This is what happens when we as individuals or as a collective society expel God from our hearts and nation: we become a void that Darkness fills. And because we are entering the final phases of this "final confrontation" in our times, God is lifting the "restrainer", [3]cf. Removing the Restrainer allowing a great sifting to occur in the world. We have to choose sides now. And by this, I mean choose who we will worship in our daily lives: God or mammon.
I was disturbed to hear in a radio interview former FBI Agent, John Guandolo, speak about a plan among Islamic jihadists for a "ground zero" event. On a certain day, he claimed, there will be co-ordinated terrorist attacks in which Islamic militants are planning to attack schools, restaurants, parks, and other public areas. Is this the warning that Our Lady was referring to for the world back in Rwanda? Why are statues and images of Our Lady continuing to weep around the globe? What is the message Heaven is sending us? It's pretty simple: let Jesus back into your hearts, into your nations, into your schools, into the ethics which govern your medicine, science, and commerce. Otherwise…
When they sow the wind, they will reap the whirlwind… (Hosea 8:7)
SEEKING SHELTER
The point is this: Hell has been unleashed in our times—its evidence is all around us—and all of us need divine protection to endure the present and coming Storm. Well, God has indeed given us a Storm-Shelter, and her name is Mary.
My Immaculate Heart will be your refuge and the way that will lead you to God. —Second apparition, June 13, 1917, The Revelation of the Two Hearts in Modern Times, www.ewtn.com
Getting back to my first comments in this writing, I presently want to focus more upon the interior Storm that many of you, and me included, are facing. None of us will be spared the trials that are here and coming; and yet, only a few, relatively, will take shelter in the graces God is giving us to endure these trials. May we be among those few!
With Mary's help in acquiring the wisdom of the Holy Spirit, I hope to address how you and I can endure the Storm surge, winds, rain and increasing noise that seeks to envelop all of mankind so that you and your family may emerge, like Noah's, on the other side of the Storm.

The album Vulnerable is available at markmallett.com
RELATED READING
Would you support my work this year?
Bless you and thank you.

To journey with Mark in the The Now Word,
click on the banner below to subscribe.
Your email will not be shared with anyone.