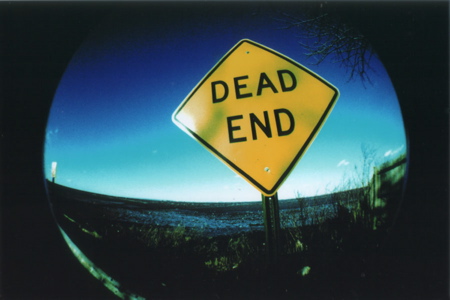 On your return to Egypt, see that you perform before Pharaoh all the wonders I have put in your power. I will make him obstinate, however, so that he will not let the people go. (Ex 4:21)
I COULD feel it in my soul as we drove up to the U.S. border last night. I looked over at my wife and said, "It feels like we're approaching East Germany." Just a feeling.
Even though our documents and details were in order (based on what our previous border crossings demanded), I knew we would be in for another ordeal.
The American border agents didn't let us down.
They barked at our children, accused us of lying, and after three hours of interrogation, fingerprinting, and contradiction after contradiction, turned us back to Canada. These agents were as hardened as Pharaoh. We even offered to cover our own expenses with letters from clergymen to guarantee our integrity—but the agent said he chose not to trust us! Yes, those Canadian terrorists and their weapons of mass destruction. Indeed, the Gospel is a dangerous thing. (Good thing they didn't find our Rosaries. Indeed, those are weapons according to St. Pio.)
They informed us that as of January, even our one and a half year old will need a passport…
It's interesting since I was just about to write you on the enemy's recent intensified assault on the body of Christ, particularly on families and marriages. His ultimate goal is discouragement. And he has been working overtime on our ministry, as he has on many of you. But we cannot give in. The battle is the Lord's, and He will not leave us even though He appears to be taking a backseat at times. This is the time for faith, and faith is often a walk in complete darkness. Faith the size of a mustard seed can move mountains. But we must trust God's wisdom as to which mountains He wants moved.
As for our ministry schedule in Washington state this week, we regretfully have to cancel all our events. We send out our deepest apologies to all the promoters who worked tirelessly, volunteering their time to get these functions in place. And of course, so sorry to any of you who planned to attend or have already begun your travels to Washington.
The Lord has permitted this, and so we accept this as His will. But we are listening intently to what He wishes to teach us through it.
ABSOLUTE POWER CORRUPTS ABSOLUTELY
Perhaps it is another sign of the times. In several of my last border crossings into the USA the past two years, I have witnessed such a gross abuse of power—not only towards me, but to others—that it has not left my memory easily. A democracy does not guarantee peace. Only God's peace in man's heart guarantees peace. Given the right circumstances, and power turned over to those whose hearts are not governed by goodness, America is not far away from the kind of police state that Germans once thought was impossible in their "democratic" country.
My heart is sad today for those who travel innocently to America but are treated like criminals. If they treat their neighbour—a Canadian evangelist—like this, how do those of foreign origin get treated? Well, I have witnessed myself how some people hoping to enter the country have been handled like trainees in a Marine boot camp. And the stories flowing from so-called "detention centers" such as Guantanamo Bay are chilling.
(Please note, I'm not referring to all Americans, but to those who are abusing power. We have a great fondness for the American people who have often shown us tremendous charity, faith, and kindness.)
CRISIS
America is in a crisis. It has become increasingly clear that it is not governed by peace, but by paranoia. St. John wrote that,
Perfect love drives out fear. (1 Jn 4:18)
In turn, perfect fear drives out love. We drive out love by being suspicious rather than generous; by accusing rather than accommodating; by striking pre-emptively rather than turning the other cheek. Indeed, the war in Iraq is the fruit of fear, based on circumstances which we have since learned do not exist. The fruit has been the death of tens of thousands of innocent people and a ubiquitous war on terrorism which makes the Cold War feel balmy. And now, there is talk again of attacking Iran with a "pre-emptive strike."
What a precipice America is on! The cliffs of fear are high, and crumbling… collapsing. But God always offers hope. Repentance, fasting, prayer. These can suspend even the laws of nature, Mary has allegedly said.
The grave challenges confronting the world at the start of this new Millennium lead us to think that only an intervention from on high, capable of guiding the hearts of those living in situations of conflict and those governing the destinies of nations, can give reason to hope for a brighter future. The Rosary is by its nature a prayer for peace… —POPE JOHN PAUL II, Rosarium Virginis Mariae, n. 40
I wish I could say that Canada has its act together. But it doesn't. Border experiences have not always been pleasant for Americans either. This is the hour to pray hard for our leaders.
Well, I will write about discouragement soon. But first I've got to get my family going on the thousand mile drive back home.