THE NOW WORD ON MASS READINGS
for June 7th, 2016
Liturgical texts here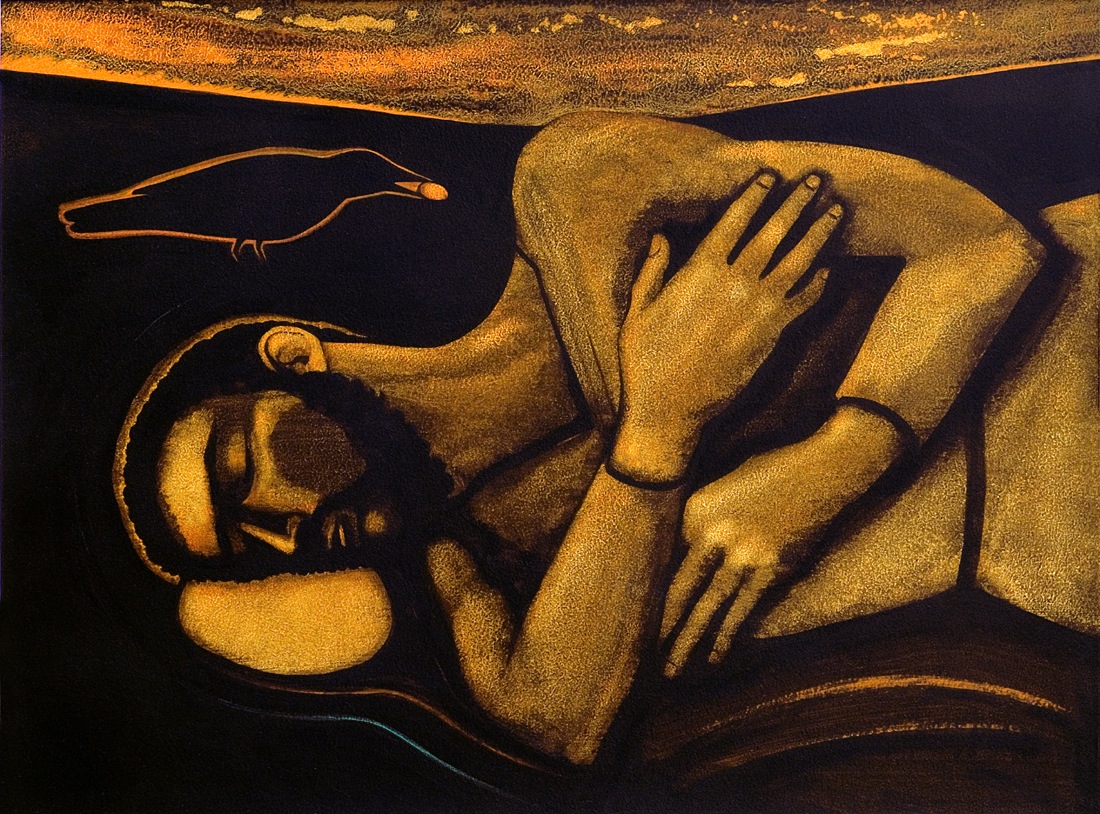 Elijah Sleeping, by Michael D. O'Brien
THESE are the days of Elijah, that is, the hour of a prophetic witness being called forth by the Holy Spirit. It is going to take on many facets—from the fulfillment of apparitions, to the prophetic witness of individuals who "in the midst of a crooked and perverse generation… shine like lights in the world." [1]Phil 2:15 Here I am not speaking only of the hour of "prophets, seers, and visionaries"—though that is part of it—but of every day people like you and me.
Perhaps you are saying, "Who, me?" Yes, you, and here's why: as the darkness gets darker, so too, our witness as Christians is going to be forced into the open. One will no longer be able to sit on the fence of compromise. Either you will shine with the light of Christ, or out of fear and self-preservation, hide that light beneath a bushel basket. But remember St. Paul's warning: "if we deny Him, He will deny us", [2]2 Tim 2:11-13 but also Christ's reassurance: "everyone who acknowledges me before others the Son of Man will acknowledge before the angels of God." [3]Luke 12:8
Thus, Jesus says with joy:
You are the salt of the earth… You are the light of the world. A city set on a mountain cannot be hidden. Nor do they light a lamp and then put it under a bushel basket; it is set on a lampstand, where it gives light to all in the house. Just so, your light must shine before others, that they may see your good deeds and glorify your heavenly Father. (Today's Gospel)
And so, let me straight away repeat the words of St. John Paul II: "BE NOT AFRAID." There is a strong spirit of fear that has been loosed into the world [4]cf. Hell Unleashed that is operating under the guise of "tolerance", but in truth, is a bully. Anyone who disagrees with the "new agenda" is being met more and more with violent words or actions. But don't be intimidated by this spirit. Stand strong! Have faith in the power of Truth and Love, who is Christ.
…for the weapons of our warfare are not worldly but have divine power to destroy strongholds. (2 Cor 10:4)
Stand your ground, "but do it with gentleness and reverence, keeping your conscience clear, so that, when you are maligned, those who defame your good conduct in Christ may themselves be put to shame." [5]1 Pet 3:16 Otherwise, the light in you will fade, and your salt will lose its taste.
Last, keep in mind that…
Christ… fulfills this prophetic office, not only by the hierarchy… but also by the laity… [who] are made sharers in their particular way in the priestly, prophetic, and kingly office of Christ. —Catechism of the Catholic Church, n. 904, 897
Know that the Father will look out for you as He has all His "prophets." Elijah surrendered himself completely into the arms of Divine Providence. Can you not see, my dear brothers and sisters, that you and I must do the same? That soon His arms will be all that we'll have as Christians are forced out of the public sphere? So be it. But Abba knows how to care for His own.
The brook near where Elijah was hiding ran dry, because no rain had fallen in the land. So the LORD said to Elijah:  "Move on to Zarephath of Sidon and stay there. I have designated a widow there to provide for you." (Today's first reading)
What is most remarkable is that God sent Elijah to a widow who also had nothing! She was down to her last meal. Why would the Lord do this? Precisely to demonstrate His power in the midst of disaster, His love in the midst of drought, His providence in the midst of famine. God multiplied her food such that:
She was able to eat for a year, and Elijah and her son as well.
In this way, Elijah's courage was strengthened, as was the faith of the widow. Look, food is easy for God. That's the least of your worries. Being faithful is your concern:
Know that the LORD does wonders for his faithful one; the LORD will hear me when I call upon him. (Today's Psalm)
Through our Lenten Retreat this year, we were given the tools to become a man or woman of prayer. Devote yourself to it; make prayer the center of your life, for in it, you will find Jesus; you will find the "flour" and "oil" that will provide nourishment, strength, and grace for your soul. I repeat, do not be afraid. But do stay sober and alert, for we are entering the days of Elijah when we must depend entirely upon Divine Providence…. and He will work wonders in our midst.
Because you have kept my message of endurance, I will keep you safe in the time of trial that is going to come to the whole world to test the inhabitants of the earth. I am coming quickly. Hold fast to what you have, so that no one may take your crown. (Rev 3:10-11)

A time of darkness is coming on the world, but a time of glory is coming for my Church, a time of glory is coming for my people. I will pour out on you all the gifts of my Spirit. I will prepare you for spiritual combat; I will prepare you for a time of evangelism that the world has never seen…. And when you have nothing but me, you will have everything: land, fields, homes, and brothers and sisters and love and joy and peace more than ever before. Be ready, my people, I want to prepare you… —prophecy given by Ralph Martin in St. Peter's Square in the presence of Pope Paul VI; Pentecost Monday of May, 1975
RELATED READING
Your support is needed for this full-time ministry.
Bless you, and thank you.


To journey with Mark in the The Now Word,
click on the banner below to subscribe.
Your email will not be shared with anyone.