PRESS RELEASE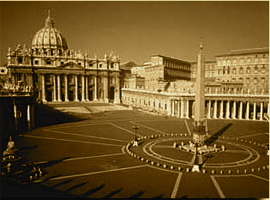 For Immediate Release
September 25th, 2006

VATICAN PERFORMANCE
UPCOMING CD
EWTN APPEARANCE
NATIONAL SONG NOMINATION
NEW: ONLINE DONATIONS

OVERCOMING FEAR OF PERSECUTION

VATICAN PERFORMANCE
Canadian singer Mark Mallett has been invited to perform in the Vatican, October 22nd, 2006. The event to celebrate the 25th anniversary of the John Paul II Foundation will feature several artists who have contributed to the life of the late Pope through music & the arts.
On the day Pope John Paul II died, Mark penned Song for Karol, which has been used in a video of the pontiff's life produced by the Foundation. The song, a hymn of thanksgiving and recognition of the Pope's contribution to the new evangelization, concludes with words calling for his intercession: "Karol Wojtyla, how the world needs your prayers now."
Recorded with Female Vocalist of the Year, Raylene Scarrott (Covenant Awards 2005), Mark will be performing the ballad along with two other songs he's written which touch on the late Pope's deep Marian and Eucharistic spirituality. Dignitaries in attendance at the concert will include Cardinal Stanislaw Dziwisz, Cardinal Camillo Ruini, Cardinal Angelo Sodano, Prof. Rocco Butilonne, Prof. Tadeusz Styczen, and Prof. Giovanni Reale. Due to security concerns, Pope Benedict's attendance cannot be confirmed. However, Mark will have an audience with the Holy Father the next day.
To hear a clip of Song for Karol, or to listen songs from Mark's other albums, go to https://www.markmallett.com/Songs.html.
UPCOMING CD: DIVINE MERCY CHAPLET WITH FR. DON CALLOWAY
Following his internationally selling Rosary CD, Catholic songwriter Mark Mallett is producing another devotional CD, this time, The Divine Mercy Chaplet.
"Pope John Paul II felt one of the highlights of his pontificate was to institute this devotion in the Church, a devotion which prays for God's mercy on our world. The timing is no coincidence. I feel an urgency to get this prayer into the hands of the Church." —Mark Mallett, Catholic missionary and songwriter
The CD will also feature several new songs Mark has written which focus on the theme of Mercy. The prayers of the Divine Mercy Chaplet will be led by Fr. Don Calloway, a young American priest whose dramatic and miraculous conversion story has been likened to that of St. Augustine's.
Fr. Don and I were ministering at the same event. Beforehand, we had a chance to throw a football around and chat. Just as we finished, the thought popped into my head, "Ask him to record the Chaplet." I thought it was absurd, since we would have to record it that evening after the conference, and because it was Saturday, getting a studio would be almost impossible.
But everything fell into place; the studio engineer just happened to be in the studio that night.
But what struck me most is that during the conference, Fr. Don called himself "The poster-boy for Divine Mercy." That's when I knew that this was no coincidence.
The CD is expected to be released on Mallett's own label in early 2007.
INTERNATIONAL TELEVISION APPEARANCE
Canadian singer/songwriter and lay missionary Mark Mallett is scheduled to appear on the Eternal Word Television Network (EWTN) November 9th at 7:00 pm Central time. Mark will be interviewed by Fr. Francis Mary on the program Life on the Rock. They will discuss Mark's missionary work throughout North America, particularly among youth. Mark uses music as a means to bring the Gospel to the masses, and has performed and ministered to tens of thousands of Catholics in North America and abroad.
Pope John Paul II called the Church to commit all her energies to a 'new evangelization'. He encouraged us to use new means and new methods to spread the Gospel. Since young people have generally stopped coming to Mass, we have decided to go to them, speaking in their own language, which is music. —Mark Mallett

NATIONAL SONG NOMINATION
Catholic songwriter Mark Mallett of Alberta has garnered a nomination for Inspirational Song of the Year by the Gospel Music Association, for Canada's annual Covenant Awards. The song, "Love Live In Me", a duet with last year's Female Vocalist of the Year, Raylene Scarrott, was recorded on Mark's latest Album, "Let the Lord Know", a CD of songs to commemorate the Year of the Eucharist (October 2004 – October 2005). The Covenant Awards will be held on Friday, October 27th, 2006 at Centre Street Church in Calgary, Alberta.
DONATE ONLINE
We have made it easier for you to donate to Mark's ministry—a small apostolate of writing, music, and preaching. You can now donate online by clicking here using your credit card. Or if you prefer, you can mail your gift at the address at the bottom of the link. Mark depends entirely on the generosity of others to operate this ministry and support his wife and seven children. If you can help, thank you so much!
OVERCOMING FEAR OF PERSECUTION
Click on Mark's Journal, and read his latest entry on overcoming the paralysis of fear which has gripped the North American Church.
Mark's Official Website is: www.markmallett.com