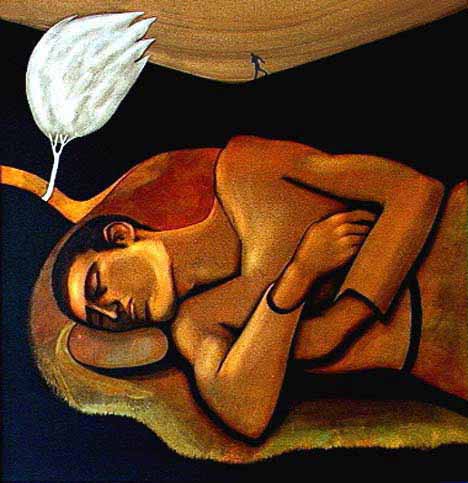 Elijah in the Desert, Michael D. O'Brien
NOT long ago, the Lord spoke a gentle but powerful word which pierced my soul:
"Few in the North American Church realize how far they have fallen."
As I reflected on this, particularly in my own life, I recognized the truth in this.
For you say, I am rich, I have prospered, and I need nothing; not knowing that you are wretched, pitiable, poor, blind, and naked. (Rev 3:17)

Pope Paul VI said the mark of an authentic Christian is:
…simplicity of life, the spirit of prayer, charity towards all especially towards the lowly and the poor, obedience and humility, detachment and self-sacrifice. Without this mark of holiness, our word will have difficulty in touching the heart of modern man. It risks being vain and sterile. –– Evangelization in the Modern World.
How can you and I have the strength in such a comfortable, materialistic, gluttonous society, to answer this radical call? The answer came clearly, so clearly, in the first reading at yesterday's Mass. An angel, pointing to a jug of water and hearth cake, said to the prophet Elijah,
"Arise and eat, else the journey will be too great for you" And he arose, and ate and drank, and walked in the strength of that food forty days and forty nights to Horeb the mount of God. (1 Kgs 19:8; RSV)
The forty days and nights represent the spiritual journey; the jug of water and hearth cake symbolize the Eucharist, Christ's Body and Blood; Horeb represents union with God.
How many times have I, lacking in Christian virtue, found my heart spilling over with charity, generosity, kindness, and patience—none of which I had until I received the Eucharist! It is because it is Christ Himself, the incarnation of all virtue, who came to me his poor servant, and made me rich.
I urge any one who is able to receive Christ's body and blood to do so, and as often as possible, putting all excuses and laziness aside. This is not the time for comfort. The journey which lies ahead of the Church—indeed the world—is one which few are prepared for. Now is the time to "arise and eat, else the journey will be too great for you."
Therefore I counsel you to buy from me gold refined by fire, that you may be rich, and white garments to clothe you and to keep the shame of your nakedness from being seen… (Rev 3:18)
Were we to disregard the Eucharist, how could we overcome our own deficiency? —Pope John Paul II, Ecclesia de Eucharistia