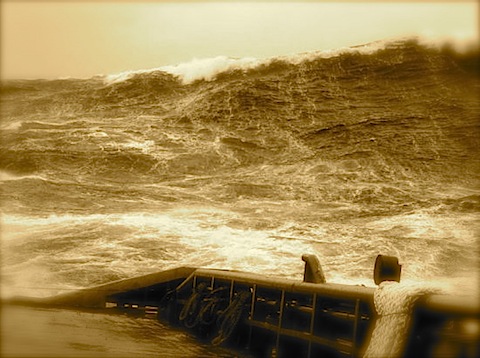 O LORD, I want to sail in your presence… but when the seas become rough, when the Wind of the Holy Spirit begins to blow me into the tempest of a trial, I quickly lower the Sails of my faith, and protest! But when the waters are calm, I gladly hoist them. Now I see the problem more clearly—why I am not growing in holiness. Whether the sea is rough or whether it is calm, I am not moving forward in my spiritual life toward the Harbor of Holiness because I refuse to sail into trials; or when it is calm, I merely stand still. I see now that to become a Master Sailer (a saint), I must learn to sail the high seas of suffering, to navigate the storms, and patiently let your Spirit direct my life in all matters and circumstances, whether they are pleasant to me or not, because they are ordered toward my sanctification.
THE ADVERSARY OF SUFFERING
At least in the Western world, the great adversary of suffering is instant gratification.
But look at nature. We see written within creation the wisdom and patience of God. A farmer sows his seed, and several months later he reaps the harvest. A husband and wife conceive a child, and nine months later a child is born. The seasons gradually cycle; the moon slowly rises; a child gradually grows into an adult. Even Jesus did not bypass the designs of His Father. Our Lord was not beamed suddenly to earth as a 30 year old. He was born and raised; He "grew and became strong…" (Lk 2:40). Even Jesus Himself had to wait for His mission, growing in humility, wisdom, and knowledge.
But we want holiness now. Along with our food, videos, success, text messages, and nearly every other form of communication and gratification. As a result, we have slowly un-learned how to wait—"how to grow and become strong." Instant gratification is one of Satan's special weapons, for in bringing it to our times, he has made waiting and suffering almost unbearable, even to the modern Christian. There is a great danger here:
The persecution that accompanies [the Church's] pilgrimage on earth will unveil the "mystery of iniquity" in the form of a religious deception offering men an apparent solution to their problems at the price of apostasy from the truth. The supreme religious deception is that of the Antichrist… —CCC, 675
Are souls being prepared to accept such a deception by being constantly programmed to pursue comfort and relief from suffering?
THE HIGH SEAS OF SUFFERING
It is precisely to suffering that each Christian is called, that is, to "Christian suffering." For everyone suffers, rich or poor, black or white, atheist or believer. But suffering becomes powerful when it is united to Jesus.
For one, the suffering acts as a means to "empty" the soul of self, allowing it to be filled with the Spirit of God.
For to this you have been called, because Christ also suffered for you, leaving you an example that you should follow in his footsteps… whoever claims to abide in him ought to live just as he lived. (1 Peter 2:21; 1 John 2:6)
And St. Paul writes:
Have among yourselves the same attitude that is also yours in Christ Jesus… he emptied himself, taking the form of a slave, coming in human likeness; and found human in appearance, he humbled himself, becoming obedient to death, even death on a cross.
Second, suffering, when offered and united to Jesus, truly merits grace for another person's soul (see The Love That Triumphs). We actually participate in the salvation of others when, through an act of the will, we patiently bear our trials for the good of another.
Now I rejoice in my sufferings for your sake, and in my flesh I am filling up what is lacking in the afflictions of Christ on behalf of his body, which is the church. (Col 1:24)
We ask precisely you who are weak to become a source of strength for the Church and humanity. In the terrible battle between the forces of good and evil, revealed to our eyes by our modern world, may your suffering in union with the Cross of Christ be victorious! —POPE JOHN PAUL II, Salvifici Doloros; Apostolic Letter, February 11th, 1984
MORE LIKE JESUS
John the Baptist said, "He must increase; I must decrease" (John 3:30). That is, I must die to myself so that Jesus rises in my soul. I must die to my self-will so that the Will of God lives in me "on earth as it is in Heaven." How do I do this but to receive each moment what the Winds of the Spirit bring, especially when they carry suffering?
Christ's human will "does not resist or oppose but rather submits to his divine and almighty will." —Catechism of the Catholic Church (CCC), 475
Therefore, since Christ suffered in the flesh, arm yourselves also with the same attitude… so as not to spend what remains of one's life in the flesh on human desires, but on the will of God. (1 Pet 4:1-2)
When sufferings come, each of us must raise the "sail of faith", of absolute trust. Because God has permitted this trial in my life for my sanctification or for the salvation of another, or both.
As a result, those who suffer in accord with God's will hand their souls over to a faithful creator as they do good. (1 Pet 4:19)
But the trial will not last forever.
The God of all grace who called you to his eternal glory through Christ Jesus will himself restore, confirm, strengthen, and establish you after you have suffered a little. (1 Peter 5:10)
…if only we suffer with him so that we may also be glorified with him. (Rom 8:17)