THE NOW WORD ON MASS READINGS
for Wednesday, February 4th, 2015
Liturgical texts here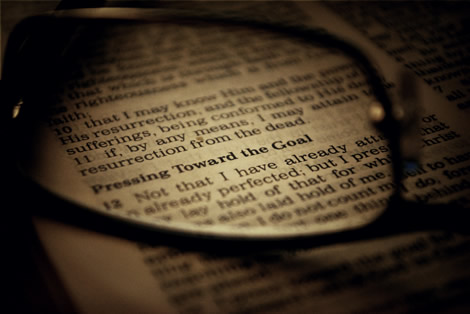 DISCIPLINE, mortification, fasting, sacrifice… these are words that tend to make us cringe because we associate them with pain. However, Jesus did not. As St. Paul wrote:
For the sake of the joy that lay before him, Jesus endured the cross… (Heb 12:2)
The difference between a Christian monk and a Buddhist monk is precisely this: the end for the Christian is not the mortification of his senses, or even peace and serenity; rather it is God himself. Anything less is falling short of fulfillment as much as throwing a rock in the sky falls short of hitting the moon. Fulfillment for the Christian is to allow God to possess him that he may possess God. It is this union of hearts that transforms and restores the soul into the image and likeness of the Holy Trinity. But even the most profound union with God can also be accompanied by a dense darkness, spiritual dryness, and sense of abandonment—just as Jesus, though in complete conformity to the Father's will, experienced abandonment on the Cross.
Thus, St. Paul writes today:
My son, do not disdain the discipline of the Lord or lose heart when reproved by him; for whom the Lord loves, he disciplines; he scourges every son he acknowledges… At the time, all discipline seems a cause not for joy but for pain, yet later it brings the peaceful fruit of righteousness to those who are trained by it. (First reading)
We must, as believers, take a different view of suffering or else it will crush our spirits. How often do we cry out "Why!!?" to God when everything goes wrong rather than, "How?" How Lord do you wish me to live in this present moment? Nothing that comes to us does not first pass through the hands of our loving heavenly Father, just as every whip, every thorn, every curse, every nail did not touch the flesh and heart of Christ without the Father's permissive will. In this spirit of trust, all the suffering of Christ, then, became ordered toward the joy that lay before Him. And what was that joy? To thrust open the gates of Heaven; to inaugurate the era of the Holy Spirit; to not only welcome brothers and sisters, but to remake them according to His own image. The joy of Jesus was completely ordered to our joy.
If you keep my commandments, you will remain in my love, just as I have kept my Father's commandments and remain in his love. I have told you this so that my joy may be in you and your joy may be complete. (John 15:10-11)
So you see, if we make Jesus our goal, if we make His Divine Will our guide—which means having to discipline, mortify, and abstain from the inordinate passions of the flesh—then the peaceful fruit of this will be joy. But isn't the problem that, in the heat of the moment—when you're staring at your third piece of chocolate cake, or an unkind word is forming on your lips, or your mouse cursor is hovering above an ungodly link—is when we lose sight of the goal? From a distance, Golgotha looks like a lovely, scenic hill. But when we are there, on the cross, how quickly we forget what Calvary is all about! Persevere, my brother and sister. Don't exchange divine joy and peace, indeed God himself, for a pittance.
Therefore, since Christ suffered in the flesh, arm yourselves also with the same attitude (for whoever suffers in the flesh has broken with sin), so as not to spend what remains of one's life in the flesh on human desires, but on the will of God. (1 Pet 4:1-2)
Last, understand that there is no shame in admitting your weakness, no shame, in fact, in running from temptation. In the Gospel today, the people 'who heard [Jesus] were astonished. They said, "Where did this man get all this? What kind of wisdom has been given him?"' The answer is that Jesus was obedient. The desert of temptation and obedience produced the fruit of wisdom. Likewise, the "desert Fathers" were men who literally fled the temptations of the world, taking refuge in the outlands of Egypt. And there, the fruit of wisdom blossomed, creating the foundation for monasticism and the interior map toward union with God. For,
Fear of the Lord is the beginning of knowledge; fools despise wisdom and discipline. (Prov 1:7)

…the future of the world stands in peril unless wiser people are forthcoming. —POPE ST. JOHN PAUL IIFamiliaris Consortio, n. 8
Being the most composed, disciplined, and mortified soul on earth is not the goal: being filled with Jesus is. 
…persevere in running the race that lies before us while keeping our eyes fixed on Jesus, the leader and perfecter of faith. (Heb 12:2)
Your support is needed for this full time apostolate.
Bless you and thank you!

To subscribe, click here.
WINTER 2015 CONCERT TOUR
Ezekiel 33:31-32
January 27: Concert, Assumption of Our Lady Parish, Kerrobert, SK, 7:00 pm
January 28: Concert, St. James Parish, Wilkie, SK, 7:00 pm
January 29: Concert, St. Peter's Parish, Unity, SK, 7:00 pm
January 30: Concert, St. VItal Parish Hall, Battleford, SK, 7:30 pm
January 31: Concert, St. James Parish, Albertville, SK, 7:30 pm
February 1: Concert, Immaculate Conception Parish, Tisdale, SK, 7:00 pm
February 2: Concert, Our Lady of Consolation Parish, Melfort, SK, 7:00 pm
February 3: Concert, Sacred Heart Parish, Watson, SK, 7:00 pm
February 4: Concert, St. Augustine's Parish, Humboldt, SK, 7:00 pm
February 5: Concert, St. Patrick's Parish, Saskatoon, SK, 7:00 pm
February 8: Concert, St. Michael's Parish, Cudworth, SK, 7:00 pm
February 9: Concert, Resurrection Parish, Regina, SK, 7:00 pm
February 10: Concert, Our Lady of Grace Parish, Sedley, SK, 7:00 pm
February 11: Concert, St. Vincent de Paul Parish, Weyburn, SK, 7:00 pm
February 12: Concert, Notre Dame Parish, Pontiex, SK, 7:00 pm
February 13: Concert, Church of Our Lady Parish, Moosejaw, SK, 7:30 pm
February 14: Concert, Christ the King Parish, Shaunavon, SK, 7:30 pm
February 15: Concert, St. Lawrence Parish, Maple Creek, SK, 7:00 pm
February 16: Concert, St. Mary's Parish, Fox Valley, SK, 7:00 pm
February 17: Concert, St. Joseph's Parish, Kindersley, SK, 7:00 pm