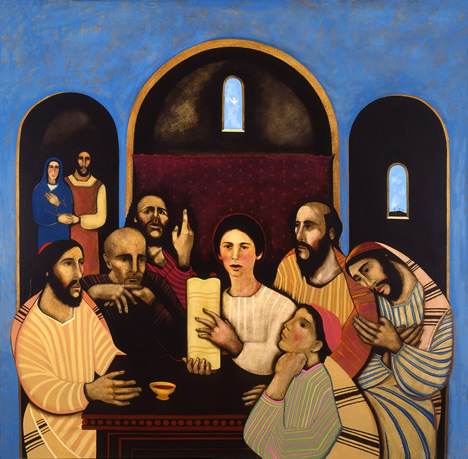 Fifth Joyful Mystery: The Finding in the Temple, by Michael D. O'Brien.
LAST week, the Holy Father sent 29 newly ordained priests into the world asking them to "proclaim and witness to joy." Yes! We must all continue to witness to others the joy of knowing Jesus.
But many Christians do not even feel joy, let alone witness to it. In fact, many are full of stress, anxiety, fear, and a sense of abandonment as the pace of life quickens, the cost of living increases, and they watch the news headlines unfold around them. "How," some ask, "can I be joyful?"
PARALYZED BY FEAR
I started a category of its own called "Paralyzed by Fear" in the sidebar. The reason is that, while there are signs of hope in the world, reality tells us that there is a growing storm of darkness and evil, with the thunderhead of persecution beginning to tower. As an evangelist and father of eight children, I too must deal at times with my feelings as freedom of speech and true morality continue to disappear. But how?
The first thing is to realize the joy I speak of cannot be produced at will or conjured up. It is a peace and joy which comes from another realm:
Peace I leave with you; my peace I give to you. Not as the world gives do I give it to you. Do not let your hearts be troubled or afraid. (John 14:27)
I can no more manufacture joy and peace than I can a heartbeat. My heart pumps blood all on its own. However, I can choose to stop breathing, to stop eating, or tragically, to throw myself off a cliff, and my heart will begin to falter, and even fail.
There are three things we must do in order for our spiritual hearts to be able to pump supernatural peace and joy into our lives—graces which can endure in even the greatest storms.
PRAYER
Prayer is our breath. If I stop praying, I stop breathing, and my spiritual heart begins to die.
Prayer is the life of the new heart. —Catechism of the Catholic Church, n.2697
Have you ever lost your breath, or felt your heart skip a beat? The feeling is one of immediate panic and fear. The Christian who does not pray is one who is subject to fear. His thoughts are fixed upon the world rather than the things above, upon the tangible rather than the supernatural. Rather than seeking the kingdom, he begins to seek the material—those things which produce temporal and false peace and joy (he is anxious to seek them, then anxious about losing them once they are in his possession.)
The obedient heart is connected to the Vine, who is Christ. Through prayer, the sap of the Holy Spirit begins to flow, and I, the branch, begin to experience the fruit of peace and joy which Christ alone gives.
Whoever remains in me and I in him will bear much fruit, because without me you can do nothing. (John 15:5)
A condition to receive these graces in prayer, however, is humility and trust. For the Kingdom of God is given only to "children": those who surrender to God in their trials and weaknesses, trusting in His mercy and depending entirely upon the timing of His solutions.
SACRAMENTAL LIFE: "BREAD OF THE STRONG"
Another way in which the spiritual heart begins to fail is by not "eating"—by cutting oneself off from the Sacrament of the Holy Eucharist, or by not preparing properly to receive the Lord's Body and Blood.
On receiving Holy Communion with a divided heart, Jesus said to St. Faustina:
…if there is anyone else in such a heart, I cannot bear it and quickly leave that heart, taking with Me all the gifts and graces I have prepared for the soul. And the soul does not even notice My going. After some time, inner emptiness and dissatisfaction will come to [the soul's] attention. —Diary of St. Faustina, n. 1638
Your heart is like a bowl. If you approach the Eucharist with your heart turned upward, open, and ready to receive, Jesus will fill it with many graces. But if you do not believe that He is there or are preoccupied with other things, it is like your heart is upside-down… and all the blessings He would have given you roll off the heart like water off an upside-down bowl.
Furthermore, if a soul is immersed in serious and unforgiven sin, the effects of receiving Jesus in this state can be more devastating than simply the loss of peace:
A person should examine himself, and so eat the bread and drink the cup. For anyone who eats and drinks without discerning the body, eats and drinks judgment on himself. That is why many among you are ill and infirm, and a considerable number are dying. (1 Cor 11:27)
Examining ourselves also means forgiving those who have injured us. If you do not forgive others, Jesus says, neither will you be forgiven (Matt 6:15).
Many are the Catholics I know who can testify to the incredible peace which fills their souls after receiving the Holy Eucharist, or spending time with Jesus in Adoration. It is why souls such as the Servant of God, Catherine Doherty, who would say, "I live from Mass to Mass!"
Holy Communion assures me that I will win the victory; and so it is. I fear the day when I do not receive Holy Communion. This Bread of the Strong gives me all the strength I need to carry on my mission and the courage to do whatever the Lord asks of me. The courage and strength that are in me are not of me, but of Him who lives in me–it is the Eucharist. —Diary of St. Faustina, n. 91 (check 1037)
HAPPY THE MAN
Happy the man whose conscience does not reproach him, who has not lost hope. —Sirach 14:2
Sin is akin to inducing a spiritual heart attack. Mortal sin is like jumping off a cliff, bringing death to the spiritual life.
I have written elsewhere about the incredible graces that God gives to us in sacramental Confession. It is the embrace and kiss of the Father to the prodigal son or daughter who returns to Him. Frequent Confession is an antidote to fear, for "fear has to do with punishment" (1 Jn 4:18). Pope John Paul II as well as St. Pio recommended weekly confession.
Jesus is demanding because He wishes our happiness. —POPE JOHN PAUL II
TO THE SCRUPULOUS  
A word of encouragement to those struggling with scrupulosity: frequent Confession should not be thought of as the need to be perfect at each moment. Can you really be perfect? You will not be perfect until you are in Heaven, and only God can make you thus. Rather, the Sacrament of R econciliation is given in order to heal the wounds of sin and help you grow in perfection. You are loved, even when you sin! But because He loves you, He wants to help you conquer and destroy the power of sin in your life. 
Do not let your imperfection be a cause of discouragement. Rather, it is an opportunity to become smaller and smaller, more and more like a child dependent upon God: "blessed are the poor." Scripture says He exalts not the perfect, but the humble. Furthermore, these venial sins which you battle with do not separate you from Christ. 
Venial sin does not deprive the sinner of sanctifying grace, friendship with God, charity, and consequently eternal happiness. —Catechism of the Catholic Church, n. 1863
Have confidence then in His love, and inner joy and peace will be yours without having to run to the confessional everytime you commit a venial sin (see n. 1458 in the Catechism.) He is injured more by your lack of trust in His mercy than by your weakness. It is through this acceptance of both your frailty and His mercy which produces a testimony. And it is by the word of your testimony that Satan is conquered (see Rev 12:11).
TRUE REPENTANCE 
Happy the man whose conscience does not accuse him. For the New Testament believer, this happiness does not necessarily belong to me only because I have found no sin on my conscience. Rather, it means that when I do sin, I can have confidence that Jesus does not condemn me (John 3:17; 8:11), and that through Him, I can be forgiven and begin again.
This does not mean we have a license to keep sinning! True happiness is found in repentance which means not only confessing sin, but doing all that Christ commanded us to do. 
Little children, let us love in deed and truth and not merely talk about it. This is our way of knowing we are committed to the truth and are at peace before him… (1 Jn 3:18-19)
Yes, the will of God is our food, the duty of the moment our peace. Do you wish to be joyful?
If you keep my commandments, you will remain in my love… I have told you this so that my joy may be in you and your joy may be complete. (John 15:10-11)
Man cannot attain that true happiness for which he yearns with all the strength of his spirit, unless he keeps the laws which the Most High God has engraved in his very nature. —POPE PAUL VI, Humanae Vitae, Encyclical, n. 31; July 25th, 1968
THE COMING EXPLOSION OF JOY
The fruit of the Holy Spirit is "love, joy, peace…" (Gal 5:22). In the Coming Pentecost, for those souls who have been waiting with Mary in the upper room of prayer and repentance, there will be an explosion of grace in their souls. For those who are afraid of persecution and the coming trials which seem imminent, I am certain that these fears will dissolve in the fire of the Holy Spirit. Those who are preparing their souls now in prayer, the Sacraments, and deeds of love, will experience a multiplication of the graces they are already receiving. The joy, love, peace and power which God will pour into their hearts will more than conquer their enemies.
Where Christ is preached with the power of the Holy Spirit and He is accepted with an open soul, society, though it be full of problems, becomes a "city of joy". —POPE BENEDICT XVI, Homily during ordination of 29 priests; Vatican City, April 29th, 2008; ZENIT News Agency
Hope does not disappoint, because the love of God has been poured out into our hearts through the Holy Spirit that has been given to us. (Rom 5:5)

When love has entirely cast out fear, and fear has been transformed into love, then the unity brought us by our Savior will be fully realized… —St. Gregory of Nyssa, bishop, Homily on the Song of Songs; Liturgy of the Hours, Vol II, pg. 957
First published May 7th, 2008
FURTHER READING: