THE NOW WORD ON MASS READINGS
for Wednesday, February 1st, 2017
Liturgical texts here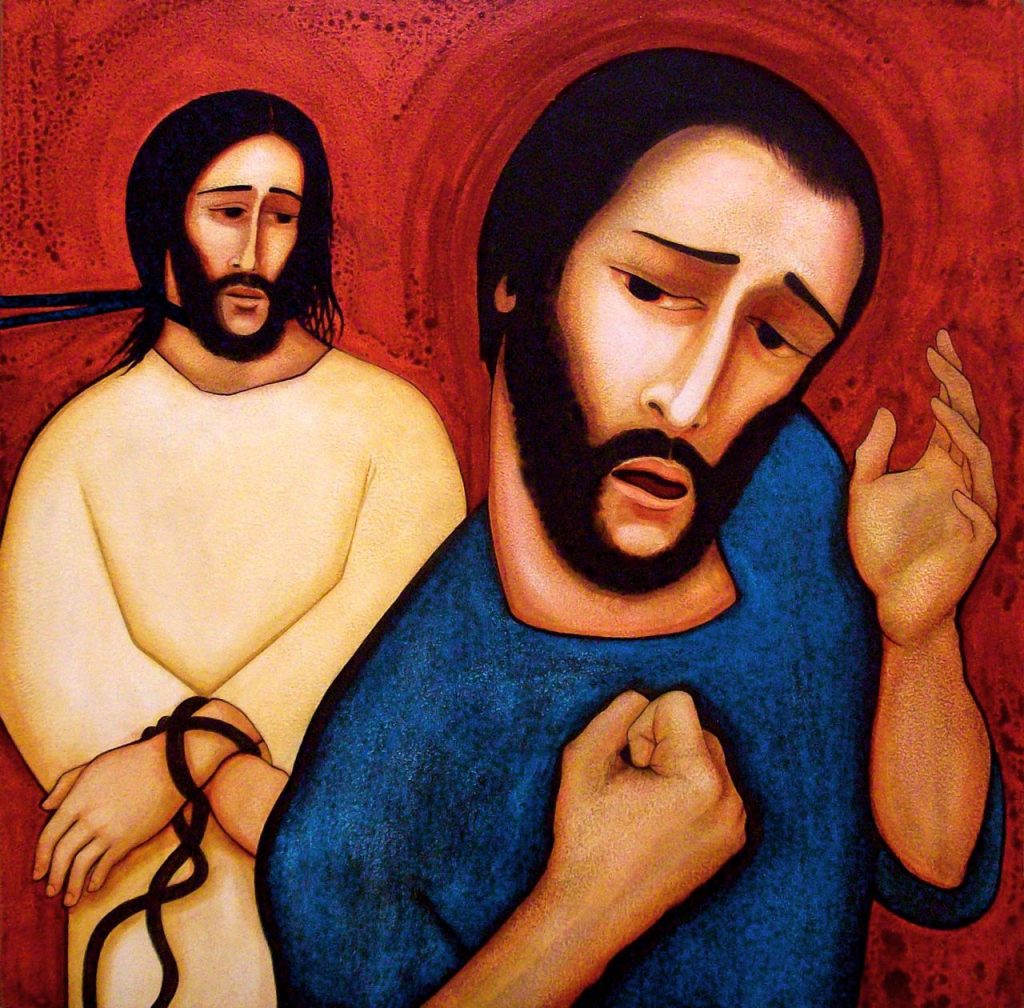 Peter's Denial, by Michael D. O'Brien
IT's a bit surprising, really. After speaking with astounding wisdom and performing mighty deeds, onlookers could only sneer and say, "Is he not the carpenter, the son of Mary?"
And they took offense at him. (Today's Gospel)
That same Carpenter continues today to speak with astounding wisdom and perform mighty deeds throughout the world through His mystical body, the Church. The truth is that, wherever the Gospel has been welcomed and incorporated over the past 2000 years, it has transformed not only hearts but entire civilizations. From this embrace of Truth, goodness and beauty have blossomed. Art, literature, music and architecture have been transformed and the care of the sick, the education of the young, and the needs of the poor have been revolutionized.
Revisionists have tried to twist historical facts, making it appear as if the Church brought about the "dark ages" through a patriarchal oppression that kept the masses ignorant and dependent. In truth, Christianity transformed Europe from which came forth not only civilized culture, but countless saints. But 16th century men, in their pride, were "offended" by the Church, offended by their faith in a Man they claimed rose from the dead and endowed them with the moral authority to guide the souls of men and nations. They were offended by the commoner's piety, relegating their beliefs to superstition and silly fantasy. 
No, these men were the true "enlightened". They believed that through philosophy, science, and reason, they could create a utopia where mankind would not be bound by suppressive morals, but rather guided by his own lights and ethos; where "human rights" would supplant the Commandments; where religion would give way to rationalism; and where science would open unbounded vistas to human creativity, if not the door to immortality.
But 400 years later, the writing is on the wall.
Humanity needs to weep and this is the time to weep… Even today, after the second failure of another world war, perhaps one can speak of a third war, one fought piecemeal, with crimes, massacres, destruction. —POPE FRANCIS, Homily, September 13th, 2014, The Telegraph
St. Paul seemed to speak about these times, as if he saw a compressed version of the past four centuries, and how the future of the "offended" would play out.
…although they knew God they did not accord him glory as God or give him thanks. Instead, they became vain in their reasoning, and their senseless minds were darkened. While claiming to be wise, they became fools… Therefore, God handed them over to impurity through the lusts of their hearts for the mutual degradation of their bodies. They exchanged the truth of God for a lie and revered and worshiped the creature rather than the creator. (Rom 1:21-22, 24-25)
Someday, historians will look back and say that it was our times, the times of the "culture of death" that were the true dark ages when the unborn, the sick and elderly were no longer valued; when the dignity of sex was utterly exploited; when the femininity of women was masculinized and the masculinity of men was feminized; when the ethics of medicine were discarded and the purposes of science distorted; when the economies of nations were misguided and the weapons of nations unjustified.
Maybe, just maybe it is God who is now offended.
I had a vision of the arm of Jesus raised above the world, prepared to strike it. The Lord gave me a reading for us to read, meditate, and for us to change the course of our lives, while we still have time to convert and be good people:

Woe to those who call evil good, and good evil, who change darkness into light, and light into darkness, who change bitter into sweet, and sweet into bitter! Woe to those who are wise in their own sight, and prudent in their own esteem! Woe to the champions at drinking wine, the valiant at mixing strong drink! To those who acquit the guilty for bribes, and deprive the just man of his rights! Therefore, as the tongue of fire licks up stubble, as dry grass shrivels in the flame, even so their root shall become rotten and their blossom scatter like dust. For they have spurned the law of the LORD of hosts, and scorned the word of the Holy One of Israel. Therefore the wrath of the LORD blazes against his people, he raises his hand to strike them. When the mountains quake, their corpses shall be like refuse in the streets. For all this, his wrath is not turned back, and his hand is still outstretched (Isaiah 5:20-25). —Apparition of Jesus to Edson Glauber of Itapiranga, Brazil; December 29, 2016; Archbishop Carillo Gritti, I.M.C. of Itacoatiara approved the supernatural character of the apparitions in May of 2009
The other day, someone on Facebook wrote me saying, "The only tangible thing that religion accomplishes is clearly evident—war and hate-crime." To which I replied, "Which of Jesus' teachings promote 'war and hate crime'?" There was no reply.
There are not a hundred people in America who hate the Catholic Church. There are millions of people who hate what they wrongly believe to be the Catholic Church—which is, of course, quite a different thing. —Servant of God Archbishop Fulton Sheen, Foreword to Radio Replies Vol. 1, (1938) page ix
…which is why I think God has been so patient with this generation, which truly is "a people in darkness." [1]cf. Matt 4:16
And yet, through the life and revelation of Jesus, who is the image of the Father, we have a new and deeper understanding of God's love for us. That even when His justice comes, this too is a mercy.
My son, do not regard lightly the discipline of the Lord, nor lose courage when you are punished by him. For the Lord disciplines him whom he loves, and chastises every son whom he receives. (Today's first reading)
Perhaps we Christians are offended by God today too… offended by His frequent silence, offended by our sufferings, offended by the injustices He allows in the world, offended by the weakness and scandals of the Church's members, and so forth. But if we are offended, it is usually for one of two reasons. One, is that we have not accepted the wonderful yet terrifying reality that, also made in God's image, we have free will, which can be used for good or evil. We have not yet taken responsibility for ourselves. Second, is that we still do not have a deep enough faith to trust that, in the course of history, God makes all things work to the good for those who love him. [2]cf. Rom 8:28
He was amazed at their lack of faith. (Today's Gospel)
Even now, even as the Lord's hand is seemingly about to descend upon this rebellious world, we have to trust that whatever sufferings He permits man to reap from what he has sown, that He still loves us.
As a father has compassion on his children, so the LORD has compassion on those who fear him, for he knows how we are formed; he remembers that we are dust. (Today's Psalm)

At the time, all discipline seems a cause not for joy but for pain, yet later it brings the peaceful fruit of righteousness to those who are trained by it. (First reading)
RELATED READING
This ministry functions by your support. Bless you!

To journey with Mark in the The Now Word,
click on the banner below to subscribe.
Your email will not be shared with anyone.