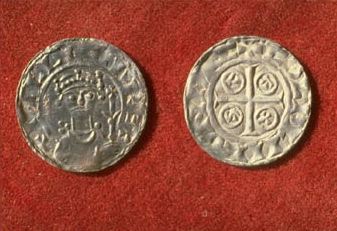 OVER the past couple of weeks in particular, the meditations here have likely been difficult for you to read—and truthfully, for me to write. While pondering this in my heart, I heard:
I am giving these words so as to warn and move hearts to repentance.
I am sure the Apostles shared the same discomfort when the Lord began to describe to them the tribulations which would occur, the persecution which would come, and the tumult among nations. I can just imagine Jesus finishing his teaching followed by a long silence in the room. Then suddenly, one of the Apostles blurts out:
"Jesus, have you got anymore of those parables?"
Peter mutters,
"Anyone want to go fishing?"
And Judas perks up saying,
"I hear there's a sale at Moab's!"
COIN OF LOVE
The message of the Gospel is really one coin with two sides. The one side is the great message of Mercy—God extending peace and reconciliation through Jesus Christ. This is what we call the "Good News." It is good because, prior to Christ's coming, those who fell asleep in death remained separated from God in the place of "the dead", or Sheol.
Turn, O LORD, save my life; deliver me for the sake of your merciful love. For in death there is no remembrance of you; in Sheol who can give you praise? (Psalm 6:4-5)
God answered David's cry with the wondrous, unfathomable gift of His own life upon the Cross. No matter how terrible your sin or mine, God has provided the means by which to wash it away and make our hearts pure, clean, holy, and worthy of eternal life with Him. By His blood, and through His wounds, we are saved, if only we believe in Him, as He promised in the Gospel.
There is another side to this coin. The message—no less loving—is that if we do not accept this gift of God, we will remain separated from Him for eternity. It is a warning given by a loving Parent. At times, whenever mankind or individual persons stray far from His plan of salvation, the coin must be flipped over for a moment, and the message of Judgment spoken. Here again is the context:
For whom the Lord loves, he disciplines; he scourges every son he acknowledges. (Hebrews 12:6)
I realize, with my own children, that sometimes an effective motivator is their fear of being disciplined. It is not the best way, but sometimes it is the only way to achieve a response. The Gospel is one coin with two sides: the "Good News" and the need to "repent."
Repent, and believe in the Good News. (Mark 1:15)
And so today, Jesus is warning us of the spirits of deception which more and more are becoming unrestrained in the world, continuing the process of sifting those who refuse the Gospel and those who believe. It is God's Mercy which is preparing and warning us that this sifting is taking place, for He desires that "all would be saved."
That is to say, I believe we are living in a more significant time of history than generations past.
THE SIGNIFICANCE OF THE WARNINGS
While we cannot know for certain, it seems that we are indeed moving into those times foretold to us in the Scriptures. During the past couple of weeks, I have heard again the words:
Someone recently sent me a book of alleged messages from Mary, private revelations which have been given ecclesiastical approval. It contains nearly a thousand pages, but the one I opened to said,
I entrust to the angels of light of my Immaculate Heart the task of bringing you to an understanding of these events, now that I have opened the sealed Book for you. —Message to Fr. Stefano Gobbi, n. 520; To The Priests, Our Lady's Beloved Sons, 18th English Edition
As for you, Daniel, keep secret the message and seal the book until the end time; many shall fall away and evil shall increase. (Daniel 12:4)
That is why Jesus did not speak in parables when it came to the "last days." He wanted us to be absolutely certain that false prophets and deceptions would come so that we would know what to do: that is, stay close to the Truth entrusted to His Chief Shepherd, Peter, His Pope, and those bishops in communion with him. To trust infinitely in His Divine Mercy. To stay on the Rock, Christ and His Church!
I have said all this to you to keep you from falling away. (John 16:1)
Can you hear the Shepherd speaking to us in love? Yes, He has told us these things—not to "scare the hell" out of us—but to share Heaven with us. He has told us these things so we would be "wise as serpents" as the spiritual winter approaches… but "gentle as doves" as we await the fullness of the coming "new springtime."
GOD IS IN CONTROL
Do not think for even a second that Satan has the upper hand today. The Enemy is using fear to immobilize many believers, to shut down hope, to kill joy. This is because he knows that the Passion of the Church will actually bring about a wonderful Resurrection, and he is hoping that fear will cause many to flee from the Garden. He knows his time is short. Ah, beloved friend, God is about to release His Spirit in a powerful way in the souls of those who have gathered into the Ark of the New Covenant.
Hell is trembling, not winning.
God is in complete control, His divine plan unfolding, page by page, in very exciting, though ominous ways. The Gospel is one coin with two sides. But in the very end, the Good News will be face up.

Beware that your hearts do not become drowsy from carousing and drunkenness and the anxieties of daily life, and that day catch you by surprise like a trap. For that day will assault everyone who lives on the face of the earth. Be vigilant at all times and pray that you have the strength to escape the tribulations that are imminent and to stand before the Son of Man. (Luke 21:34-36)
Know that I am with you always; yes, to the end of time. (Matt 28:20)
Click here to Unsubscribe or Subscribe to this Journal.