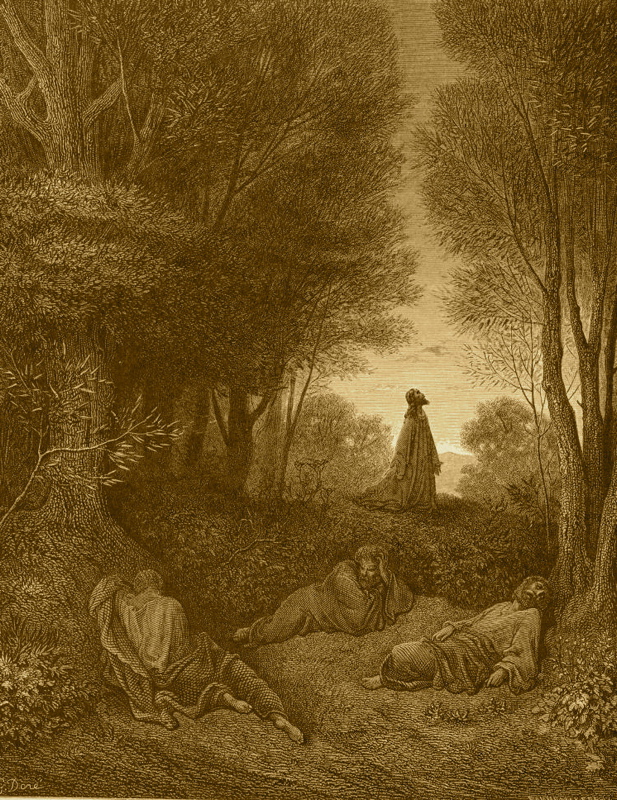 Jesus Prays in the Garden, by Gustave Doré, 1832-1883
First published September 27th, 2006. I have updated this writing…
WHAT is this fear that has gripped the Church?
In my writing How To Know When a Chastisment is Near, it's as though the Body of Christ, or at least parts of it, are paralyzed when it comes to defending the truth, defending life, or defending the innocent.
We are afraid. Afraid to be mocked, insulted, or excluded from our friends, family, or the office circle.
Fear is the disease of our age. —Archbishop Charles J. Chaput, March 21, 2009, Catholic News Agency
Blessed are you when people hate you, and when they exclude and insult you, and denounce your name as evil on account of the Son of Man. Rejoice and leap for joy on that day! Behold, your reward will be great in heaven. (Luke 6:22)
There is no leaping as far as I can tell, except perhaps Christians jumping out of the way of any controversy. Have we lost our perspective of what it actually means to be a follower of Jesus Christ, the persecuted One?
LOST PERSPECTIVE
As Christ laid down his life for us, so we should lay down our lives for our brothers. (1 John 3:16)
This is the definition of "Christ-ian", for as the follower of Jesus takes the name of "Christ", so too should his or her life be an imitation of the Master's.
No slave is greater than his master. (John 15:20)
Jesus did not come into the world to be nice, He came into the world to set us free from sin. How was this accomplished? Through his suffering, death, and resurrection. How then shall you and I as co-workers in the Kingdom bring souls to the heavenly banquet?
Whoever wishes to come after me must deny himself, take up his cross, and follow me. For whoever wishes to save his life will lose it, but whoever loses his life for my sake and that of the gospel will save it. (Mark 34-35)
We must take the same path as Christ; we too must suffer—suffer for the sake of our brother:
Bear one another's burdens, and so you will fulfill the law of Christ. (Galatians 6:2)
Just as Jesus bore the Cross for us, now we too must bear the suffering of the world through love. The Christian journey is one which begins at the baptismal font… and passes through Golgotha. As Christ's side poured out blood for our salvation, we are to pour out ourselves for the other. This is painful, especially when this love is rejected, goodness is considered evil, or what we proclaim is considered false. After all, it was Truth who was crucified.
But lest you think Christianity is masochistic, this is not the end of the story!
…we are children of God, and if children, then heirs, heirs of God and joint heirs with Christ,if only we suffer with him so that we may also be glorified with him. (Romans 8:16-17)
But lets be realistic. Who likes to suffer? I remember Catholic author Ralph Martin once remarking at a conference, "I'm not afraid to be a martyr; it's the actual martyrdom part that gets to me… you know, when they pull your fingernails out one by one." We all laughed. Nervously.
Thank God, then, that Jesus himself knew fear, so that even in this, we could imitate Him.
GOD WAS AFRAID
When Jesus entered the Garden of Gethsemane beginning His Passion, St. Mark writes that He "began to be troubled and deeply distressed" (14:33). Jesus, "knowing everything that was going to happen to him," (Jn 18:4) was filled with the terror of torture in his human nature.
But here is the decisive moment, and within it is buried the secret grace for martyrdom (whether it is "white" or "red"):
…kneeling, he prayed, "Father, if you are willing, take this cup away from me; still, not my will but yours be done. And to strengthen him an angel from heaven appeared to him. (Luke 22:42-43)
Trust.
Watch what happens as Jesus enters into this profound trust of the Father, knowing that His gift of love to others would be returned with persecution, torture, and death. Watch, as Jesus says little or nothing at all—and begins to conquer souls, one at a time :
After being strengthened by an angel (remember this), Jesus awakens his disciples to prepare for the trials. He is the one to suffer, and yet He is concerned about them.
Jesus reaches out and heals the ear of a soldier who is there to arrest Him.
Pilate, moved by Christ's silence and powerful presence, is convinced of His innocence.

The sight of Christ, carrying love on his back, moves the women of Jerusalem to weeping.
Simon the Cyrene carries Christ's cross. The experience must have moved him, for according to Tradition, his sons became missionaries.

One of the thieves crucified with Jesus was so moved by His patient endurance, that he converted immediately.
The Centurion, in charge of the crucifixion, was also converted as He witnessed love pour from the wounds of the God-Man.
What other evidence do you need that love conquers fear?
GRACE WILL BE THERE
Go back to the Garden, and there you will see a gift—not so much for Christ, but for you and me:
And to strengthen him an angel from heaven appeared to him. (Luke 22:42-43)
Doesn't Scripture promise that we will not be tested beyond our strength (1 Cor 10:13)? Should Christ only help us in private temptation, but then abandon us when the wolves gather round? Let us hear once again the full force of the Lord's promise:
I am with you always, until the end of the age. (Matthew 28:20)
Are you still afraid to defend the unborn, marriage, and the innocents?
What will separate us from the love of Christ? Will tribulation, or distress, or persecution, or famine, or nakedness, or peril, or the sword? (Romans 8:35)
Then look toward the martyrs of the Church. We have story after glorious story of men and women who went to their deaths, often with supernatural peace, and sometimes joy as witnessed by observers. St. Stephen, St. Cyprian, St. Bibiana, St. Thomas More, St. Maximilian Kolbe, St. Polycarp
, and so many others we have never heard of… all of them testaments of Christ's promise to remain with us until our last breath.
Grace was there. He never left. He never will.
STILL AFRAID?
What is this fear that turns grown adults into mice? Is it the threat of the "human rights courts?"
No, in all these things we are more than conquerors through him who loved us. (Romans 8:37)
Are you afraid that the majority is no longer on your side?
Do not fear or lose heart at the sight of this vast multitude, for the battle is not yours but God's. (2 Chronicles 20:15)
Is it family, friends, or co-workers that threaten?
Do not fear or lose heart. Tomorrow go out to meet them, and the Lord will be with you. (Ibid. v17)
Is it the devil himself?
If God is for us, who can be against us? (Romans 8:31)
What are you trying to protect?
Whoever loves his life loses it, and whoever hates his life in this world will preserve it for eternal life. (John 12:25)
GIRD YOUR LOINS
Dear Christian, our fear is unfounded, and rooted in self-love.
There is no fear in love, but perfect love drives out fear because fear has to do with punishment, and so one who fears is not yet perfect in love. (1 John 4:18)
We need to admit that we aren't perfect (God already knows), and use this as an occasion to grow in His love. He does not shun us because we are imperfect and He certainly doesn't want us to manufacture courage that is merely a front. The way to grow in this love which casts out all fear is to empty yourself as He did so that you may be filled with God, who is love.
He emptied himself, taking the form of a slave, coming in human likeness; and found human in appearance, he humbled himself, becoming obedient to death, even death on a cross. (Phil 2:7-8)
There are two sides to the cross of Christ—one side upon which your Savior hangs—and the other is for you. But if He was raised from the dead, will you not also share in His resurrection?
…Because of this, God greatly exalted him… (Phil 2:9)
Whoever serves me must follow me, and where I am, there also will my servant be. (John 12:26)
Let the lips of a martyr begin to fire within you holy courage—courage to lay down your life for Jesus.
Let no one think of death, but only of immortality; let no one think of suffering that is for a time, but only of glory that is for eternity. It is written: Precious in the sight of God is the death of his holy ones. Holy Scripture speaks also of the sufferings which consecrate God's martyrs and sanctify them by the very testing of pain: Though in the eyes of men they suffered torments, their hope is full of immortality. They will judge nations, and rule over peoples, and the Lord will reign over them for ever. When therefore you recall that you will be judges and rulers with Christ the Lord, you must rejoice, despising present suffering for joy at what is to come. —St. Cyprian, bishop and martyr