THE NOW WORD ON MASS READINGS
for Wednesday, August 17th, 2016
Liturgical texts here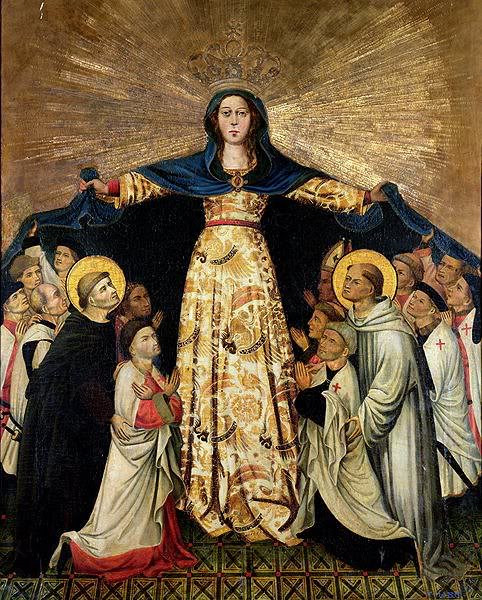 Our Lady of Grace and the Masters of the Order of Montesa
Spanish School (15th century)

I AM so blessed, in many ways, by the present mission Jesus has given me in writing you. One day, over tens years ago, the Lord nudged my heart saying, "Put your thoughts from your journal online." And so I did… and now there are tens of thousands of you reading these words from all over the world. How mysterious are God's ways! But not only that… as a result, I have been able to read your words in countless letters, emails, and notes. I hold every letter I get as precious, and feel very sad that I haven't been able to respond to all of you. But every letter is read; every word is noted; every intention is lifted up daily in prayer.
As I ponder today's first reading, many of you come to mind. In truth, Jesus has raised up this little apostolate because so many sheep are without shepherds today. People are hurting, confused, and reeling in many cases from all the dysfunction and chaos as a result of the absence of good shepherds over the past fifty years. Children and grandchildren have been scattered, no longer practicing the Faith, as the Word of God has not been clearly proclaimed (it's been read, yes, but often not proclaimed)…
You have fed off their milk, worn their wool, and slaughtered the fatlings, but the sheep you have not pastured…
…the moral teachings have remained mostly hidden…
…You did not strengthen the weak nor heal the sick nor bind up the injured…
…and the gifts of the Spirit quenched.
You did not bring back the strayed nor seek the lost. So they were scattered for the lack of a shepherd, and became food for all the wild beasts. (Today's first reading)
But how easy it is for us to point fingers only at the priesthood! What about those fathers of families, those husbands and dads who are the priests of the domestic church? How many fathers have abandoned their children and wives in pursuing careers, chasing after "boy toys", and drinking and partying their good example away? How often have any of us, in those moments when others needed the guidance of words and example, failed to be another Christ, another "good Shepherd"?
Nonetheless, it does not change the fact that many, many people feel as though they have been left unsupported and abandoned by their bishops and priests. But Jesus has never abandoned us.
My sheep were scattered and wandered over all the mountains and high hills; my sheep were scattered over the whole earth, with no one to look after them or to search for them… I will save my sheep, that they may no longer be food for their mouths.
During the past five decades, which Pope Paul VI described as a period of "apostasy", the Lord raised up many movements and souls who have stepped in the gap. I'm thinking of Focolare, Catholic Action, the Charismatic Renewal, and the powerful apostolates of Mother Angelica, Catholic Answers, Catherine Doherty, and Dr. Scott Hahn among others. Even Evangelical voices like Billy Graham have brought the Gospel into Catholic homes when the pulpits were falling silent in their parishes. And it is nearly impossible to measure the powerful impact that Our Lady has had through her locutions and apparitions during this time that have, in turn, raised up some very powerful and holy priests (and popes!) and countless lay apostolates. [1]cf. On Medjugorje No, the Lord has not abandoned us.
The Lord is my shepherd… Even though I walk in the dark valley I fear no evil; for you are at my side with your rod and your staff that give me courage. (Today's Psalm)
Indeed, precisely because of these heavenly interventions, seminaries are beginning to produce some beautiful young men who are shepherds after God's own heart. And there are bishops, cardinals, and priests today who are beginning to speak out boldly, at the cost of breaking collegiality with their fellow clergy and subjecting themselves to persecution. And while I am fully aware of the controversies that Pope Francis' interviews and exhortations have caused (and some concerns are not without merit), I also see in Francis a Pope who is trying his best to reach the lost. Hear Ezekiel's warning again:
You did not bring back the strayed nor seek the lost.
Pope Francis has gone out of his way to seek those who, for whatever reason, find themselves on the fringe of the Church, whether through their own fault or others. While some people want Pope Francis to stand on St. Peter's balcony and simply regurgitate doctrine, this pope prefers to meet with sinners and tax collectors. He often says nothing at all. He just touches them, listens to them, hugs them, dines with them, and journey's with them. The reason is because he wants his first message to them to be: "You are loved." In fact, when people are so utterly broken, messed up, and entangled in sin and debauchery, that's often the only word they are capable of hearing. I think our Pope has accurately perceived our generation to be such, a generation embroiled in pornography, materialism, and self-centeredness. As someone said recently, "Love builds a bridge over which truth can pass." Sure, I doubt Elton John has become a practicing Catholic. But somehow, Francis has his ear. Maybe that's the whole point.
True, Pope Francis has done little to stroke the ego of the culture warriors and guardians of orthodoxy who've been courageously fighting the culture of death and battling heresy. And they are doing an indispensible work. Perhaps they feel a bit like the workers in the vineyard in today's Gospel who feel a bit taken for granted when the last minute employees are paid the same:
'These last ones worked only one hour, and you have made them equal to us, who bore the day's burden and the heat.' He said to one of them in reply, 'My friend, I am not cheating you. Did you not agree with me for the usual daily wage?' (Today's Gospel)
We have to be careful to avoid the attitude of the elder brother in the parable of the Prodigal Son who resented the father's unconditional mercy… and with the Holy Father, seek to welcome the lost sons and daughters of our era. For how can we put a new robe on them (Baptism and Reconciliation), new sandals on their feet (the Gospel of Truth), and a new ring on their finger (the dignity of divine sonship) if they don't know they are welcome to return home?
So let us be careful in our assault upon the shortcomings of our clergy, popes included. In that regard, you will rarely hear Our Lady condemning the clergy. But you will hear her constantly imploring us to pray for them. Do you pray for Pope Francis? Do you pray for liberal bishops? Do you pray for your own bishop and priest? If Christ can convert the likes of Saul (St. Paul), why can he not move the hearts of those shepherds who are asleep, who are timid, or who are even wolves in sheep's clothing?
Whenever I am tempted to dwell on the faults of others, I turn my eyes back to myself, back to the moments when I have failed through timidity, cowardice, and self-preservation; when I have been uncharitable, impatient, and self-centered. And then I pray for them, and for God's mercy on me.
Pray for your shepherds today. They need your love and support, most especially those who have been "pasturing themselves."

RELATED READING
 
Bless you, and thank you.


To journey with Mark in the The Now Word,
click on the banner below to subscribe.
Your email will not be shared with anyone.