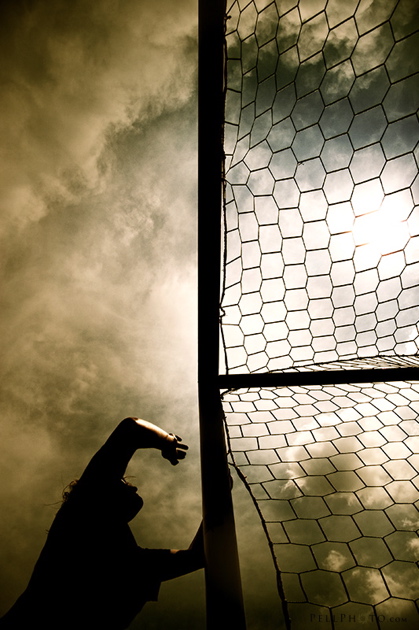 First published August 11th, 2007.
AS you try to respond to Jesus' call to follow him in these chaotic times, to renounce your earthly attachments, to voluntarily dispossess yourself of unneeded things and material pursuits, to resist the temptations which are boldly advertised everywhere, expect to enter into a fierce battle. But do not let this discourage you!
IT WILL BE MESSY
While praying before the Blessed Sacrament today, I sensed the Lord saying that we should not worry if our struggle with temptation is messy. In our pride, we desire to overcome our sin with a heroic flick of the wrist, a saintly disposition, and a completely recollected heart. We wish to tear away from temptation like a page neatly torn from the dotted line of a note pad. Instead, the image I saw in my heart was that of a paper with jagged and uneven edges, ripped and shredded at the end, but nonetheless, separated from the binding. And Jesus was saying to me "This is acceptable!"
The struggle with sin is difficult and even violent. But the point here is not to win with style, but to simply win.  
The kingdom of heaven suffers violence, and the violent are taking it by force.  (Matt 11:12)
The kingdom of heaven is taken by violence and force, that is, a violence to the will and cravings of the flesh.  Yes, we like to think that we have advanced so spiritually that we should turn around and fire a clean rifle shot into the heart of temptation. But the truth is, this temptation stalks us until, suddenly, it has us in a wrestler's grip. Now I am fighting hand to hand! I go in circles with my thoughts, reasoning back and forth, a battle of logic, weighing, sifting, weighing… And this is precisely when Satan throws a counterattack from behind:
Aha! Look at you fighting with this temptation. You are so easily attracted. You are still worldly, unspiritual, and incredibly sinful! You are unfit for the Kingdom of God!
But don't listen, my brother! Keep fighting my sister! This is the hand to hand combat of Gethsemane which even broke a sweat of blood upon the Savior's brow. This is the moment of humility when you must turn to God and say, "I am so weak! Jesus help me! Jesus have mercy!" And then fight! When it comes to sexual temptation, run if you have to. Literally. And do not think you will outwit Satan. No, your battle is a spiritual one, and so you must turn to the Lord who will fight for you! Grit your teeth, grab your Rosary, squint your eyes. Pray, pray, pray!
It is not a sin to wrestle with temptation—it is a sin to give into it.
RUN THE RACE

Who cares if you feel like a mental case! When an Olympic runner stretches for the finish line, suddenly all form and style go out the window. The runner begins to throw his arms and body forward, leaning toward the finish line, leaving grace and finesse in the dust. But when they place the winner's wreath upon his brow, does the cheering crowd suddenly say, "How silly he looked when he broke the record!" So it is with the saints, that "cloud of witnesses" who cheer us on to the finish line. They see a heart yearning for God and struggling to the finish line. They follow the trail of blood you've left behind, and rejoice, for it is the exact same path upon which they journeyed. They praise your fight, not your form. 
Therefore, since we are surrounded by so great a cloud of witnesses, let us rid ourselves of every burden and sin that clings to us and persevere in running the race that lies before us while keeping our eyes fixed on Jesus, the leader and perfecter of faith… In your struggle against sin you have not yet resisted to the point of shedding blood. (Heb 12:1-2, 4)
Well, it is time to shed a little blood. 
Childbirth is messy. There is great pain, groaning, blood and fluids everywhere. There is nothing graceful about it. But when the little life is born, the battle gives way to a miracle which transforms the room into tears of laughter and joy.
Do not be afraid, little ones… for what Jesus is going to pour out into the souls of those who enter this battle in the days ahead is far beyond your imagining…
…but you must fight for it! 
 
Blessed is the man who perseveres in temptation, for when he has been proved he will receive the crown of life that he promised to those who love him. (James 1:12)
Beloved, do not be surprised that a trial by fire is occurring among you, as if something strange were happening to you. But rejoice to the extent that you share in the sufferings of Christ, so that when his glory is revealed you may also rejoice exultantly. (1 Pt 4:12-13)