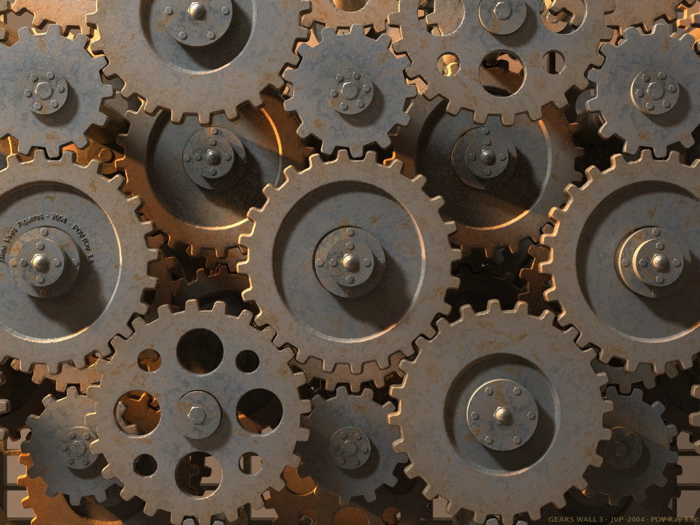 October 19th, 2015
Memorial of the North American Martyrs
First published December 10th, 2006…
"IT is nearly complete."
Those are the words that rang in my heart this weekend as I pondered the tremendous shift away from the Gospel in North America during the past few weeks. Those words were accompanied by the image of several machines with gears. These machines—political, economical, and social, operating throughout the world—have been running independently for several decades, if not centuries.
But I could see in my heart their convergence: the machines are all in place, about to mesh into one Global machine called "Totalitarianism." The meshing will be seamless, quiet, barely noticed. Deceptive.
GOD'S MACHINE
At the same time, the Lord began to reveal to me the counter-plan:  The Woman Clothed with the Sun (Rev 12). I was so full of joy by the time the Lord was finished speaking, that the plans of the enemy seemed minuscule in comparison. My feelings of discouragement and a sense of hopelessness vanished like fog on a summer morning.
Yes, Christ is coming… and the Heel of the Woman hovers (Gen 3:15).
Do not be provoked by evildoers; do not envy those who do wrong. Like grass they wither quickly; like green plants they wilt away. Trust in the LORD and do good that you may dwell in the land and live secure… Commit your way to the LORD; trust that God will act and make your integrity shine like the dawn, your vindication like noonday.

Be still before the LORD; wait for God. Do not be provoked by the prosperous, nor by malicious schemers. Those who do evil will be cut off, but those who wait for the LORD will possess the land.


The wicked draw their swords; they string their bows to fell the poor and oppressed, to slaughter those whose way is honest. Their swords will pierce their own hearts; their bows will be broken.

I have seen ruthless scoundrels, strong as flourishing cedars. When I passed by again, they were gone; though I searched, they could not be found… The salvation of the just is from the LORD, their refuge in time of distress. The LORD helps and rescues them, rescues and saves them from the wicked, because in God they take refuge. (Psalm 37)
RELATED READING
Dear Holy Father… He is Coming!
3 Cities… and a Warning for Canada
The Heart of the New Revolution