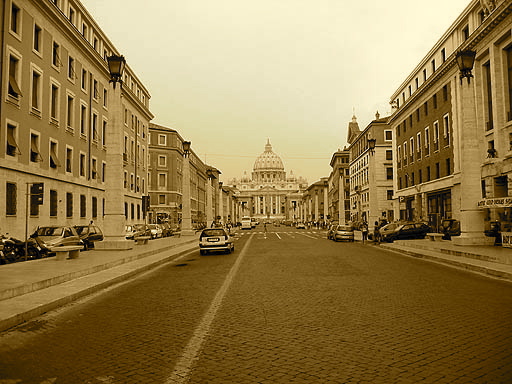 Road to St. Pietro "St. Peters Basilica", Rome, Italy
I AM off to Rome. In just a few days, I will have the honor of singing in front of some of Pope John Paul II's closest friends… if not Pope Benedict himself. And yet, I feel this pilgrimage has a deeper purpose, an expanded mission…
I have been pondering about all that has unfolded in writing here the past year… The Petals, The Trumpets of Warning, the invitation to those in mortal sin, the encouragement to overcome fear in these times, and lastly, the summons to "the rock" and refuge of Peter in the coming storm.
Actually, it dawned on me just yesterday that I was led to write about Peter and the Church last week, right before going to see "Peter" in the heart of the Church!
We live in extraordinary times—times which I believe are going to change in radical ways in the not too distant future. In hindsight, what has been written so far seems to be culminating, rushing even toward an historic moment. It's as though time is a huge elastic band, and it is about to snap—when suddenly prayers go up, Mercy falls, and the elastic loosens… for a little while longer, at least.
Tonight, I am so grateful for all of you who have written with encouragement, confirmations, discernment, and especially prayers. Know that I will carry you, the readers, in my heart to Rome. We are on a journey together, and I know that my purpose for this trip includes you somehow. (If I stumble upon a computer somewhere in the catacombs, I am sure I may have a word or two to write you during these two weeks.)
Please pray for me… on the road to Rome.

—Mark Mallett
HOMEPAGE: www.markmallett.com
BLOG: www.markmallett.com/blog